Embassy Events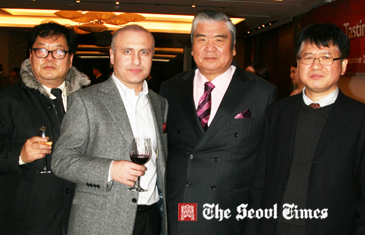 Georgian Envoy Host Its Wine Tasting DinnerAmb. Nikoloz Apkhazava Very Active with Duty in Seoul

Georgian Ambassador to Seoul Nikoloz Apkhazava hosted a wine tasting and year-end party at Lotte Hotel in Seoul on Dec. 27, 2012.

The gathering attracted a host of both local Korean and international guests including many top foreign envoys including Kenyan Amb. Ngovi Kitau, Uzbek Amb. Vitali Fen, Bulgarian Amb. Petar Andonov, Belarusian Amb. Natallia Zhylevich, Serbian Amb. Slobodan Marinkovic, Iraqi Mustafa M. Taufik, and Azerbaijan Amb. Rovshan Jamshidov.

Azerbaijan Amb Jamshidov will soon round up five years of his ambassadorship in Seoul and will head for his new posting in Canberra, Australia.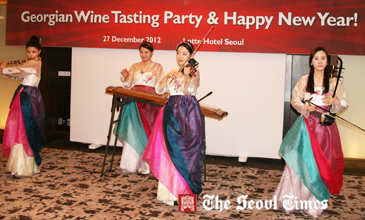 Members of the traditional musical group "Queen" perform at Georgian Wine Tasting Party at Lotte Hotel in Seoul.



The year-end event entertained all the participants with carefully selected Georgian wine. It was a good occasion for the local Koreans to get the taste of the Georgian wine.

In particular, several beautifully-clad members a local music group captivated the attention of all the participants. The five-member traditional musical group "Queen" is getting famous for their fusion-style performance.

The Georgian envoy received "agreement" from President Lee Myung-Bak at the presidential "Blue House" of Cheongwadae on March 19, 2012.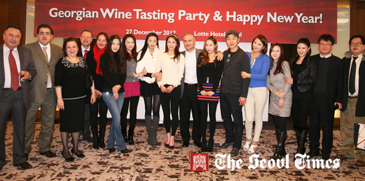 Georgian Amb. Nikoloz Apkhazava (8th from right) poses with participants at his wine tasing event held in Seoul on Dec. 27, 2012



Since his arrival in Seoul Amb. Apkhazava has been quite active with his ambassadorial duty, attending various meetings and hosting many events.

Amb. Apkhazava also has been busy with meeting the local leaders from all walks of life.

As recently as on Nov. 5, 2012, Amb. Apkhazava met with a local politician Lee In-Je at National Assembly building in Seoul's Yoeuido. The two talked about ways of promoting ties and exchanges between South Korea and Georgia at the gathering.

The Georgian Embassy was first opened in Itaewon area of Seoul in late August, 2011. This year 2012 marks the 20th anniversary of the diplomatic establishment between Georgia and South Korea.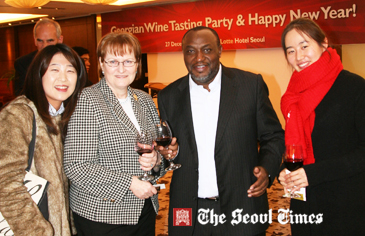 Kenyan Amb. Ngovi Kitau (2nd from right) poses with Belarusian Amb. Natallia Zhylevich (2nd from left) and with Ms. Song Aran of KOTFA. At left is Margaret Doo of The Seoul Times.



Amb. Apkhazava became the first Georgian ambassador to South Korea since it opened its embassy in Seoul.

On May 25, Amb. Apkhazava visited the Federation of Korean Industries (FKI) and met with FKI leaders in his efforts to boost economic cooperation between the two countries.

On May 28 (Monday), 2012, Amb. Apkhazava hosted a reception on the occasion of its Independence Day held at Lotte Hotel in Seoul.

A number of high-profile guests including foreign ambassadors were invited to the diplomatic gathering. Scores of top foreign envoys included Israel's Amb. Tuvia Israeli, and Uzbek Amb. Vitali Fen, who serves as dean of the Diplomatic Corps in Seoul.

It was on Sept. 6, 2011 that Mr. Apkhazava was appointed by Georgian President Mikheil Saakashvili as Georgia's ambassador to South Korea. Soon after Georgian Parliament approved his candidacy as the new envoy to South Korea.

He replaced Mr. Revaz Beshidze, who was serving as the Georgia's ambassador to South Korea and Japan.

Mr. Apkazava saved as a coordinator of Tokyo Sasakava Peace Foundation (SPF).

In 2008 he worked as an ambassador extraordinary in the Ministry of Foreign Affairs of Georgia.

Mr. Apkhazava also served as chief adviser of Georgia's Embassy in Tokyo.
ST Photo Gallery
Photo News
Embassy Events
Econo People 2005
Fashion Images
New Movies
Travel Images
Nayan Sthankiya's Photo Features New
Abuses of Iraqi Prisoners of War
Academy Awards Photos 2004
Adolf Hitler
Aishwarya Rai-Indian actress
Buddha`s Birthday 2004
Cannes 2004 — 57th Cannes Film Festival
Choi Tae-Ji Photo Gallery
Comfort Woman Picture Gallery
Crown Prince Felipe of Spain
Dokdo Photo Gallery
Erotic Paintings of Hyewon and Danwon
Franz`s Art Exhibition
Gando Photo Gallery
Geisha in Japan
Gwangju Massacre
Jeju Island
Kim Jong-Il and Kim Il-Sung
Koguryo Murals
Korean War (1950-53)
Madonna
Miss Universe 2004
Miss World Contest 2003
Mt. Kumkang or Mt. Diamond New
Natural Beauty of Korea
Rape of Nanjing (Nanjing Massacre)
Rio Carnival 2004
Ronald Reagan`s Life in Pictures
ST Family
Sonia Gandhi and Gandhi Clan
Taj Mahal Photo Gallery
Ukrainian Embassy
World War Two
Photo Gallery of World Newspapers/Media
Times of India
Hindustan Times
SantaBanta.com
Straights Times (Singapore)
Chicago Sun-Times
Moscow Times