Embassy Events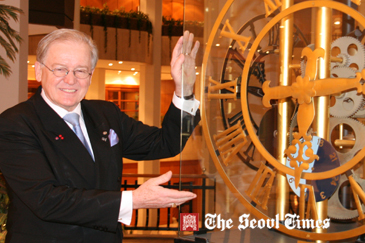 Sports Doctors Inks MOU with National Cancer Center to Help Needy Folks Home and AbroadPresident Heo Joon-Young of "Sports Doctors," the world's largest medical service NGO has recently signed a memorandum of understanding (MOU) with National Cancer Center (NCC) for cooperation in their overseas medical service to save the lives of the needy folks.

On Oct. 24, 2018 Sports Doctors President Heo inked the MOU with NCC President Lee Eun-Sook at the center in Ilsan-gu, Goyang City, Gyeonggi Province west of Seoul.

Sports Doctors, a UN-registered South Korea's most famous medical service social NGO, is set to become world's largest medical service NGO under the leadership of President Heo.

NCC, the state-run public health and medical organization, has been helping the needy people particularly in rural and provincial areas, providing them the free medicine and medial service.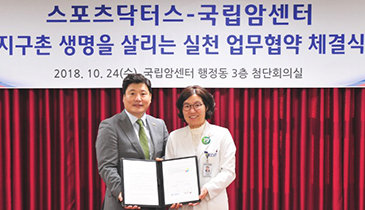 President Heo Joon-Young (left) of "Sports Doctors" poses with President Lee Eun-Sook of National Cancer Center after they inked MOU at the center on Oct. 24, 2018.



Sports Doctors and NCC will cooperate with each other in many areas of the medical service both home and abroad in the future.

In particular the two organizations will launch the overseas medical service in Yangon, the capital Myanmar in coming month of December.

Heo, the athlete-turned social worker, devotes himself to the sick and needy folks home and abroad. He is also businessman running My Business Group including My Pharm Co, My Construction Co. and My Design Co.

Who Is Heo Joon-Young & Sports Doctors?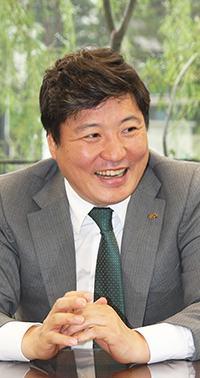 President Heo Joon-Young of "Sports Doctors," the world's largest medical service NGO

Sportsman-turned social worker Heo Joon-Young is perhaps one of the busiest persons in the whole world.

President of "Sports Doctors," a UN-registered medical service social NGO, Heo spends one of the most hectic times of his life, leading the South Korea's largest social medical service social group "Sports Doctors."

Every week Heo hosts or attends an average of 15 or more social or medical service pro-bono works directed to helping the needy folks or other socially vulnerable people both at home and overseas.

"Sports Doctors," founded by Heo years ago, boasts of over 200,000 medical doctors as its members in South Korea alone.

Recently Heo's Sports Doctors signed an agreement with the Association of Private Doctors boasting of 40,000 doctors as its members. With them Heo will embark on the overseas medical services for needy children in the poor countries.

"I will visit the needy folks suffering diseases and poverty in every corner of the global village," Heo said in a recent interview with the local media. "I will make Sports Doctors the fastest NGO visiting the suffering folks"

The UN-registered medical service social NGO is expected to become the largest and most important NGO of its kind in the near future, Heo hopes.

Before he turned himself into a social worker and philanthropist, Heo was a successful businessman himself. Well, Heo is still a businessman, leading one of nation's leading business groups "My Business Group" as its chairman. My Business Group includes My Construction Co., My Pharm Ltd., and My Design Co.

Before he was social worker and businessman he was an athlete: Wrestler of Greco-Roman style. During his university years and immediate years after graduation he represented South Korea in various sports events as a leading wrestler of Greco-roman style.

Based on his strong health as a former wrestler Heo is involved in a variety of social works and other social activities these days.

The Seoul Times recently met with Chairman Heo Joon-Young in his office in Hannam-dog area of Seoul.

For the remainder of this year alone Heo plans to visit more than 20 countries including Swaziland, the Philippines, Cambodia, China, Fiji, and Kazakhstan.

"Within this year I will increase the number of our programs to over 200 from the current 100 per month," Heo stressed. "I will devote myself to help others"

For his dedication to helping the needy and poor folks home and abroad Heo has been decorated with various awards and citations from social groups, local Koran government and international organizations.

Sports Doctors founded by its Chairman Heo in 2003 was registered in the United Nations as medical service NGO.

The South Korea's largest medical service social NGO boasts of well over 200,000 medical doctors as its members.

With the support of KOICA (Korea International Cooperation Agency), various hospitals and business corporations, Sports Doctors has been launching various active social and medical service programs in overseas countries including Nepal, Cambodia, Laos, and Swaziland as well as in the nation.
ST Photo Gallery
Photo News
Embassy Events
Econo People 2005
Fashion Images
New Movies
Travel Images
Nayan Sthankiya's Photo Features New
Abuses of Iraqi Prisoners of War
Academy Awards Photos 2004
Adolf Hitler
Aishwarya Rai-Indian actress
Buddha`s Birthday 2004
Cannes 2004 — 57th Cannes Film Festival
Choi Tae-Ji Photo Gallery
Comfort Woman Picture Gallery
Crown Prince Felipe of Spain
Dokdo Photo Gallery
Erotic Paintings of Hyewon and Danwon
Franz`s Art Exhibition
Gando Photo Gallery
Geisha in Japan
Gwangju Massacre
Jeju Island
Kim Jong-Il and Kim Il-Sung
Koguryo Murals
Korean War (1950-53)
Madonna
Miss Universe 2004
Miss World Contest 2003
Mt. Kumkang or Mt. Diamond New
Natural Beauty of Korea
Rape of Nanjing (Nanjing Massacre)
Rio Carnival 2004
Ronald Reagan`s Life in Pictures
ST Family
Sonia Gandhi and Gandhi Clan
Taj Mahal Photo Gallery
Ukrainian Embassy
World War Two
Photo Gallery of World Newspapers/Media
Times of India
Hindustan Times
SantaBanta.com
Straights Times (Singapore)
Chicago Sun-Times
Moscow Times