Adolf Hitler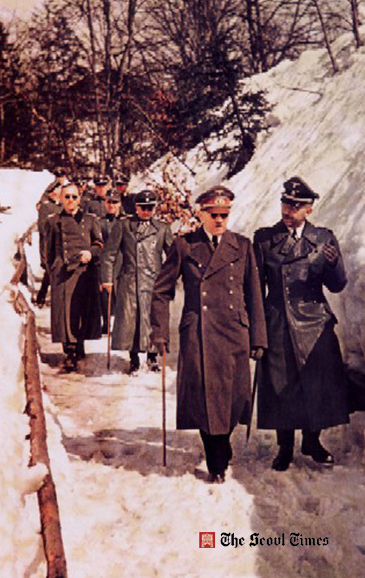 Hitler Walks with Heinrich Himmler in 1945Adolf Hitler and Heinrich Himmler take a snowy walk near the Berghof sometimein early1945.

Heinrich Luitpold Himmler (Oct. 7, 1900 – May 23, 1945) was a Nazi German politician and head of the Schutzstaffel (SS). He was one of the most powerful men in Hitler's entourage, together with Hermann Göring and Joseph Goebbels. As Reichsführer-SS he oversaw all police and security forces, including the Gestapo.

As overseer of concentration camps, extermination camps, and Einsatzgruppen (literally: task forces, often used as killing squads), Himmler coordinated the killing of millions of Jews, between 200,000 and 500,000 Roma,[1][2] many prisoners of war, and possibly another three to four million Poles, communists, or other groups whom the Nazis deemed unworthy to live or simply 'in the way', including homosexuals, and those with physical and mental disabilities. Shortly before the end of the war, he offered to surrender to the Allies if he were spared from prosecution. After being arrested by British forces, he committed suicide before he could be questioned.
ST Photo Gallery
Photo News
Embassy Events
Econo People 2005
Fashion Images
New Movies
Travel Images
Nayan Sthankiya's Photo Features New
Abuses of Iraqi Prisoners of War
Academy Awards Photos 2004
Adolf Hitler
Aishwarya Rai-Indian actress
Buddha`s Birthday 2004
Cannes 2004 — 57th Cannes Film Festival
Choi Tae-Ji Photo Gallery
Comfort Woman Picture Gallery
Crown Prince Felipe of Spain
Dokdo Photo Gallery
Erotic Paintings of Hyewon and Danwon
Franz`s Art Exhibition
Gando Photo Gallery
Geisha in Japan
Gwangju Massacre
Jeju Island
Kim Jong-Il and Kim Il-Sung
Koguryo Murals
Korean War (1950-53)
Madonna
Miss Universe 2004
Miss World Contest 2003
Mt. Kumkang or Mt. Diamond New
Natural Beauty of Korea
Rape of Nanjing (Nanjing Massacre)
Rio Carnival 2004
Ronald Reagan`s Life in Pictures
ST Family
Sonia Gandhi and Gandhi Clan
Taj Mahal Photo Gallery
Ukrainian Embassy
World War Two
Photo Gallery of World Newspapers/Media
Times of India
Hindustan Times
SantaBanta.com
Straights Times (Singapore)
Chicago Sun-Times
Moscow Times