Adolf Hitler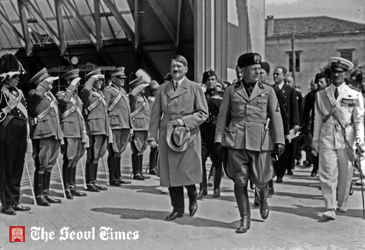 Adolf Hitler with Benito Mussolini in 1934Adolf Hitler meets with Benito Mussolini in Venice, Italy, June 14-16, 1934. The two leaders met officially some 17 times throughout Nazi era.

The relationship between Mussolini and Adolf Hitler was a contentious one early on. While Hitler cited Mussolini as an influence, Mussolini had little regard for Hitler, especially after the Nazis had assassinated his friend and ally, Engelbert Dollfuss the Austrofascist dictator of Austria in 1933.

Both movements focused heavily on the state and conquest, though there was some conflicting views of ideology: while Hitler lauded racialism and anti-semitism, Mussolini and the Italian fascists did not. Mussolini viewed himself as a modern day Roman Emperor, a cultural elite and wished to "Italianise" the parts of the Italian Empire he had desired to build. A cultural superiority, rather than a view of racialism. The difference was that a culture can be learned, while a race cannot.
ST Photo Gallery
Photo News
Embassy Events
Econo People 2005
Fashion Images
New Movies
Travel Images
Nayan Sthankiya's Photo Features New
Abuses of Iraqi Prisoners of War
Academy Awards Photos 2004
Adolf Hitler
Aishwarya Rai-Indian actress
Buddha`s Birthday 2004
Cannes 2004 — 57th Cannes Film Festival
Choi Tae-Ji Photo Gallery
Comfort Woman Picture Gallery
Crown Prince Felipe of Spain
Dokdo Photo Gallery
Erotic Paintings of Hyewon and Danwon
Franz`s Art Exhibition
Gando Photo Gallery
Geisha in Japan
Gwangju Massacre
Jeju Island
Kim Jong-Il and Kim Il-Sung
Koguryo Murals
Korean War (1950-53)
Madonna
Miss Universe 2004
Miss World Contest 2003
Mt. Kumkang or Mt. Diamond New
Natural Beauty of Korea
Rape of Nanjing (Nanjing Massacre)
Rio Carnival 2004
Ronald Reagan`s Life in Pictures
ST Family
Sonia Gandhi and Gandhi Clan
Taj Mahal Photo Gallery
Ukrainian Embassy
World War Two
Photo Gallery of World Newspapers/Media
Times of India
Hindustan Times
SantaBanta.com
Straights Times (Singapore)
Chicago Sun-Times
Moscow Times