Adolf Hitler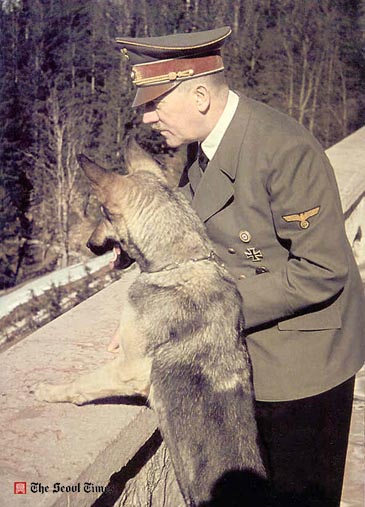 Adolf Hitler with His Pet Dog BlondiBlondi (1934 - 29 April 1945) was Adolf Hitler's German Shepherd dog, given to him as a gift in 1941 by Martin Bormann. Blondi stayed with Hitler even after his move to the underground bunker in January 1945 during the Battle of Berlin, and in April 1945, she had a litter of five puppies with Gerdy Troost's German Shepherd, Harass. Hitler named one of the puppies "Wolf", his favourite nickname and the meaning of his own first name, Adolf.

By all accounts, Hitler was very fond of Blondi, keeping her by his side and allowing her to sleep in his bedroom in the bunker, an affection not shared by Eva Braun, Hitler's partner, who hated Blondi and was known to kick her, according to Hitler's secretary Traudl Junge.[2]

Hitler had been given a German Shepherd before, in 1921, during his years of poverty, but he had been forced to lodge the dog elsewhere, although it managed to escape and return to him. Hitler, who adored loyalty and obedience, thereafter developed a great liking for the breed.
ST Photo Gallery
Photo News
Embassy Events
Econo People 2005
Fashion Images
New Movies
Travel Images
Nayan Sthankiya's Photo Features New
Abuses of Iraqi Prisoners of War
Academy Awards Photos 2004
Adolf Hitler
Aishwarya Rai-Indian actress
Buddha`s Birthday 2004
Cannes 2004 — 57th Cannes Film Festival
Choi Tae-Ji Photo Gallery
Comfort Woman Picture Gallery
Crown Prince Felipe of Spain
Dokdo Photo Gallery
Erotic Paintings of Hyewon and Danwon
Franz`s Art Exhibition
Gando Photo Gallery
Geisha in Japan
Gwangju Massacre
Jeju Island
Kim Jong-Il and Kim Il-Sung
Koguryo Murals
Korean War (1950-53)
Madonna
Miss Universe 2004
Miss World Contest 2003
Mt. Kumkang or Mt. Diamond New
Natural Beauty of Korea
Rape of Nanjing (Nanjing Massacre)
Rio Carnival 2004
Ronald Reagan`s Life in Pictures
ST Family
Sonia Gandhi and Gandhi Clan
Taj Mahal Photo Gallery
Ukrainian Embassy
World War Two
Photo Gallery of World Newspapers/Media
Times of India
Hindustan Times
SantaBanta.com
Straights Times (Singapore)
Chicago Sun-Times
Moscow Times