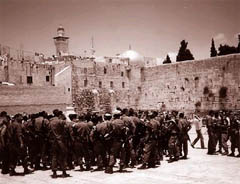 Gaza Strip, Palestine — Thousands of Palestinian prisoners in Israeli jails joined a mass hunger strike to protest their worsening conditions and ill treatment by the Israeli authorities, affirming they will not break the strike until a set of demands to improve their conditions are met.Jamal Nouri, 24, from Nusseirat refugee camp in the heart of Gaza Strip, is sentenced to 18 years in prison after being arrested by Israeli soldiers at Rafah border terminal while traveling to Egypt, and was charged of smuggling weapons to Palestinian militants. He is one of the thousands who will take part in the hunger strike.A father of two girls, one of whom was born while he was behind bars, Jamal is imprisoned at the Majdal prison, near the city of Ashkelon, north of Gaza Strip, just an hour's drive from his home.During a sneaked phone call with Jamal from inside his prison two days ago, he speaks of draconian measures and deplorable detention conditions that he and his fellow prisoners endure at the hands of the Israeli wardens and the Israeli Prison Service."We rarely get the chance to bathe, and cleaning materials and detergents have been reduced to almost none. We are also strip searched day and night, and the cells are often raided, especially while we're asleep," Jamal says over the phone, anxiously talking fast from a smuggled cellular phone.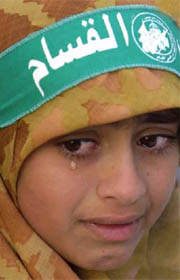 Throughout the four years of the Palestinian Intifada, the Palestinian prisoner population has soared, as the prison service started expanding old prisons and building new ones to accommodate the increase. About 650,000 Palestinians have been imprisoned by Israel since 1967, about 20 percent of the entire Palestinian population, according to the Palestinian Prisoner's Society (PPS).Jamal adds that he will take part in the mass hunger strike on Wednesday. The strike marks the beginning of a month-long prisoner solidarity campaign being coordinated by several Palestinian civil society groups, which will culminate in a procession in Ramallah City, led by the grandson of Mahatma Gandhi, Arun Gandhi.The prisoners have submitted a list of demands, which include improved health and sanitary conditions, increased family visitation rights, an end to strip searches and to "arbitrary and indiscriminate beatings," among other things. On the other hand, the Israeli response was "as expected," according to Eisa Qaraqe, director of the PPS, who says that the abusive measures of the Israeli prison service recently include night barbecues and baking food for the wardens in front of the fasting prisoners in order to break their hunger strike, as well as threatening with beating and torture."The prison service already removed radios and television sets from jail cells and canceled all family visits for the prisoners," Qaraqe further adds.The Israeli Interior Security Minister Tzachi Hanegbi has said the prisoners can "starve to death" for all he cares.
"The prisoners can strike for a day, a month, even starve to death, as far as I am concerned. We will ward off this strike and it will be as if it never happened," he said on Friday. About 800 prisoners are in need of urgent medical treatment, says Qaraqe, and 30 have been in solitary confinement for over two years. More than 2,000 prisoners have been unable to see their families under the Israeli broad banner of "security," and those who can are not allowed to make any physical contact with them. A spokesperson for the Israeli Prison Service denied any allegations about prisoner abuse, despite documentation by human rights groups to the contrary.Numerous international human rights organizations, including Amnesty International and Human Rights Watch has asserted that Palestinian prisoners suffer from deplorable humanitarian conditions, including medical negligence, unsanitary surroundings, and routine beatings, position torture and strip searches.Qaraqe argues that the main dilemma of the Palestinian prisoners stem from the fact that they have no rights, and that their status are not defined under Israeli law.According to Addameer Prisoner's Support and Human Rights Association in Gaza, none of the 114 clauses in the Israeli Prison Ordinance spells out the rights of Palestinian prisoners. The overwhelming majority of Palestinian prisoners, like Jamal Nouri, are political captives who have been arbitrarily imprisoned or detained under the pretext of "security," according to the Israeli human rights group B'tselem.
Of the 7,500 prisoners held inside Israeli jails, 450 are being held without charge under Military Order 1500, a remnant of British Mandate rule in Palestine, which allows Israeli authorities to detain an individual, adult or minor, for up to six months without bringing charges against him. This time limit is seldom respected, however, with detention being extrapolated into several years.At his home in Nusseirat, Jamal's wife, Najlaa, says she is anxious that her husband might suffer from the hunger strike, but hopes the Israeli prison authorities will eventually yield to the prisoner's demands."I hope I will be able to visit him some day soon. I haven't seen in him since he was arrested two years ago. I don't want my girls to grow up like orphans without a father. I always pray for his swift release, but for now, I mainly pray for the improvement of his life inside jail."