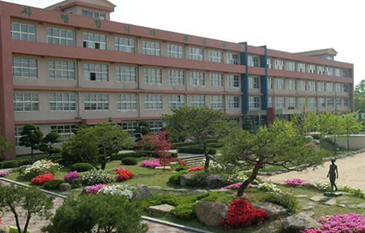 Chungbuk Girls' Middle School
As a new member of the EPIK Language Program in Chungbuk (North Chungcheong) Province, it was my good fortune to participate in a recent teacher's workshop. Sponsored by Chung-buk Provincial Office of Education, the event began unceremoniously in Cheong-ju, with two busloads of English teachers heading towards the city of Chung-ju. However, as we arrived at our destination, and the first program got underway, it became apparent that this event was no ordinary workshop; but a cultural and educational excursion.
Surprisingly, the chance to meet other teachers, reconnect with formers members of my orientation group was more enjoyable than I had expected. Also, the opportunity to avail myself of effective classroom strategies used by others was especially meaningful. Judging from the large group at the combined functions, it seems more than 150 foreign teachers from the Chung-buk province were in attendance.
Thankfully, during the actual workshops, we were divided into two groups—elementary and middle school teachers. My group met at Chung-ju Girls Middle School. There, we observed the resident teachers, Nikki Butler and Lee Sang-hee in their own environment, teaching one of their classes.
Armed with evaluation forms and writing instruments, we were asked to critique the lesson and provide relevant feedback on the presentation. Immediately after, we were encouraged to offer insights from our individual classroom experiences, highlighting the challenges we've encountered, and the methods used to resolve troublesome issues. Also, a few senior teachers shared their perspectives on building an amicable and professional relationship with their Korean co-teachers for an effective English education team.
In the discussion that ensued, different teachers provided useful tips and suggestions to make the EPIK program more proficient; ensuring a positive and rewarding classroom experience for both students and teachers. Clearly, the Chung-buk Provincial Office of Education is interested in equipping us with the requisite tools and resources to enhance our effectiveness in helping our students learn the language of international commerce. Hence, the workshop schedule, the cultural and recreational activities were well-chosen to augment the focus of the trip—invigorate and stimulate the EPIK teachers.
As evening approached, we were treated to a tasty and sumptuous meal at a traditional Korean restaurant. The food was both wholesome and yummy. And the various side dishes ensured that every diner found something palate pleasing.
At the end of this feast, we were ferried to the Chung-ju Cultural Center for a traditional music performance with Korean instruments like 가야금 (kaya-geum), 해금 (hae-geum), 단소 (danso), and 거문고 (keomun-ko). The orchestra was joined by two dance troupes from Chung-ju Boys and Girls High Schools, a Korean ballet team, and a 사물놀이 (samulnori) percussion band. Except for one of the renditions that contained a deafeningly loud segment, the entire ensemble provided the audience with a classical, musical treat, worthy of repeated encores.
Then, on Friday morning, we returned to the cultural center for an introductory lesson on 택견 (taek-kyun), a Korean performance martial art. We were given uniforms and invited onto the practice mat for participatory learning. The master instructor and his trainers taught us various techniques and maneuvers for outwitting and overpowering opponents. Encouraged by our trainers to try out these moves on our colleagues, we took turns tackling and tripping each other.
Naturally, one session of martial art sparing and mat-thumping encounter is enough to work up a hearty appetite. Luckily, the same restaurant prepared an elaborate meal for a famished 택 견 (taek kyun) group of trainees. After eating to our heart's content, we were off to another cultural excursion.
This time, we were given the privilege of learning to play our choice of Korean musical instruments. I chose the kaya-geum. After a painstaking and strenuous effort, I managed to play the first stanza of 아리랑 (arirang), Korea's most revered folk song. After such a feat, I felt both jubilant and exultant for two reasons. One, my teacher was so proud of me; and two, the blister on my pointer is a badge of honor to mark the occasion. Consequently, this cultural and educational experience is now etched in my memory as an EPIK excursion.