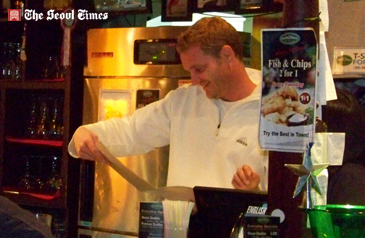 Wayne Gold finds time for business and fun at the Wolfhound
"It's laid back, it's chill, there's good service, you get a party upstairs and people laughing and chatting downstairs, it's great times." This is from Wayne Gold, who is one of the co-owners and managers of the Wolfhound Irish Pub and Restaurant, a well-known fixture of the Itaewon night scene in Seoul. Wayne came to Korea from St. Catherine's, Ontario back in 1997, looking to make some money teaching English while hopping around Asia a bit. When a friend talked him into running a bar together, Wayne found himself working in a whole new industry. After spending two years operating an older bar called Jester's, he soon met with some new business partners who were interested in opening up another local bar, and the Wolfhound came out of that.Replacing what used to be a fish restaurant in one of Itaewon's many back alleys, the Wolfhound opened its doors back in June 2006, starting off with just a few tables and a few kinks to work out. "There were some issues with the fire code, the fire code laws were changed just after we opened, and we had remodeled based on the old code," Wayne said. "So we took out some wood, put in brick, put in some glass here. We didn't have any food for the first three months. And we didn't have much after that, but we hired an executive chef, who worked with us for three weeks to train our own chef, and he's quite good himself." Five months after opening, the business above moved out, and the Wolfhound owners were presented with a unique expansion opportunity.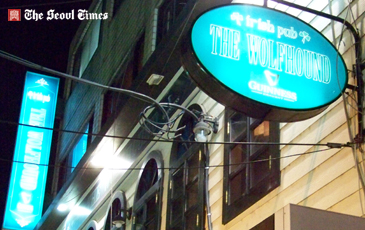 The Wolfhound is open for business every night in Itaewon
Now, thanks to no small amount of hard work and good fortune, the pub has expanded to two floors and boasts one of the more popular bar-and-restaurant services in the area. The two floors serve to be an intriguing dichotomy. The lower floor has the familiar look of your hometown tavern, with its darker tones, busy kitchen and even a bookshelf for board games and dime novels. The upper floor is roomy and raucous, where brighter colors illuminate your standard dart board, pool table and upper bar. The DJ center on this floor is a major draw for the pub, with music nights bringing in the masses on Thursdays, Fridays and Saturdays, and an entertaining though challenging table quiz every Sunday night.The Wolfhound also hosts and sponsors several events throughout the year. Its 2008 St. Patrick's Day party, Halloween party and Christmas dinner were all quite popular, with proceeds from the Christmas dinner being donated to the Korea Sexual Violence Relief Center. While not identified as a sports pub per se, it will occasionally broadcast big league football and Gaelic football matches, all projected on a big screen. The focus on a few sports might sound odd, but the Wolfhound does sponsor some area sports teams, including 3 football teams in the S.B.F.C. and the Seoul Gaels in Gaelic football. The pub has served as host to several parties, charity events and fundraisers, something of note to any event planners out there looking for a proper venue.
The upper floor is spacious, and often crowded on DJ music nights
When asked on the finer attributes of the establishment, the two points that patrons shared most often were "food" and "atmosphere." After a lot of training and tinkering, the Wolfhound kitchen offers a fine Western-style menu to accompany its drinks menu, all in sizable portions for a fair price. But while there are many dishes to be sampled, Wayne notes that nothing sells more than what people miss from home, that being fish and chips, and hamburgers. "Those two combined we sell more than anything else," he chuckles at. The fish and chips plate is so popular that the pub runs a "2 for 1 Fish and Chips" special every Tuesday, and the hamburgers earned a #1 rating from the "Best Burgers in Seoul" review ran by "Seoul Eats," a popular area food and cuisine blog. As a personal recommendation, try "The Whole Shebang" on a lazy Sunday, which is a massive all-day, every-day breakfast.And though many of these details might not separate the Wolfhound from your average tavern, people often point out how the atmosphere provides for a better experience. "The people you see here are very cool, very relaxed, and it's not quite the same with other places you may go to," said Ben, who visits the pub frequently. "It's nice to have a place where you can both go out and party on a Saturday night and then chill out for a Sunday brunch," added Amanda, another patron.The image of a pub like the one from back home is one that Wayne Gold is proud of. "I don't know if this is a compliment or not, but I had a friend who had stayed here about four or five months tell me 'this is the first place I've been to in Korea where I don't feel like I'm in Korea.' I don't know if that's a good thing or a bad thing, but it has to be about the customers. I just tried to make a place where I could be comfortable hanging out in."You can find out more about the Wolfhound Irish Pub and Restaurant by accessing their webpage at http:///www.wolfhoundpub.com/ or by looking up their profile on Facebook.