Scene of the explosion of the truck in southern Baghdad
Courtesy Reuters
Gaza City, July 19, 2004 — The wave of car bombs continued to pound the city of Baghdad, as a fuel truck loaded with explosives went off near an Iraqi police station, killing between 10-15 and wounding 40 others. The Iraqi Ministry of Health has declared so far that nine were killed and 56 others were wounded. Lt. Col. Bill Solter of the US forces told reporters Monday that it is believed that between 10-15 persons have been killed and that about 40 others were wounded. A white tanker came to within 500 feet of the two-story, fence-ringed Iraqi police station south of the city of Baghdad when it exploded at 8 a.m. local time, also damaging nearby mechanic and electrical workshops, witnesses said. The Iraqi police are often targeted by insurgents for their association with Iraq's US-backed government. The tanker's presence in this industrial area didn't raise concerns until it started speeding towards the police station, a worker at a nearby car wash said. "I was standing with a friend when we saw the tanker speeding in an unnatural way," said Ahmed Nouri, who said the driver was a young man with a light beard. "There were many policemen standing in the square when the tanker exploded," he added.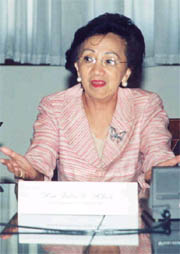 Foreign Secretary Delia Albert
Standing in the morgue at Al-Yarmuk Hospital, supervisor Ahmed Araybeh counted eight bodies, including two policemen and one child. He said four boxes of flesh and blankets carrying body parts were also brought in. Meanwhile in the restive city of Fallujah, west of Baghdad, Iraqi police reported the discovery of a local police chief's body at a shopping market. Lt. Col. Naif al-Kubaisi was kidnapped two days ago, said Capt. Nasir Abdullah, from nearby Heet police station. His body was found Monday morning. Also Monday, the last members of the 51-strong Philippine force made an "exit call" on the new Polish commander at their base in the town of Hilleh, south of Baghdad, then waved as they left in six cars. They had been scheduled to leave Iraq on August 20. The last of the Filipino force were scheduled to travel by ground to Kuwait, then by a commercial flight Manilla, said Delia Albert, the Filipino Foreign Secretary. Despite furious criticism by the United States and Australia, the Philippines was determined to withdraw all its troops from Iraq, engineered to save the life of truck driver Angelo dela Cruz, who is still held by captors in Iraq. Del Cruz's captors, who kidnapped him on July 6, said they would release the 46-year-old father of eight once the last Filipino troop has set foot outside Iraq. On Sunday, a US air strike authorized by the Iraqi Prime Minister Eyad Allawi on the town of Fallujah left 14 Iraqis dead, mostly civilians, in what the US forces described a raid on insurgent hideouts.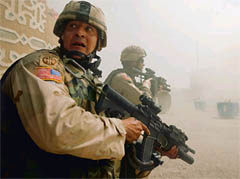 US soldiers in Fallujah Courtesy TIME
The multinational force in Iraq said it had requested Allawi's authorization for the raid, and that he gave it to them. Adnan Al Mohammadi, a resident doctor at the Fallujah Hospital, said that 14 citizens have been killed by the night air strike, and that some of the killed were buried in the town's cemetery without being taken to the hospital first. A US military spokesman declared that several air strikes against the town were carried out last night, but he gave no details on the targets of these air strikes or on the resulting casualties. "We worked with the (Iraqi) government, the government was fully informed about these matters, agreed with us on the need to take the action, we conducted the action," U.S. Deputy Secretary of State Richard Armitage said during a news conference. "We didn't just strike off on our own, a sovereign nation had to agree."