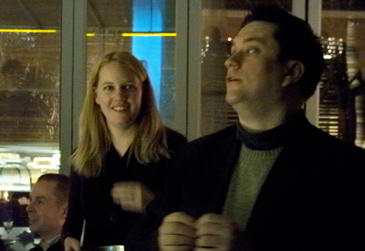 Kathrynn Whinney and Chris Sanders announcing raffle winners
If aspiring writers far from home need a bit of inspiration for putting pen to paper or fingers to keys, consider the recent anthology published by a group called Seoul Writers, entitled "Every Second Sunday." Members of the group along with friends and other booklovers came out on December 6th to celebrate the publication of their collection at Dear Chocolate in Apgujeong. The event served not only as a successful launch for these writers, but also as a benefit for two worthy causes as well as an entertaining wine and dine for all involved.Starting around National Writing Month in November 2007, Seoul Writers is coordinated by Kathrynn Whinney and Chris Sanders (who also serves as editor for Eloquence Magazine). Soon enough, the group, which largely consists of expatriates and teachers among them, gathered enough core members to consistently produce engaging workshops. Having developed together as writers, the group wanted to celebrate the work they had done up to this point. As Kathrynn put it, many of the people who regularly attend are "generally from an arts background who are trying to create something, and who are not satisfied with only going to Hongdae." Chris followed up on this point by saying that "people wanted to develop themselves and that's where the writing succeeded so well. And that's where this book came from; we realized that we had good talent that they (the writers) deserved some sort of recognition."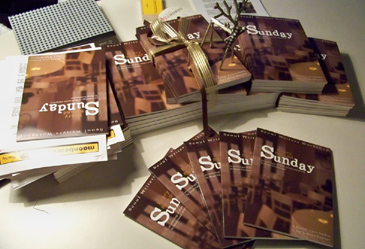 Copies of "Every Second Sunday" on sale
Consisting of selections from eighteen different writers, the anthology features several works of short fiction and poetry. Some pieces adopt Korean or teaching-related themes, but as Kathrynn informed me, there was no suggested, central theme for the collection. "I think a bunch of stories of teachers living in Korea wouldn't have gone over quite well," she aptly pointed out. Still, Chris saw some common traits. "A lot of the stuff represents some aspect of expat life; the feeling of alienation, of newness and strangeness, the feeling of separation or exploration." And if you believe that gathering people together to publish a book in a foreign setting must have been exceedingly difficult, prepare to be surprised. "The actual process was not that bad," said Chris, largely due to a lot of gracious help. Hyesun Hwang, who works with Eloquence as a designer, also helped design the collection and liaison with the publisher, and Tamara Kowalska, Angela McLaughlin and Rich Murray all contributed to editing the collection. Dear Chocolate, the host of the event, is a small restaurant found around the Rodeo section of Apgujeong, close to the Galleria Department Store. A first glance into and around the spacious setting suggests an art gallery more than a confectionary shop or restaurant. Mugs with heart-shaped optical illusions help occupy a display shelf, and a large collection of ink stamps adorn one wall. But one soon finds that Dear Chocolate has a full menu and wine list, and lives up to its name with a selection of various chocolates. Attendees were treated to good wine, good eats and excellent service. Also assisting to a successful evening were student volunteers from Sungkyunkwan University, donating their time to help with book and raffle sales as well as event organization.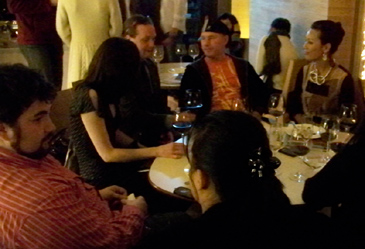 Attendees wine and dine at Dear Chocolate
All proceeds from the event were evenly split amongst two charities. One of these beneficiaries is Moonbears.org, a Seoul-based animal rights group fighting the exploitation of the Moon Bear, also known as the Asiatic Black Bear, here in Korea. Every day, numerous bear farms in the country are allegedly draining captive bears of their bile for medicinal purposes, then slaughtering the animals after the age of 10 in order to sell their gall bladders, meat and paws. Moonbears.org is hoping to bring this news to light so that others may join in and petition the Korean government to investigate and put an end to this trade. You can visit http://moonbears.org (in English language) or contact Gina Moon at g.moon@moonbears.org to learn more about these matters and how you can help.The other charity to benefit from this event was the Korea Sexual Violence Relief Center. Established in 1991, the center supports victims of sexual violence by providing counseling services, prevention education, legal and medical assistance and shelters. According to Deputy Director Lee Eun Sang, the center sees some 2000 cases every year from all parts of the country, most of which are concentrated in Seoul where they are headquartered. Every year, the center also holds special events such as the "Take Back the Night" march and the "Survivors are Speaking Out" event. 12 staffers and several volunteers support the center and its clients, but more volunteers are always needed and welcome. For more information, please visit http://www.sisters.or.kr/ (mostly in Korean but with an English page) or contact Lee Eun Sang at sunkissedeun@naver.com/.In addition to wining, dining and bookselling, the event ran a prize raffle which considerably aided in bringing in more donations. Prizes for the winners included "Every Second Sunday" T-shirts, an MP3 player, and a restaurant gift certificate. But the top prize was a chance to have yourself featured in your own story, courtesy of one of the group writers. The winner of this last prize was John Walker, who helped sponsor the event. Mr. Walker graciously donated the award to Kelly Frances McKenna, a multimedia coordinator with Eloquence Magazine and supporter of Moonbears.org, who greatly contributed in the planning and advertising of this event.And what is next for Seoul Writers? Certainly, it's back to working on more writing samples for the next workshop, but don't be surprised to see another collection in the works. "There will certainly be a follow up; we just have to decide when," Chris promised. "It'll either be in early summer or in mid-fall, but we will have a second anthology for sure." And is there any concern that they won't be able to produce another good pool of writers? "No, no concern," said Kathrynn. "In fact, we'll probably have more. Even tonight, I've had five or six people saying that they're going to get involved in the group. We've had at least fifteen new members in the past two weeks, and I think it can really only go through strengths to strengths at this point." That's good news for both Seoul Writers and the many literary people out there looking forward to a second anthology.To find out more about Seoul Writers, visit http://seoulwriters.ning.com/ or access their Facebook group entitled "Seoul Writers." More information on the book, "Every Second Sunday," can be found by visiting http://everysecondsunday.wordpress.org/.