Palestinian security personnel training in wooden rifles. Courtesy Reuters
Gaza City, June 21, 2004 — "To me, reform means jobs for everyone without nepotism, being able to speak my mind without fearing a long stay at the damp dungeons of police and to be able to live freely under a government I chose by elections." As simple as that, Tayseer Al Amoudi, 18, of the densely crowded Jabalya refugee camp, defined reform before entering the exam hall to do his final secondary year exams. For every Palestinian, corruption has become a known issue and subject of chit-chat in public meetings and on the streets, not to mention referring to it in newspaper columns and editorials. Intellectuals, influential politicians and commoners alike demand reform as a key matter to improving the economic, social and political situation in the Palestinian territories. Dr. Ziyad Abu Amre, a Palestinian legislator and head of the Palestinian Council for Foreign Affairs (PCFA), views reform as an urgent national demand for a better and more modern way of living for the Palestinians.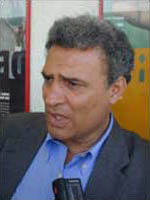 Dr. Ziyad Abu Amre Special Photo for The Seoul Times
"Without reform, we cannot reach a modern and democratic political system, in which rights are guaranteed and the law prevails above all other issues. Without reform the internal situation would deteriorate, chaos and havoc would reign," he said. However, Abu Amre sees reform as not only for the Palestinian Authority's institution, but should be extended to all the organizations of the civil society. "I believe that reform is a comprehensive concept and a process that should reach the entire Palestinian situation; the political system, the PA and its institutions, the PLO (Palestinian Liberation Organization) with its institutions, civil society organizations, political factions, unions and even the private sector. We must rid ourselves of the collective of negative values and incorrect relations that has infested the Palestinian society," Dr. Abu Amre explained. But performing reform in all these aspects takes time, a lot of time, according to Abu Amre. "After the spread of malfunction, corruption and errors, reforming the Palestinian situation will take a long time. This is a national and collective process, and we must have a complete vision, plan, strategies and work mechanisms to carry out this project completely, gradually and concurrently."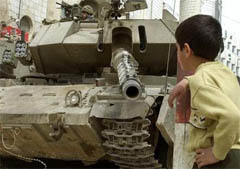 An Israeli tank in West Bank
With Israel's massive occupation of the West Bank in March 2002, followed by President Bush's June 24 speech calling for a new Palestinian leadership untainted by terror and corruption, the world of Arab-Israeli relations was turned on its head: Arafat was fingered as the problem and his removal — not his empowerment — became the path to its solution. President Bush's call for new Palestinian leadership immediately threw the Palestinian leadership into crisis, emboldening those Palestinians seeking greater freedom. In the following months, Arafat's rule has been transformed from indispensable to besieged, followed by a hasty and rash approval of the Prime Minister's post. Reform is the keyword in Washington, echoing Israeli Prime Minister Ariel Sharon's view that Arafat was the leader of a "corrupt entity that must be reformed." Abu Amre, who was the former Culture Minister and long-time reform banner-bearer, argues that the definition of reform in the Palestinian case differs with every side according to its respective motives and goals.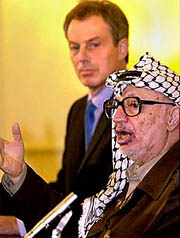 Palestinian Authority President Yasser Arafat delivers a speech while British Prime Minister Tony Blair looks on in a news conference. Courtesy LA Times
"Reform is a vast concept, but I believe the difference lies in the motives of the concerned parties. When Israelis talk about reform in the PA, I don't think their goals are the same as those we have, because reform eventually aims to empower the society and enhance its ability to survive and to efficiently perform its tasks, and I don't believe the Israeli goal is empowering the Palestinian people and its society," Dr. Abu Amre mentioned. Acknowledging a great deal of corruption in PA institutions, mainly the security services, Abu Amre charges that the main task of these services is to protect and serve the Palestinian citizen and his budding country, not involve in economic, political and media activities. "The fact that these services have been involved in every activity that is not of their business and failed or neglected to perform its main task; breaking the law, extorting money, assaulting public and private properties, violating public and private freedoms and doing everything but their original task. Does these services require reform? The answer is definitely yes. I don't care if reforming security services comes from foreign parties or not, but if reforming security services serves our national interests as Palestinians, then by all means we must do it." Dr. Abu Amre, back in 2002, gave a speech at the Washington Institute for Near East Policy, in which he demanded President Arafat to sign the Palestinian Basic Law, the election law and reform the PA and its institutions.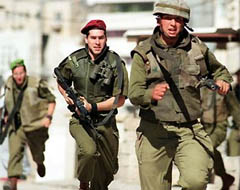 Israeli soldiers in West Bank
Arafat did, afterwards, sign the Basic Law and the election law, as well as the judiciary independence law, but Abu Amre claims this was a signature under pressure and action has not yet stepped into the shoes of words. "The Basic Law, though signed and approved, is being stepped on every day. This Law is like a constitution to the Palestinians. There is a wide gap between signing the law and actually implementing it. President Arafat refused to sign these laws in the beginning because they were based on Palestinian and parliamentary demands, but unfortunately, he was forced to sign them under American pressure, which clearly reveals his intentions of not caring for an authentic and serious implementation of these laws." Reform in the PA has always been accompanied with funding and financial support to rehabilitate and increase the efficiency, about which Abu Amre says every side has its own agenda behind the funding. While the European Union's funding did not condition any change in what Abu Amre referred to as the national constants, he drew attention to that the US funding has been for a certain political agenda that would demand changes in the Palestinian national constants.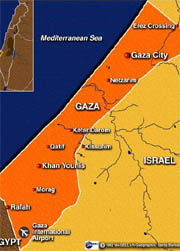 "Europe funds Palestinians and does not condition the change of the political leadership for that, but the United States wants to change the leadership, taking into consideration that in the democratic context, changing the leadership is a pure Palestinian affair. Also, some international organizations have their own conditions for funding reform, depending on their goals and agendas. However, we should refuse all conditional funding under what is called "political reforms" that requires compromising our national interests and rights, represented by the ending of the occupation, establishing a Palestinian state, Jerusalem, resolving the issue of the refugees and removal of the settlements," Abu Amre said. Even if the PA did reform all its institutions, Abu Amre doubts that the Israelis would stop stalling and delaying in carrying out their commitments, and would constantly search for excuses in the PA to exempt them from doing so. "Carrying out these reforms would embarrass the other sides that claim we are incompetent and unworthy. By reforming, we are emptying them of excuses, but regardless of their response, I believe we need reform as an internal demand and that is should be carried out according to our national Palestinian agenda."