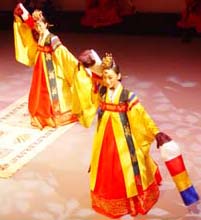 So far both foreigners and local people have had to go all the way to Kangbuk area, northern part of Seoul to taste Korea's authentic traditional food and performances. But they don't need to now. Opened recently in the heart of affluent Kangnam area Korea Cultural House(KOUS) offers traditional performances, authentic traditional food and tea within the same building with a total floor space of almost 2,000 sq. meters.Regular performances being held from Tuesday through Saturday at 8 p.m. in the "Traditional Feast Hall" on the second of the four-story KOUS building for 70-minute run. There are three different types of performances to choose from depending upon the day of your visit.Performances include court music, samulnori, pansori, and such traditional dances as fan dance. Samulnori is traditional percussion music with four musical instruments and pansori is Korean traditional opera for ordinary folks. Ticket prices are 25,000 won for A-seat and 30,000 won for S-seat, respectively.Assisted by kind waiting staff clad in traditional costume you can sample top-quality "real" traditional Korean food including royal court food in the spacious "modern"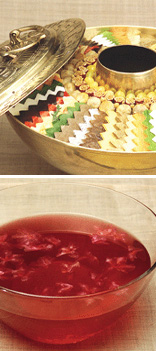 "Korean Restaurant" on the third floor of the building. Prices range from 20,000 won to 55,000 won for a set menu. There are three types to make a pick.For those who want to sip traditional tea you can visit "Tea House" on the corner of the first floor. Different from other tea houses offering instant tea, here you can taste various types of freshly-brewed traditional Korean tea including fine-tree tea. Other traditional drinks such as sujonggwa and shikhye are also served. Prices range from 4,000 won to 5,000 won.Next to the tea house is souvenir shop called "Handicraft Exhibition Hall" on the first floor full of artifacts and crafts including porcelains and key holders made by masters of Korean arts. Visitors can also personally go through making such traditional art crafts as masks, straw craft and Korean paper making during day-time hours."I hope our house will play a key role in introducing traditional Korean culture to foreigners and local people alike in Kangnam area ," said Han Woon-kee, 43, director the Korean Cultural House, "And that's the purpose of this house."Aside from regular programs are being held occasional special cultural events. Currently "Special Family Events" are under way on the occasion of Children's Day and Parents' Day to entertain children and parents at reduced prices.
Korea Cultural House(KOUS), an affiliate of the Foundation for the Preservation of Cultural Properties Korea (
http://www.fpcp.or.kr/
) was built behind Textile Center in Daechi-Dong, Gangnam-Gu in April 1 of 2003. Nearest subway station is Samseong St. on No. 2 Green Line. Visitors have to take Exit No. 4.For reservations call 02-567-6013 and for other details log on to
http://www.kous.or.kr
or call
02-567-6012 or 6013.