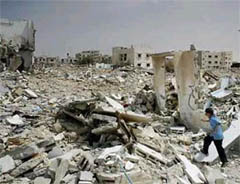 A general scene of demolition in the city of Rafah after the Israeli pullout from there.
Courtesy Reuters

Gaza City, May 29, 2004 — Samia Dahman was watching her favorite show on TV when an armored bulldozer was already tearing its way through her house in the Rafah refugee camp, south of Gaza Strip. 35-year-old Dahman recalled running off with her children and hiding behind a house in the next alley, stealing peeks from time to time of the larger-than-a-man-sized blade scraping away her two-room home. "All my neighbors rushed to grab what they could of my furniture — the washing machine, TV, my new bed, some blankets — but the bulldozer kept coming," Dahman said. "We were all crying. I will never forget that day." Samia, her husband, Tareq, and their three children moved deeper in the refugee camp — away from the advancing bulldozers, crackle of bullets and roaring explosions of tank rounds. The bulldozers, however, kept moving, razing their neighborhood one house at a time. Two weeks ago, the Dahmans' home was demolished by the Israeli forces in a new invasion of the city of Rafah, nearly 14 months after their first home was demolished. This is the frontline of the most dangerous zone in the Palestinian territories. In the past two weeks, 65 Palestinians and five Israeli soldiers have been killed in the city of Rafah and surrounding refugee camps. 308 Palestinians, including 66 children, were killed in Rafah alone since the outbreak of the second Intifada in September 2000, according to local medical sources and human rights organizations.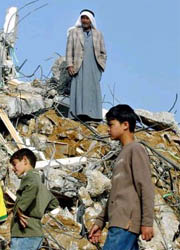 Unknown man stands atop the rubble of his home in the Block "O" area of Rafah. Courtesy AP
During the same period of time, the Israeli forces have torn down 1,218 houses along the southern edge of Gaza Strip, which separates it from Egypt by a thin borderline. The demolition of homes there has pushed back the city of Rafah and adjoining refugee camps further inwards, leaving behind a broad two-kilometer-long strip of broken tree stumps and crumbled concrete — all that remains of what Samia Dahman and others describe as a jam-packed neighborhood of families that gathered here 56 years ago in a block of UN tents. "They've split us up," Dahman said in her second home — before its destruction — some days ago. "We were all relatives living with each other. Now we live across town." Israeli military commanders say Palestinian militants attack Israeli forces in Rafah more than any other place in the Palestinian territories. They claim the city is rife with smuggling tunnels, often used by militant groups to smuggle weapons and ammunition from Egypt. Inside Rafah, the Israeli forces erected an eight-meter-high steel wall topped by bulletproof machinegun turrets and observation towers, remotely controlled by soldiers through high-tech surveillance equipment. The houses along the borders, Israelis claim, sit atop the entrances of the smuggling tunnels, and serve as positions for militants to shoot at the Israeli posts. Bulldozing houses there, they maintain, is vital to the fight against militants. Last year, according to local Palestinian sources, the Israeli forces have destroyed three times as many homes in Rafah as the year before.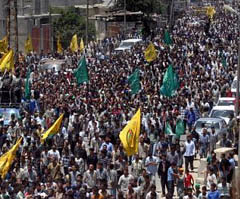 Thousands of Palestinians bid 16 of the 62 citizens killed in the Israeli invasion of Rafah farewell during a massive funeral procession of the city. Courtesy AP
Dahman and her neighbors say they have been caught in the crossfire between the Israeli forces and the Palestinian militants. They grieve not only the loss of their homes, but the street-by-street dismemberment of their community. The neighborhoods of Rafah — such as Dahman's Block "O" — still retain their names from the old United Nations' alphabetical designations, when they were just large blocks of tents pitched in 1950s for those who fled their native lands after the creation of Israel. These blocks of tents slowly evolved over the years into intimate collective of one-storey cement homes and multi-storey apartment buildings, where generations expand the dwelling as their families grow. Marriage among neighbors also drew the community ties even closer. Now, according to the UN Relief and Work Agency (UNRWA), more than 11,000 Palestinians have been uprooted from their homes. In Block "O," which is one of the most devastated neighborhoods in the camp, at least 570 homes — nearly half of the neighborhood — have been demolished or damaged so badly that they are no longer safe for habitation. When Dahman gave birth to her first child, Maher, now 7, she was surrounded by in-laws and embraced by the neighborhood of extended families in Block "O." "This was in 1997, in the days of peace. We had hopes for a better life and our camp was on the way of prospering," she said. "When I gave birth to my second child, Rola (now 5), I found all my family around me and taking care of both of us," Samia Dahman added. At the birth of her baby Ibtisam 8 months ago, she sighed, "No one was there to help me." The Dahmans were the last family to remain in Block "O." After Israeli bulldozers demolished their home, they moved into another home by rent on the edge of the Block. In March, and following an explosive attack in Israel by Palestinians from Gaza Strip, the Israeli forces rolled into Block "O" another time, and the Dahmans had to join the bulging exodus from the Block, carrying what furniture and personal possessions they could. On March 16, at approximately 4 in the afternoon, their second home was flattened by an Israeli bulldozer.