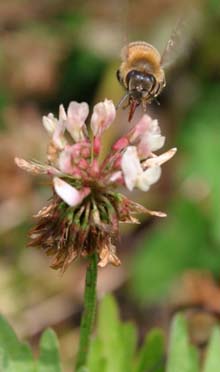 A honey bee sits on the flower.
Beekeeping impinges on many aspects of our lives. It brings together those interested in improved agricultural production and the well-being of the countryside, gardening and education, food and cooking, and ancient craft skills as well as scientific work.Beekeeping (or apiculture, from Latin apis, a bee) is the practice of intentional maintenance of honey bee colonies, commonly in hives, by humans. A beekeeper (or apiarist) may keep bees in order to collect honey and beeswax, or for the purpose of pollinating crops, or to produce bees for sale to other beekeepers. A location where bees are kept is called an apiary.Beekeeping is a diverse activity centered on the honeybee Apis mellifera. Some people, both men and women, become absorbed in the systematic and often hard physical work of securing good honey crops. Others find satisfaction in some special aspect of the natural history of the honeybee. There are devotees of each of the different aspects of beekeeping technology, honey and beeswax processing, exhibiting and marketing. Beekeeping Associations bring people together from all walks of life who are concerned to further and to share their own knowledge and love of the honeybee. There are beekeepers, and not all with our type of honeybee, in nearly every country in the world.Why is beekeeping appropriate for disadvantaged poor rural communities? — It requires no land
— It requires minimal inputs when appropriate technology and indigenous bee strains are used
— It is environmentally positive through pollination of wild flowers and trees
— It is not very time consuming
— It is generally not heavy work, so it can be done by most people
— It is a sustainable use of forest and pasture resources, actively encouraging forest conservation
— It is appropriate in areas where agriculture is prevented by mountainous conditions(i.e., sloping rocky land and high altitude conditions)
— It is a source of income generation (through the sale of honey and beeswax)
— Its main products, honey and beeswax, are of low-volume, high-value and relatively unperishable and hence relatively easy to export from remote mountainous areas
— It has potential for value-added product manufacture in the remote area itself as a means of extra income over and above the value of the raw material (e.g., candle and hand cream making with wax, honey, medicines, etc)
— It has the potential to benefit communities through livelihood improvement (i.e., keeping honey for home medicinal use, making ones own hand cream for cuts and grazes, improving family nutrition, etc.)
— It improves crop yields through pollination services
— Honey is not only delicious it is also highly medicinal (containing a natural antibiotic) and provides trace minerals and vitamins
— Bee pollen, which can be harvested, is one of the most nutritious substances known to man, containing all essential amino acids and most vitamins and minerals
— Bee venom (bee sting therapy) can be used to treat arthritis
Hive of activity
Honey aside, bees are busy producing a whole range of products. Many are specialist products that are more costly and difficult to process. Value added hive products include:Beeswax, used in cosmetics, candles and polishes; has a good market, with world prices fetching between ¡Ë©¡2 and ¡Ë©¡3.5/k;Pollen, gathered by bees to feed their larvae and used in the perfume industry, as a food additive or for medicinal purposes; propolis, the substance collected by bees from plants to cover the inside of the hive, currently enjoying a boom due to its antiseptic and antibiotic properties; Royal jelly, made by young bees from gland secretions mixed with bee bread and fed to the queen to make her strong; used in the natural medicine market as a tonic and to alleviate a range of aliments
Beginning Beekeeping Basics
It is usually wise to start small, learn efficient management techniques, and expand the beekeeping operation as time, experience, and finances permit. Initial outlay can reach $200 per hive, and other equipment, such as a smoker, veil, gloves, feeding equipment, honey extractor, etc., will add to the expense. Beekeeping can be labor-intensive during certain times of the year. Working with bees requires a gentle touch and calm disposition. It also requires a basic understanding of the honey bees' behavior during the various seasons and during handling and moving. Beekeeping can be undertaken by anyone who has enough ability and determination to look after the bees properly, enough courage to work with bees, and enough money to buy bees and equipment. Please note: Before you get into beekeeping, you should check to make sure local zoning laws allow you to keep honey bees and what your reaction is to bee stings. Beekeeping is not a seasonal enterprise, but requires year-round management. The beginning beekeeper needs to consider his or her available labor limitations, and keep the enterprise at an easily managed size. What constitutes appropriate and sustainable development in beekeeping? — Use and adaptation of indigenous beekeeping methods, particularly in the design of suitable beehives
— Use of farmer-to-farmer techniques in beekeeping training and extension
— Promotion amongst both traditional beekeepers and honey hunters (especially at the start) but also amongst groups previously not so active in beekeeping.
— Integration of beekeeping with other activities, coupled with gender-awareness raising, in an overall process of integrated community development
— Taking a community-level approach to training, demonstrations, and workshops
References
www.bbka.org.uk/starting.php - 29ken.wikipedia.org/wiki/Beekeeping - 118kwww.roctronics.com/BEE.HTM - 4k spore.cta.int/spore128/pdf/spore_128_en_dossier.pdf Adekoya, A.E., Ahmad, A.A. and Fashola, A.A. (2002). Beekeeping as an income generating activity: A case study of honey bee farmers in Ibadan Metropolis, Oyo State. Af. J. Livestock Extension 1: 21-27. Anonymous (2005a). All sweetness and light? New Agriculturist on-line. Available on http://www. wrenmedia.co.uk. Shalini Asrani and Sushma Kaushik
Department of Extension Education
College of Home Sciences
CCS Haryana Agricultural University, Hisar -125 004 (Haryana) India