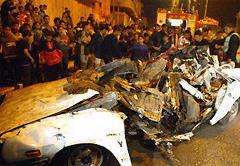 Palestinians surround the wrecked car in which Al Rantisi and his two bodyguards were assassinated. Courtesy AFP
Gaza City, April 19, 2004 — Medical sources declared last night that the leader of the Hamas movement, Dr. Abdel Aziz Al Rantisi, and two of his bodyguards were assassinated while traveling down a busy Gaza street. Al Rantisi, who was appointed less than a month ago as the new leader of Hamas following the assassination of Sheikh Ahmad Yassin, the movement's founder and spiritual leader, was killed in a missile strike on his car, in a bid by the Israeli government to root out the movement's leadership prior to its purported withdrawal from Gaza Strip. Following the announcement of Al Rantisi's killing, thousands of Palestinians flooded the streets of Gaza in angry demonstrations, marching towards the charred car of the Hamas leader and chanting slogans calling for the swift revenge for his murder. "This is the dear price of blood we gladly pay for the liberation of our homeland ... his blood (Al Rantisi's) will not go in vain," Ismail Haniya, the senior Hamas leader, said while standing outside the Gaza's Al Shifa hospital. The assassination drew heavy criticism and condemnation from all the Arab and Muslim states, as well as Britain, who — for the first time, broke ranks with Washington and described the assassination as "unlawful, unjustified and counterproductive," according to its Foreign Secretary Jack Straw. The Palestinian President Yasser Arafat condemned the Israeli air strike and killing of Al Rantisi as "brutal assassination", while Prime Minister Ahmad Qurei' accused Washington of giving Israel the green light to assassinate Palestinian leaders, holding them responsible for what happened in Gaza last night. Arab states also condemned the assassination of Al Rantisi as "state terrorism", pointing out that with such actions were intended to sabotage all the efforts for peace in the region. However, the Bush administration declined to criticize the killing, saying instead that Israel has the right to defend itself from terrorist attacks and urging Palestinians to use restraint in responding.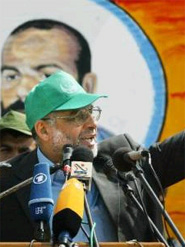 Dr. Abdel Aziz Al Rantisi (left) gestures next to his bodyguard Akram Nassar, as he delivers a speech at the Islamic University of Gaza. Courtesy AP
"The United States strongly urges Israel to consider carefully the consequences of its actions," White House press secretary Scott McClellan said. "And we again urge all parties to exercise maximum restraint at this time." The Hamas leader's car was hit with two missiles several meters away from his home in the Gazan suburb of Al Sheikh Redwan, according to eyewitnesses. In the aftermath of the two explosions, helicopters were heard overheads and thermal balloons were seen scattered in the sky.
"It was a horrible thing. I heard a muzzled explosion a few meters away from my pharmacy, and then another one. I ran out to see a white car torn into shreds, while Dr. Al Rantisi exited the car and ran for about ten meters then fell unconscious to the ground. He was bleeding severely and his clothes were torn off and partly burnt," Mesbah Odeh, 25, a pharmacist, told ST correspondent. Al Rantisi was severely wounded and was urgently rushed to the local Al Shifa hospital. Doctors at the hospital said he suffered severe bleeding, as his body was riddled with small wounds. After some minutes of reaching the hospital he was pronounced dead to the crowds that waited outside. Two of Al Rantisi's bodyguards, Akram Nassar and Ahmad Al Ghurra, were also killed in the air strike. Five other pedestrians were also wounded in the strike. A previous attempt on Al Rantisi's life was made in June 10, when Israeli helicopters fired at least seven missiles at his car in a Gaza main road, reducing it into a pile of charred scrap metal, but the senior Hamas leader escaped the attempt with wounds to the right leg. Two bystanders were killed, including a teenage girl.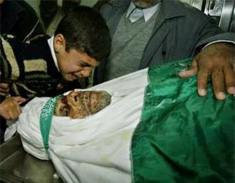 Nephew of Abdel Aziz Al Rantisi cries on his uncle's body at the Al Shifa hospital morgue. Courtesy Reuters
The protests for the killing of Al Rantisi soon overwhelmed the Palestinian cities, as demonstrators took to the streets of Ramallah City, calling on the movement's armed wing, Ezzeddin Al Qassam Brigades, to avenge the Hamas leader's death. Khaled Mishal, Hamas' politburo chief, called on the leaders of Hamas to immediately elect a new leader to the movement, but appealed to them to withhold his name, in fear of Israeli attempts on his life. Mishal's remarks represented a turn in Hamas' security precautions and tactics, as the Israeli government declared it would continue to assassinate more militant groups' leaders. Israel has stepped up strikes on Hamas ahead of a proposed unilateral pullout from Gaza. "No terrorist can go home to sleep at night thinking he is immune," Ehud Olmert, the Israeli vice premier, said Saturday. "They (militants) are in our crosshairs ... and should run and hide from the Israeli forces who can get to them everywhere." Since the current cycle of violence broke out in September, 2000 the Israeli forces have assassinated nearly 350 Palestinians, about 250 were militants and the rest were civilian bystanders. Israel claims its "targeted killings" are very precise and are carried out using top notch weapons technologies and targeting systems. In March 25 and while at the eulogy for Sheikh Yassin, Rantisi was defiant about Israel's threats against him. "We will all die one day. Nothing will change. If by Apache or by cardiac arrest, I prefer Apache," he said.