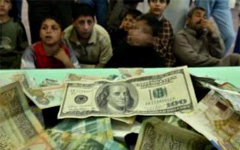 Palestinians gather before a pile of money in one of the mosques that called to funding Hamas' resistance.
Courtesy Reuters
Gaza City, April 13, 2004 — "I donated all of my wedding jewelry, and I feel so sorry for not being able to give more," said Aysha Hamdan, of the impoverished Daraj neighborhood in Gaza, as she walked out of the local mosque.Hamdan was just one of the thousands of Palestinians who joined the long lines that came to answer Hamas' calls to pool funds for their resistance groups.On Friday noon prayer, preachers and prayer leaders called on the masses to donate money for supporting the militant group Hamas.Mr. Yousef Farahat, the preacher of the Al Qassam mosque in Nusseirat refugee camp, said what the people did was unprecedented. "I saw men emptying their pockets and wallets and then apologizing to us for not having anymore money with them. It was like the days of Prophet Mohammed, where people donated money for his cause despite their dire poverty."The fund-raiser lasted only one day — exactly eight hours, but Hamas officials said they raised nearly $3 million from all the mosques and donation centers.Ihab Al Qatrawi, 11, said he donated all of what was in his small moneybox. "I had about 70 shekels ($15) I was saving it for about six months to buy a new bicycle, but the Mujaheddin need them more than I do," said Ihab.Another Palestinian, who identified himself only as Zakariya, works as a land merchant. He said he donated $6,000 to the local mosque. "These groups fight for our freedom and against the Israeli occupation that is killing us everyday, so why hold back money from them? Believe me if I had a million dollars I would donate them right away."Dr. Abdul Rahman Al Jamal, a professor of Quranic studies at the Islamic University in Gaza, said that one of the reasons for the unprecedented response despite the harsh economic situation was that Islam, in times of war, exalts Jihad (holy struggle) and praises all Mujaheddin, promising them — and those who spend money to equip them, eternal paradise.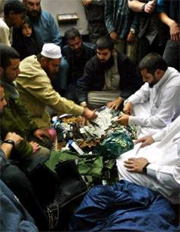 In addition to money, Palestinians donated military clothing and ammunition.
Courtesy AP
Samira, a Palestinian working in one of the private companies in Gaza, said as she left the local mosque, "I donated my jewelry and a month's salary to the resistance. I'm happy to have done that and I have no regrets. The occupation has caused a lot of suffering to the Palestinians, especially me. I lost my husband to an Israeli combat helicopter last year."Dr. Nizar Rayyan, a leading member of Hamas, said the level of turning to the resistance call reflected the adherence of Palestinians to the choice of the resistance."Those who froze the movement (Hamas)'s accounts should know by now that in spite of their efforts to weaken the resistance, the Palestinian people stepped forward; men, women and children, to support the Mujaheddin and reaffirm their adherence to the choice of the resistance," Dr. Rayyan commented.The funds did not come from Gaza Strip alone, as Palestinians and Muslims started sending money to the movement on the phone.One of supervisors on the fund-raiser said that they did not advertise for the campaign abroad, but because of the media coverage this fund-raiser had from different agencies, people abroad started calling and donating money.Hamas fund-raising abroad has been seriously hampered in recent months, with Israel and the United States trying to stop the transfer of funds, classifying it as a terrorist organization.In February, Israeli troops raided several banks in the West Bank, seizing nearly $7 million of what Israel claimed was money funneled to militants, including Hamas, from abroad."I love Hamas because they keep the tanks away from our homes and keep us safe from their missiles and bullets," Hanadi, 9, explained why she was giving money to the resistance.This simple phrase nearly wraps up all the reasons that made Palestinians respond to Hamas call to donate, without being intimidated or threatened by anyone if they refrained from giving money.