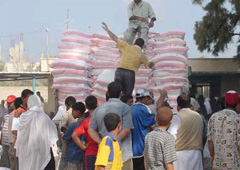 Food Aid waiting to be distributed in Gaza's Beach camp Courtesy UNRWA
Gaza City, April 9, 2004 — The weary Um Adel, a mother of seven, has just finished baking a couple of bread loaves from the last amount of flour in her house, when she turned around and said, "these loaves may be the last food my children would see in a long time."Despite that her phrase was a bit tough, Um Adel, the second generation refugee from the town of Barbara and currently lives at the Beach refugee camp in Gaza, knew that she won't receive any food aid for a long time.Um Adel's suffering began a month ago, particularly in March 14, when the Israeli authorities decided to close down Gaza Strip entirely, following an attack on "Ashdod" seaport, south of Israel, by two Palestinians from the Strip.After intense investigations, the Israelis discovered that the two attackers stowed away on a container headed for the port. Later they decided not to allow any container to exit the Strip.The connection between the banning of containers and Um Adel's suffering is that the United Nations Relief and Work Agency (UNRWA) brings in emergency food aid to the Palestinian refugees in Gaza Strip through containers; the same ones Israelis banned from entering or leaving Gaza.Mr. Christer Nordahl, Deputy Director of UNRWA Operations in Gaza, said that the food supply crisis began on April 1, when the stored food in UNRWA's warehouses was depleted.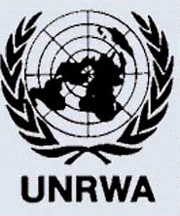 "We buy foodstuffs from the international market, and they arrive to Ashdod port in containers owned by the shipping companies. The containers are then loaded onto trucks that transport them to our stores in Gaza," Nordahl explained. He made clear that Israel has banned the containers from leaving Gaza Strip, thus every one entering Gaza was not allowed to leave again, which overloaded the budget of the UN agency with more renting expenses for the containers."We had to deal with the backlog of containers entering Gaza without being allowed to leave. We were forced to stop containers from entering Gaza Strip so their rental fees won't drain our budget, thus food aid stopped coming in," Mr. Nordahl said.On the first of April, Mr. Peter Hansen, UNRWA Commissioner-General, issued an urgent press release, in which he warned of a "humanitarian crisis in the Palestinian territories" if the Israeli banning continued."The suspension of UNRWA's emergency food aid in the Gaza Strip will further distress communities already struggling to cope with unrelieved economic hardship and malnutrition. If the new restrictions in Gaza continue, I fear we could see real hunger emerge for the first time in two generations," Hansen said in the release.Nordahl commented on Hansen's remarks by saying that the crisis would be envisaged by manifestations of hunger among the 900,000 refugees UNRWA currently helps."The effect will not be immediate, but we will see a snowball effect; every family receives a food parcel sufficient for 45 days. The families that spent 45 days without receiving a parcel will not be able to get a new one, because of our stocks' depletion."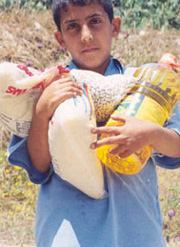 The problem would compile until we are allowed to bring in food aid again, Nordahl added. Not only has the UNRWA suffered from the Israeli restriction, but its $193 million emergency budget, which was supposed to be funded by world countries, has been under funded, forcing the international agency to take drastic measures towards its aid programs in the Palestinian territories."If our emergency appeal continued to be under funded, we might terminate our food aid program for the 128 thousand Palestinian families that are completely dependent on it. We might stop our cash assistance program, our job creation program that creates around 300 thousand jobs at any given time, and our house rebuilding project," Nordahl warned.However, he noted that in the past few days, the Israelis have reopened Gaza crossing for UNRWA containers only, but for a limited number of containers. He said they have been able to get 500 tons of food aid inside Gaza since last week, taking into consideration that they needed 250 tons per day to replenish the stocks in Gaza.Back in the Beach refugee camp, Um Adel hoped that food distribution would go back to normal, so that she would be able to bake bread again for her hungry children, and put a shadow of a smile on their war-scarred faces.