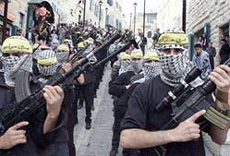 Members of the Al Aqsa Martyrs Brigades Courtesy Al Jazeera TV
Gaza City, March 29, 2004 — A half-page sized advertisement appeared in the local Al-Ayyam daily newspaper in Gaza City a few days ago demanded militant factions to lay down their arms and resort to peaceful means of resisting the Israeli occupation. 60 Prominent figures in the Palestinian society, including members of Yasser Arafat's Fateh faction, signed the ad. Some of the well-known figures included the well-known Hanan Ashrawi and Abbas Zaki, members of the Palestinian Legislative Council. "... we call upon our people, for the sake of our national interest and in order to bring an end to the occupation, to repress their rage and rise once again in a widespread popular Intifada, that is based on clear goals and constructive rhetoric, with the fate of our people steered by the masses," excerpts of the ad read. However, Hamas and the military wing of Fateh categorically refused laying down their arms, charging that the Israelis should be fought with their own weapons. Sa'eed Siyam, a senior leader in the Hamas movement in Gaza, insisted during an interview with The Seoul Times, that armed resistance was the only way to liberation.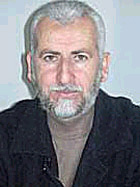 Mr. Sa'eed Siyam
"There can be no response to the murder of Sheikh Ahmad Yassin by the Zionist forces except by stepping up our armed resistance against them. We wonder how can they speak of peaceful resistance in these days, after all the Palestinian blood that was spilled," Siyam said. Meanwhile, a leaflet by the Al Aqsa Martyrs Brigades, the armed wing of the Fateh movement, described the ad's undersigned as "trying to cover up for the failure of the Zionist army and its aggression on the Palestinian people." "We demand that those so-called 'intellectuals' stand by the striving Palestinian people and wake up and cease all this hoax that only serves the interests of the Zionist enemy," the leaflet read. The undersigned for the ad argued that this sort of peaceful and wise Intifada would deny the Israeli Prime Minister Ariel Sharon "the opportunity to continue unleashing his assault against our people and would hinder his ability to impose his destructive agenda." Nayef Sweitat, a 35-year old journalist and one of the undersigned, said that time has proven that armed conflict did not reclaim anything for the Palestinians. "We have given the militant factions enough time to regain our rights, and so far the only thing we witnessed is more killing and more of our rights taken away. I say the time for laying down our arms has come," Sweitat told The Seoul Times over the phone.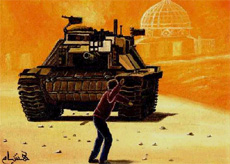 The Palestinian factions, including Hamas, have declared a previous cease-fire in June, 2003 but Israel refused it as a unilateral move, and broke it few months later when Israeli warplanes assassinated a prominent figure in Hamas, Ismail Abu Shanab. The undersigned for the ad are: Ibrahim al-Hafi, Ibrahim Musalam, Ahmad Jubara (Abu al-Sukkar), Ahmad Haless (Abu Maher), Ahmad Fares, As'ad Odeh, Amin Maqboul, Buthayna Duqmaq, Jad Ishaq, Jamal Dar'awi, Jamal Zaqout, Jamil Rushdi, Jihad Abu Zuneid, George Hazboun, Hassan Dweik, Hanan Ashrawi, Hakam Taleb Thiab, Haidar Awadallah, Khader Ayesh, Khalil al-Ateeri, Dimitri Dilyani, Rihab
al-Isawi, Radwan al-Sameri, Riyad al-Malki, Zahirah Kamal, Ziad Hamouri, Suri Nuseibeh, Said Zidani, Salman Jadallah, Sameer Shihadah, Siham Thabet, Suhail Salim Abdel Fatah Salman, Shaher Sa'd, Shafiq Zeidieh, Shukri al-Radaydeh, Salah Hikmat al-Masri, Abbas Zaki, Aballah Hijazi, Abdallah al-Kiwani, Abdallah al-Atiri, Abdel Fatah Hamayel, Abdel Qader Faisal al-Huseini, Arafat al-Hidmi, Azzam al-Ahmad, Izat al-Rasini, Ikrama Tabet, Imad Abu Kishk, Imad Awad, Ali Hasasneh, Anan Atiri, Ghazi Hananiah, Ghassan al-Harami, Ghassan Hananiah, Fathi Salim Yassin Abu Zeid, Fadel Tahboub, Fahed Abu al-Haj, Cairo Arafat, Lusi Nuseibeh, Lily Feidy, Muhammd al-Rimawi, Muhammad al-Sha'bi, Mahmoud al-Aloul, Mahmoud al-labadi, Nasser Yunis, Nayef Sweitat, Nur Eldin Ibrahim Shehadeh, Hashem Abu Lafi, Yasser Abed Rabbo, Yusef Harb, Yusef Aref.