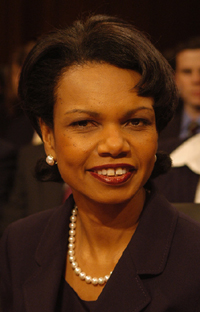 Ms Rice is described by colleagues as muscular and agile.
The U.N. sanctions on North Korea are the "sticks" the U.S. has as it goes into talks with the communist nation on nuclear issues, Yonhap News quoted U.S. Secretary of State Condoleezza Rice as having said on Nov.2.In its Washington date-lined dispatch, Yonhap went on to quote Rice as having said that the "carrots" for Pyongyang are that it can expect economic and energy assistance and also integrate into the international financial system.Rice expressed some regret that North Korea's nuclear problem had not been dealt with earlier."It's been 30 years with North Korea, and we haven't been able to do anything about it," she said.Pyongyang's nuclear weapons program began with the help of the former Soviet Union, and the secretive state is now believed to have as many as half a dozen atomic bombs made from plutonium. It conducted its first nuclear test on Oct. 9, after which it was sanctioned by the U.N. Security Council.The North has also been accused of hiding a uranium-based weapons program.After nearly a year of boycott, it agreed this week to return to the six-party talks involving South and North Korea, the U.S., China, Russia and Japan. The goal of the talks to persuade the North to give up its nuclear weapons and programs in return for incentives provided by other parties."There are certainly both carrots and sticks," said Rice."The major stick is that we do have under (U.N.) Resolution 1718 sanctions on North Korea, including sanctions on luxury goods for their elites, who love to get luxury goods while the people try to scrounge and find food," she said.Pyongyang apparently decided to come back to the talks, realizing they don't have many choices."I think that what we've seen is that when the international community speaks with one strong voice, perhaps countries begin to see that they don't have very good options," she said.
In the meantime, s enior U.S. officials will head out to Asia this weekend, stopping in Japan, then China and South Korea to coordinate strategy ahead of the planned resumption of North Korea nuclear talks, the State Department said Thursday.Undersecretary of State Nicholas Burns, in charge of political affairs, and Undersecretary Robert Joseph, who handles security and arms control, will travel together. They will meet Russian counterparts in Beijing.Department spokesman Sean McCormack, expounding on what U.S. President George W. Bush said Wednesday about their trip, described the goals as creating "the right conditions, the best atmosphere to prepare for this next round of six-party talks."
"We don't want to go backwards. We want to go forwards," he said. "We want it to be about getting some concrete, positive outcomes."
In an unexpected turnaround, North Korea agreed this week to come back to the six-party forum. South and North Korea, the U.S., China, Russia and Japan are members of the process aimed at denuclearizing the Korean Peninsula.The talks have been at a standstill for a year since Pyongyang withdrew, protesting the U.S. Treasury's punitive actions against a Macau bank accused of laundering money for North Korea.Burns and Joseph will arrive in Tokyo on Sunday and head to Beijing on Monday. Talks in the Chinese capital, including those with Russian officials, will continue into Wednesday.They will be in Seoul Nov. 8-9 and return to Washington Nov. 10.The six-party talks resume with major situational changes. North Korea conducted its first nuclear test on Oct. 9, after which, within days, the U.N. Security Council unanimously adopted a resolution condemning and sanctioning Pyongyang.President Bush, Secretary of State Condoleezza Rice, and other U.S. officials have said the U.N. sanctions will continue to be enforced even after Pyongyang comes back to the talks.North Korea had insisted the U.S. first lift the actions against the Macau bank as a condition for its return to the six-party table.Asked about press reports that the U.S. was planning to lift the measures, McCormack said they were inaccurate.Mounting further pressure, Treasury Undersecretary Stuart Levey, who deals with illicit and terrorist financing, was in Moscow last week for discussions that included the subject of North Korea."He was meeting with counterparts, both in private and public sector, and discussed some of the illicit (money) that we say disrupts financial systems, anything from illicit (money) emanating from Iran and North Korea all the way to terrorist financing and money launders," Treasury spokesperson Molly Millerwise told Yonhap.Levey told the press after his return that he had "constructive discussions" with Russian officials.He had gone to Vietnam, one of the countries where North Korea is believed to have sought financial haven after the actions on the Macau bank. Following his visit, Vietnamese authorities said they had closed down the accounts linked to Pyongyang.Peter Beck, head of the International Crisis Group's office in Seoul, said earlier Russia is the only haven North Korea has left.