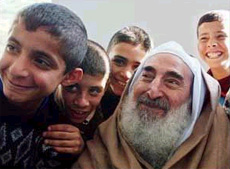 Archived undated photo of the spiritual leader and founder of Hamas, Sheikh Ahmad Yassin Courtesy AP
Gaza City, March 23, 2004 — Sheikh Ahmad Yassin, the spiritual leader and founder of the Islamic Resistance Movement (Hamas), was killed today when Israeli combat helicopters fired three missiles at him as he was leaving a local mosque in Gaza City, locals said. Eyewitnesses said that at daybreak, Sheikh Yassin and two of his bodyguards, one of them is believed to be his own son, was leaving a mosque 30 meters away from his home when three missiles fell on the place where he was, instantly killing him and his bodyguards, as well as other civilian bystanders. Ambulances and private vehicles raced to the scene of the strike, while locals started helping medical workers gather the body parts that scattered around the area. Shattered glass and plastic shutters from the nearby homes filled the street, as blood stained the charred bodies and Yassin's wheelchair remains. Medical sources at al-Shifa local Hospital in Gaza City confirmed Sheikh Yassin's death, in addition to nine other Palestinians, including Yassin's bodyguards. "The bodies of Sheikh Yassin and his two bodyguards were torn into pieces by the direct missile hits," Dr. Mo'aweya Hasanein, director of emergency at al-Shifa Hospital said. Outside the al-Shifa Hospital Morgue, Mr. Ismail Haneya, a senior leader of Hamas movement and Sheikh Yassin's bureau chief, said that "Israelis should wait a retaliation that will shake the ground underneath them," adding that the fresh Israeli strike would only strengthen Hamas and that the Israeli government "has opened the gates of hell on itself."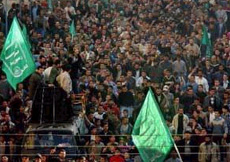 Hundreds of thousands of Palestinians participate in the funeral procession of Sheikh Ahmad Yassin, who was assassinated with eight other civilians early on Monday morning. Courtesy AFP
Following the announcement of Hamas leader's death, tens of thousands of Palestinians, most in tears, flooded the streets, shouting anti-Israeli occupation slogans, and condemning the crime. Hundreds of tires were burnt on the entrances of streets all over the Palestinian territories, and shops declared a general strike in mourning of Yassin's death. "I still cannot believe that The Sheikh (Ahmad Yassin) was killed. I did not believe it even when they showed his dead body on TV," said Salah Badrasawi, 47, a local shopkeeper in Gaza City, expressing the general shock that cast its shadow on the Palestinian people. The Palestinian Authority also condemned the Israeli "assassination of the struggling Sheikh Ahmad Yassin," as the Palestinian Prime Minister Ahamd Qurei told a local radio station, "this is a hideous crime and will definitely not lead to any peace or stability in the region. I demand the Israeli Prime Minister to immediately cease all hostilities against the Palestinian people and refrain from such barbaric massacres."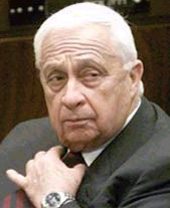 Ariel Sharon
Israeli radio sources reported that the Israeli Prime Minister Ariel Sharon has personally supervised and coordinated the strike on Yassin, after a failed attempt on his life back in October 2003. The quadriplegic Yassin was without a doubt the most senior Palestinian figure targeted by the Israeli forces since the outbreak of violence in the Palestinian territories in September 2000. Yassin was viewed as an inspirational figure by Hamas followers in the Gaza Strip and West Bank. His death could spur violent protests not only in the Palestinian areas but in the wider Arab and Islamic world, where he was well-regarded as a symbol of the Palestinian battle for independence. Sheikh Yassin founded the Hamas movement in the beginning of the Palestinian Intifada in 1987, and was held in Israeli prisons until 1994 when he was released. He has been living ever since in his home in the modest Sabra neighborhood in Gaza City. One Israeli official said that Yassin was "marked for death". Sharon's government have targeted Palestinian militant group leaders using combat helicopters in a very controversial policy that Palestinians and human rights organizations consider as a violation to the international humanitarian law.