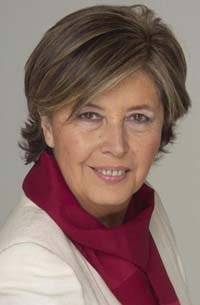 Mercedes Bresso, president of Industrial Region of Piedmont
Italy is a country that mingles different local traditions and experiences. Its unique and rich history has contributed to form a single nation that entails a wide variety of regional identities and cultures. The Italian Regions, instituted by our Constitution, are thus an important part of the political, economic and cultural life of our Country and enjoy extensive powers in the fields of tourism, trade and agriculture. Mercedes Bresso, President of one of the most industrialized Regions of Italy, Piedmont (Piemonte in Italian), will visit Korea from the 19th to 24th October 2006. Piedmont is one of the most challenging Regions at the heart of Europe: it boasts a significant and advanced industrial and economic life, a vast network of research centers and universities and wonderful touristic places (the city of Turin, the famous sky resorts of the 2006 Winter Olympic Games, etc.). President Bresso will bring all this into her visit in Korea: 1) she will head a delegation of more than twenty companies that will have business-to-business meetings in Korea, 2) she will open a Conference on biotechnologies that foresees the participation of well-known Italian and Korean professors and researchers, 3) she will preside over the signing ceremony of a memorandum of understanding between the University of Turin and the Korea Research Institute of Bioscience and Biotechnology, 4) she will inaugurate an Exhibition on design in Piedmont and Korea at the Olympic Museum in Seoul; 5) finally she will hold extensive talks with outstanding Korean personalities and policy makers in the field of trade, science, tourism and culture.
Profile of Mercedes Bresso
President of the Piedmont Region
Born in Sanremo on July 12th, 1944, Mercedes Bresso is the President of the Piedmont Region since April 2005 and member of the Regions Committee, the Parliament of European Local Powers.In June 2004 she was elected Member of the European Parliament. From 1995 to 2004, she was President of the Province of Turin and President of the Union of Piedmont Provinces. Mrs. Bresso is a professor of economics at the Torino Polytechnic, she has taught in Pavia, Udine, and at the University of Turin. She is an expert in environmental economics and she has taught this discipline in numbers of universities and courses in Italy and abroad. She is the author of books and essays, among which, "Per un'economia ecologica" (For an Ecological Economy) and "Pensiero economico e ambiente" (Economic and Environmental Thoughts). She has also worked in the field of agrarian economics and tourist economics. She has filled the position of President of the World Federation of United Cities, of the World Coordination of the City Associations (CAMVAL) and of METREX, the Network of European Metropolitan Areas. She has been president of the Piedmont Committee for the European Constitution. She was chairperson for the Franco Italian Alps Conference (CAFI).From 1985 to 1995 Mrs. Bresso was Piedmont Regional Advisor, and in 1994/95 she worked as Regional Councillor for Territorial Planning and Parks. Today she lives in Turin; she is married to Claude Raffestin, geographer and expert in Human Ecology and Landscape Sciences. In her free time, she loves literature, music and art. She is very fond of swimming and hiking in the mountains and in the woods.
Italian-Korean Science Seminar in Seoul
The Office of S&T of the Embassy of Italy in Seoul, the Italian "Regione Piemonte" in Korea and the Korean KRIBB (Korea Research Institute of Bioscience & Biotechnology), will be hosting next October 20, 2.30 p.m., the Italy-Korea Seminar on "New trends in Biotechnology and Bioinformatics." The forthcoming Seminar will be held at the Seoul National University, "Magnolia" Conference Room, Samsung Convention Center (1st fl.), and the Opening Speeches will be delivered by Mrs. M.Bresso, Piemonte Region President, H.E. M.A.Leggeri, Italian Ambassador in Korea and Dr. Sang Ki Rhee, President of KRIBB. Biotechnology is having an increasingly important impact on a number of sectors and disciplines and applications of S&T results are continuously spread on our everyday life (industry, health and safety, agriculture). A new "Bio-Revolution" is coming changing, but improving, the human being perspectives. Moreover, molecular biology has undergone a deep investigating change in the last years due to the introduction of new experimental techniques able to generate data on a genomic scale, that is referred to all the genes of a given organism rather than to specific genes of interest. An important example of Bioinformatics, but certainly not the only one, was the determination of the complete sequence of the human genome. The Seminar is intended to give an overview of the current status of research on biotechnology and bioinformatics with reference to Italy and Korea experiences, but also to strengthen and increase the existing links, as well as to stimulate further ones creating future networks among Italian and Korean scientists in this field. For more information visit the web-site of the Embassy of Italy (Scientific Cooperation) at www.ambseoul.esteri.it/ambasciata_seoul , or call:Dr. Yong-Kyung Choe - KRIBB Tel. 042-8697760 ykccoruk@kribb.re.kr Dr. R.Martorana - Antenna Piemonte in Korea Tel. 02-7696855 ap.korea.cons@ceccp.orgDr. A.Tata - S&T Office - Embassy of Italy Tel. 02-796-0491 sciencekor@yahoo.it
Exhibition: Piemonte Torino Design
Venue: Olympic Museum
Period: 2006, October 21-29
Opening: October 21, h. 10:00 Just over ten years ago the first edition of Torino Design presented the exhibition titled "Torino Design - from car to spoon" of which the present exhibition is a further step ahead: not only a new title but also new contents. It again documents the Piemonte (Piedmont in English) region's vocation for design and the excellence of its products. The exhibition shows the complex quality of design meant for the local, national and international industrial production, which is confirmed even richer and more vital than it has been in the past.The role of design in Piemonte is thus increasingly emerging, as it is clearly revealed and confirmed by the exhibition. Furthermore the nomination of Piemonte as the International Design Capital for 2008 is another opportunity offered to a region that has succeeded in making design an economic strategy for its development and one in which Turin will be able to confirm its vocation for design on the world stage, and not just in the automobile sector. The curator has chosen over 250 products intended for mass production, designed and/or produced within the region and in many cases typical of certain sectors that have been on the market in the last ten years. In the exhibition they are grouped into some twenty thematic sections, and described in their underlying logic and salient features.Alongside the sections illustrating products in well-established sectors, this exhibition reveals the existence and importance of new themes. Design is now focusing its creativity on these sectors, grasping the full potential of the interaction between tradition and innovation. The convincing and fascinating sections on Industrial reconversion, Torino-Marrakesh, Torino - Valle Varaita and The forms of taste (= wine, chocolate, coffee) confirm this trend. There are also examples of a cultivated revival of craft skills, the result of cooperation between local designers and master craft workers, some of them from different countries. Taken all together, the products constitute models of design: they are exportable yet they preserve the cultural identity of the region they belong to and sometimes even its style, a hallmark embodying the region mindset and vocabulary. Because being glocal ( a mix of global and local) means this: exporting products that respond to the needs of a universal community without sacrificing one's own traditions, one's own industrial and cultural system, or exporting models of design that can be used to create products even beyond our own borders, perhaps in North-East Asia. And these are models that can never be copied.
Design Districts in Piemonte
Like other areas in Italy with large concentration of manufacturing, Piemonte is organized as a series of Industrial Districts possessing certain distinctive features: an entrepreneurial vocation backed up by shared strategies, widespread know-how, technological research and the creation of a network of services for design and production on the district scale.Some Districts boast a more firmly established and broadly disseminated industrial culture , which can be measured on the basis of the resources conveyed and invested in activities under regional law 24/97, which regulates them. Among the top ones are the Biella Textile District, the Mechanical District of Casale Monferrato in the province of Alessandria and the Jewelry District of Valenza. But the peculiarity of a district does not always coincide with the presence of a design-oriented approach to the product. Understood as an added value to the product, design had in some cases constituted a distinctive feature of specialist manufacturing, fostering integration with the overall process of innovation. This has proved the case, for example, in the automobile sector in and around Torino, as well as in the metal working area of Verbano-Cusio-Ossola. These are strong, competitive activities where design is a manifest value.These Design Districts are mapped on a chart which reveals, alongside the industrial sectors where design is already a significant factor in the product ( manifest design), also fields where design constitutes a desirable resource ( possible design).The Jewelry Manufacturing District in Valenza is the "golden heart of Piemonte." It is known worldwide for its hand-crafted jewelry made of gold and precious stones, but today it is in difficulty largely due to stiff competition from producers in emerging countries ( India, China). In this difficult period design appears to be a possible key to the development of new strategies to strengthen the position of the area's economy in international markets.The Biella Textile District also appears among the areas that offer scope for concerted design planned by local institutions and associations. To confirm the outstanding quality of the district output of garment fabrics, beset by tough competition from countries with production low costs, design represents a possible way to produce extremely comfortable fibers and textiles submitted to innovative treatments that will enhance their intrinsic value.In mechanical engineering, there are two possible territorial systems where design could boost output: the "Freezer District" of Casale Monferrato, which turns out industrial refrigerators, cold stores and refrigerated trucks without any real concern for the potential offered by design and the industrial cluster of the province of Cuneo with the sector of industrial machines and handlers, which have already created partnerships at different levels between the system of enterprises, the institutional system and the design system.One of the ways of reviving production through design is through a preliminary, "soft" contact with it. In this respect training institutions possess a potential which brings twofold benefits: it gives students direct contact with the logic of production and makes the firm more aware of the advantages of a more conscious , design-oriented approach to production. Through applied research, conducted in collaboration with companies and business associations, schools of design can mobilize a great deal of energy and bring out the sometimes concealed aspects of possible design.