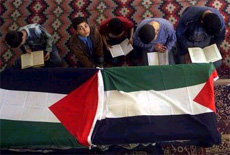 Courtesy Reuters
Gaza City, March 11, 2004 — "A recent report revealed that 2,930 Palestinians were killed during 41 months of violence ..." This is the usual starting sentence in any report that sums up the human losses of the Palestinian people during the violence that erupted in September, 2000 and known as the "Al Aqsa Intifada." As you sift through the numbers, ratios and their graphical representations, you start to push back the fact that these numbers represent actual people — lives, dreams, hopes, successes, failures ... and families. Almost nobody remembers, while watching the newscaster recites the numbers and percentages, which have been neatly categorized into men, women and children, under or above 18 years. Only the families of those unfortunate enough to be included in these figures remember that they have meant entire lives to them, and memories of beloved ones that will never come back again. Yosra Al Mughari, wife of Usama Al Mughari, 33, from the Al Maghazi refugee camp in the middle of Gaza Strip, recalls the details of her husband's death
with tears pouring from her eyes. Usama was shot by Israeli soldiers at the eastern borders of Gaza Strip near his home on February 21, 2004. He was left
bleeding for hours in his car before he died. Ambulances were prevented, by the heavy shooting, from reaching him. "I remember him calling me an hour before his death, asking me whether I needed something from the market before he comes back home. I replied by telling him that reaching home safely is enough for me. I never knew that the Israelis would deprive me even of this last request," Yosra sobbed out the last hours of her husband's life. Friends and neighbors of Al Moghari describe him as a quiet, hard-working and nice man, with no affiliations to any resistance groups. Al Mughari used to work as a mechanic and was survived by a wife and five children.
Collateral Damage
In a three-story house deep inside a crowded neighborhood in Gaza City lives the Al Sousi family. Majdi Al Sousi, the father, works as a butcher and used to support a family of nine children, now eight after the loss of his 12-year old child Tareq.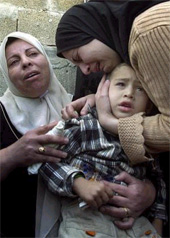 Courtesy AP
Tareq Al Sousi was leaving his school on February 7, 2004 when an Israeli combat helicopter fired two missiles at a car traveling down the street near him, killing the three passengers of the car and seriously wounding him. Tareq died of his wounds before reaching the hospital. Nearly 20 other Palestinians were wounded in the same air strike. Israelis have often targeted Palestinian militants and prominent figures of the resistance groups, killing 340, of them 90 were just passersby. Israelis consider those civilians killed in the attacks as "collateral damage", and refuse to pay any compensation to the bereaved families. "I don't want any compensation from the murderous Israelis. I just want one thing; to bring back my Tareq to me. If they could bring him back to life again, I will forgive them. All the money in the world cannot replace one smile or one hug Tareq gave me," says Mr. Al Sousi, as he folds his son's clothes and put them back into his closet.
Death While Waiting
In the West Bank city of Nablus, Samira Abu Eisha walks every Thursday to the local cemetery where her grandmother, Ratiba, is buried, to put fresh flowers
on her grave and clean it up. Unlike other grandmothers, Ratiba did not die of old age, but "for the sheer amusement of some Israeli soldiers" manning one of the many checkpoints around Nablus, according to Samira. "While on her weekly trip to Rafidia hospital in Nablus City for the routine medical check-up, some Israeli soldiers stopped my grandmother, Ratiba, and
checked her ID card. The soldiers were not convinced of her excuse to enter Nablus, despite showing them the documents and medical reports proving her condition. They left her standing at the checkpoint though they knew of her heart problems, and the severe cold weather at that gloomy day of February. She could not bear the cold waiting there in the open for three hours and suffered a heart attack. She was finally able to cross the checkpoint ... as a lifeless body," Samira says while her tears soaked her grandmother's tombstone. According to an official Palestinian statistic, 103 Palestinian citizens died of long detention and negligence at the sporadic Israeli checkpoints spread
through the Gaza Strip and West Bank, most of them were ill and waiting to be taken to hospital for their regular, but crucial, treatment.
Who Cares?
The large number of Palestinians killed by the Israeli war machine leaves no single institution, even the Palestinian Authority, capable of handling the large emotional effects and sometimes, the financial setback, that results from the deaths of a kin and sometimes heads of families. The Palestinian Ministry of Social Affairs distributes a small sum of money each month (about $100) on each bereaved family. When the one killed is the sole provider for the family, this sum of money becomes the difference between life and death!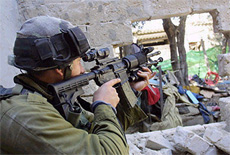 Courtesy AFP
Bashar Al Hasanat, a social worker at the Ministry, comments on that by saying, "The deteriorated situation of the Palestinian Authority's economy reflects on all the ministries, including ours, and that has caused us to cutback on the 'martyrs budget'." Al Hasanat points out that the Ministry not only cares for the bereaved families, but as a Social Affairs Ministry, they have to also look after the orphans, divorced and needy families, making it increasingly difficult to keep paying the money to the families of those killed. "I believe we would have never been able to keep paying these sums of money each month had it not be for the generosity of some countries that donated
money to help us fulfill our job." Apart from the Ministry of Social Affairs, there are few institutions that are actually taking care of the bereaved families, but they impose conditions on the families before accepting them in their support programs. The conditions vary according to the institution's agenda. Some institutions support only families of those who were members of certain factions, while others demand that the families be composed of a certain number of individuals ... etc. All these conditions have left out a considerable number of families excluded of all support. "If it wasn't for some benevolent people, my family and I would have starved to death. My husband is too old and sick to work, and my eldest son, Shadi, was killed while returning from work by the Israeli soldiers. I cannot work because of my renal failure and need for chronic dialysis. We actually live on the money sent to us each month by those anonymous benevolent people. I still feel helpless without my son, Shadi, who provided for us and secured our needs without reaching for the others," speaks Fatma Abu Kmail, who lost her eldest son, Shadi, while he was returning home in the Al Moghraqa neighborhood near the "Nitzarim" settlement, in the middle of Gaza Strip.