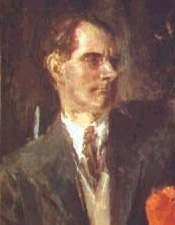 Sean O'Casey (1880-1964)
Drama is defined in Merriam Webster's Collegiate Dictionary as "a state, situation, or series of events involving interesting or intense conflicts of forces." It is quite unfortunate that the interesting or intense conflict of forces often expose their limits due to the language or cultural barriers. And yet, once in a while, quality productions in English drop in on us like Christmas presents. Or shall I say an unexpected Christmas present, for "the Bedtime Story," a classic piece by Sean O'Casey, one of the great figures of the Irish literary renaissance. How did this piece by the intense, satiric and grim Irish playwright best known for his tragi-comedy of Irish independence movement come about in the midst of Broadway mimicking musicals and conventionally staged Korean plays? Bernard Hughs, the director of the Bedtime Story and the founder of BH Production is largely responsible. Being Irish himself, he staged "Cathleen Ni Houlihan" by W. B. Yeats as his first production in March 2003, the year BH production was formed, followed by three one-act comedies: "The Last Yankee" by Arthur Miller; "Naomi in the Living Room" by Christopher Durang; and "The Battle of Bull Run Always Makes Me Cry" by Carole Real in November.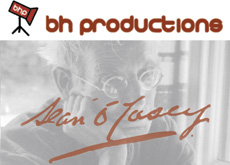 Despite the difficulties of staging productions in English, it seems that Bernard Hughs, with the help of his assistant director Kirstie Bromenshenk, has managed to establish the Production firmly in this pseudo-melting pot community of English speakers in Korea. Considering the wide range of audiences (though the number may be small), "the Bedtime Story" seems like more than an appropriate choice. O'Casey it may be, but "the Bedtime Story" is not about struggle and suffering. Its not even about Ireland, at least not about Ireland's independence movement. Its about one of the most universal issues of all times: difficulties in relationships between men and women and society's expectation of proper behavior. With irony and wit, this one act comedy raises the question of self-contradiction and hypocrisy through John Jo Mulligan, who finds himself in a situation with which his pious conscience cannot cope: more or less against his will, he has spent a night with the cunning seductress, Angela. Full of remorse, and dreading the ruin of his reputation, he tries to get rid of her, fearing that his pal Daniel or his landlady, Miss Mossie, might find out. Angela sees her chance, turns into a gold-digger and does not leave before relieving John of a considerable amount of money.
Bernard Hughes
When John runs after her to retrieve some of his property, Miss Mossie spies him and jumps to the conclusion that he must be a somnambulist, or suffer from some other severe disturbance. Thus, she employs Daniel to cope with the desperate John, while phoning the police and a doctor. What becomes of John in their hands, we will never know.The show opens on Saturday March 13th at 8 p.m. Venue: The Guinness (02-2231-5483) bar located near Yaksu station (Subway line 3 & 6) Exit 1 The schedule is as follows;March 13th Saturday 8 p.m.
March 17th Wednesday 10 p.m.
March 19th Friday 10 p.m.
March 20th Saturday 8 p.m.
March 21st Sunday 8 p.m.
March 26th Friday 10 p.m.
March 27th Saturday 8 p.m.For reservations or further details call 02-794-4624.