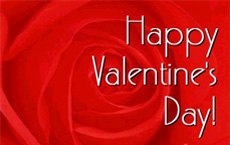 Courtesy Aroma Web
Gaza City, Feb. 16, 2004 — While lovers in the entire world celebrated the St. Valentine's Day on February 14, by exchanging gifts that expresses their feelings for each other, in Gaza Strip the situation was different, though feelings were the same. The worsened economic and political situations in the region has cast its dismal shadow on the Strip, and with an Israeli massacre that left 15 Palestinians killed in Gaza Strip alone two days ago, Gazans were not in a mood to celebrate Valentine's Day as they should. As you walk down the street on February 13, you could smell the tension in the air, especially near gift shops and flower gardens. Everybody was prepared for this day, be it a lover who wants St. Valentine's help on that day to prove true feelings to the one he/ she loves, or a shop owner tired of the war recession period, and wagering on this day to earn a considerable amount of money to at least pay some of the debts he has been in for the past two years. However, little if no buyers at all appeared in the streets and at the shops. "We cannot buy gifts and roses with empty pockets and with sadness and sorrow around us," said Raji Bakri, 21, a Palestinian university student living in the southern Gaza Strip city of Khan Younis. Raji has been saving every penny he could spare to buy a gift for his beloved.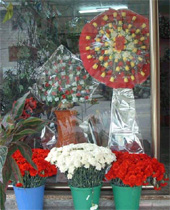 A Flower Shop in Gaza City
"Do you know that I have been saving from my pocket-money for two months waiting this day? I tightened my belt as far as I can for two months to buy her something unique," Raji said, while his tone turned sad when he continued saying, "once I got back to Khan Younis, and saw the amount of destruction the Israeli forces caused to my lovely city some days before, and found hundreds of people sleeping in tents after losing their homes to the Israeli bulldozers, I preferred giving them the money than buy a gift. I believe she would understand what I did. I guess she could wait another year." Since early this year, the Israeli forces have launched massive army incursions and military offensives against the Palestinian territories, mainly in the Gaza Strip. Many families lost their homes, fertile lands, sources of income, and in some cases, family members too. At the dawn of February 14, flower shops and gardens began opening their doors to customers, eagerly awaiting lovers to buy the model gift in this day from them. Sami Kilani, 28, who works at a flower shop in downtown Gaza, said that during last year's Valentine's Day, his shop alone sold nearly 2,000 flowers of different kinds, mostly red roses. Now, he said that until midday, he sold only 50.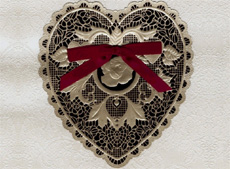 "I relied much on Valentine's Day to recoup the losses I incurred during the year. I bought a lot of roses and I do not know what I am going to do with them. I surely hope that at least I could maintain my capital money on this bargain," Sami said. Despite the economic hardships inflicted upon the Palestinian people, still, the most common phrase you hear on February 14 would be "Happy Valentine", and the most notable color would definitely be red, meaning that there is still hope that next year's Valentine would be a happier and more prosperous one.