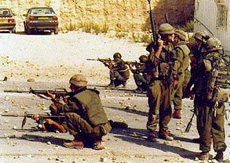 Israeli Soldiers in West Bank
Gaza City, Feb. 11, 2004 — The scene is of an engagement festivity in the village of Deir Al Ghosoon. Large crowds and congratulators are seated in three rows of closely-packed chairs under a pavilion erected on steel bars and covered by green polyester-like cloth. Last night's rain is also present at the festivity taking the muddy village paths as its seat, while chatter emanates from the sitting crowd, mingling with the columns of smoke rising from the many lit cigarettes. Joy and laughter pervade the atmosphere despite the not-so-far-away concrete monstrosity that rises on village grounds. The happy couple was an exception to the village's customs; Emily Waschmann, 21, an American citizen with tranquil but appealing beauty, and an overwhelming presence and charisma, reportedly uncommon among her peers in Chicago, Illinois. Her fiance is Abdulla Tabbal, 18, the son of Adnan Tabbal and a well-known and lovable young man in the village.
Emily (right) and Abdulla
On approaching the gathering crowd, you could hear snippets and clues about the story of Abdulla and Emily; she, a peace activist coming from the United States to support the Palestinian people — especially the villagers of Deir Al Ghosoon, northeast of Tulkarem City in the West Bank — in their struggle against the Israeli "Apartheid Wall" constructed on large parts of their land. He, a high school student and an activist in the peace movements that come to stand by his village. The announcement of the couple's engagement was a pleasant surprise to the villagers. Thousands came to the Tabbal family residence to congratulate them on the happy occasion, while others sang cheerful folk-songs in front of the house in tribute to the family, but also, perhaps, to distract themselves from the bitterness of their lives — a bitterness caused by the Israeli wall which has robbed the village of much of its livelihood. The story of Emily and Abdulla began nearly six months ago, back in the summer month of July, when Deir Al Ghosoon was bracing itself for the Israeli war machine and the wave of land expropriation and construction. A series of obstacles, consisting of high concrete walls guarded with heavy machinegun turrets, layers of razor wire and electrified fences patrolled around the clock by heavily-armed Israeli soldiers, was planned to run through the most fertile lands of the village. This is the "Apartheid Wall" that Israelis call "security fence," in an effort to lighten up the image of the structure that is expected to extend 750 kilometers around and through West Bank lands, isolating hundreds of thousands of Palestinians from their lands and sources of livelihood.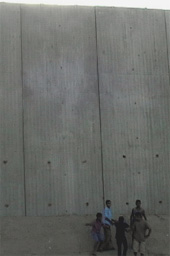 "Apartheid Wall"

Emily recollects the story of her arrival at Deir Al Ghosoon, "I was working with the International Solidarity Movement (ISM) in Palestine, and a group of internationals, including me, were asked to set up camp in Deir Al Ghosoon near the wall where Abdulla's house was. We did not feel like strangers as many of the Palestinians visited and encouraged us. Abdulla visited our camp often and he was very active concerning the wall, everybody wanted to know him better because of his activity." Knowing the effects of such a wall on his village, Abdulla realized that the activities organized by the ISM to resist the wall were the only way the outside world might know of their plight. So, he would go out and participate in every activity with the internationals.
"At first there was no particular attraction, but I did notice that he was extremely intelligent and thoughtful in his conversation, seeming to be years older then his peers," Emily said, describing Abdulla who has a special appearance distinguished by his athleticism and enthusiasm. In one of the demonstrations near the wall, the Israeli soldiers fired tear gas canisters at the demonstrators, and Abdulla fainted as a result of the poisonous gas. Emily says that she rushed to him and tried to administer first-aid until he was taken to a medical facility. Since this incident, her relationship with Abdulla became very close.
When her trip came to an end a month later, Emily was so touched by the kindness of the Palestinian villagers, and especially by Abdulla, that she exchanged addresses and email contact with him before her trip back home. Back in the United States, Emily kept thinking about Palestine and the plight of its people in the shadow of the Israeli occupation. She maintained an active contact with Abdulla through emails and telephone calls, and the seed planted in Deir Al Ghosoon in summer bloomed into a beautiful love story six months later. With hopes, as any other American girl, to continue her studies and lead a life of her choosing, Emily admitted that she did not think of getting married that young. "To me, marriage was not something I had expected to do this early in my life and I know Abdulla has said the same thing. I knew that marriage was going to be a big decision for both of us, but it also seemed like the only logical thing to do. We both loved each other." But a decision of such importance was not something that could be discussed or planned over the phone or through email, so Emily decided to go back to Deir Al Ghosoon and discuss it face-to-face with Abdulla. "Upon just days of arriving, we both knew that we felt the same way for each other, and had both thought of marriage and finally were able to discuss it," says Emily, choosing the first day of the new year (Jan. 1, 2004) to declare their engagement.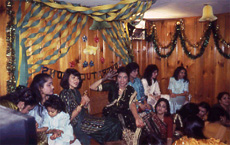 A Palestinian Family
One of the things the people of Deir Al Ghosoon remember about Abdulla and Emily's engagement is that Emily insisted on serving only Palestinian-made drinks, food and sweets to the guests. "I was really touched by Emily's gesture. She proved to us that she has a sense of patriotism more than some Palestinians I know," says Ja'far Abu Sa'a, a resident of Deir Al Ghosoon. Palestinians say that when you marry someone, you marry his/her family along with him/her, referring to the strong social bonds between family members in Palestine even after marriage, and indirectly hinting at the (social and financial) interdependence of the family. Concerning Abdulla's 16-member family, Emily explained, "I had thought about this and still do. I fell in love not only with Abdulla over the last six months but also with his family. His sisters and I would talk on the phone and they were absolutely wonderful. I felt a closeness to them before I met most of them, and they were all surprised when I knew all of their names without them having to tell me when we finally met. We are all dependent on each other in this world. We depend on each other for many things, and to have gained a family that is so loving, welcoming and kind does not seem like dependence in the negative sense of the word but more that I have gained 16 new relationships with people who are uniquely beautiful and amazing."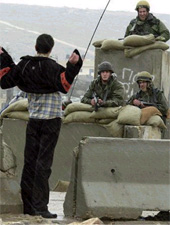 The daughter of a successful businessman and a college dean in Chicago, Emily explains that material gains have never meant much to her and that she is happy to share what she has with anyone who needs it. Currently, Abdulla is preparing his papers for travel to the United States with Emily, after successfully passing his General Secondary Year Exam and obtaining the certificate. Abdulla intends to pursue his higher education at an American university. Both of them hope to go back to Deir Al Ghosoon and settle there after they complete doctoral degrees in the States, which may take eight to 10 years according to Emily. Commenting on the story of Emily and Abdulla, the ISM coordinator in the Palestinian territories, Huwaida Arraf, says the policy of ISM is not to create relationships of that kind between the Palestinian population and international peace activists. Arraf stressed that the goal of bringing international activists to the occupied Palestinian territories is to support and show solidarity with the oppressed Palestinian population, and to bear witness to the human rights violations and crimes committed by the Israeli occupying forces.