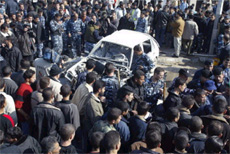 A crowd of Palestinian onlookers surround the scene of the latest Israeli air strike in Gaza City. Courtesy AFP
Gaza City, Feb. 7, 2004 — An Israeli combat helicopter fired a missile at a Palestinian vehicle driving down a busy Gaza City street, killing a 12-year old child and wounding 10 others. Palestinian security sources and eyewitnesses at the scene confirmed that the vehicle, a white "Peugeot" was traveling down a busy street in Gaza City at about ten o'clock local time, was ripped apart by missile fired from an Israeli helicopter gunship. The blast echoed through the city, as ambulances rushed to the area to evacuate the wounded. Hospital officials at the Al Shifa hospital in Gaza City said that so far, 10 casualties and one fatality arrived at the hospital, and that one of the wounded was Aziz Al Shami, bodyguard and cousin of the Islamic Jihad leader in Gaza, Sheikh Abdulla Al Shami. The killed was a 12-year old child Tareq Al Sousy. Sa'ad Abu Taha, 45, a local shop-owner only meters away from the scene told ST correspondent, "I heard a huge blast right outside my shop, and as I ran outside to see what has happened, I heard the boom of an Israeli jet fighter over my head. As I reached the area, I saw the driver of the white Peugeot with a cut leg and he was bleeding heavily. I also saw a child with a school bag dangling from his back. His whole body was covered with blood and two other children were crying next to him."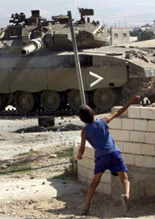 A boy resists Israeli tank.
The Islamic Jihad movement vowed to take action and retaliate against the Israeli air strike, and said that such grave escalation by the Israeli forces would not pass unanswered. Israeli military sources had no comment at the beginning, but then a military spokesperson confirmed the air strike, and said that the strike "targeted a senior Islamic Jihad terrorist." Despite owning one of the most advanced air force units and top-notch aviation equipment in the world, the Israeli forces have killed more than 80 Palestinian civilians, mostly bystanders, during their strikes from above against Palestinian militants. The Israeli air strike came only a day after the recent statements made by the Israeli Prime Minister, Ariel Sharon, in which he declared that he is considering the relocation of 17 Israeli settlements in the Gaza Strip to areas in the West Bank he intends to annex as part of his unilateral disengagement plan. The Palestinian leadership has denounced Sharon's statements as land grab and a violation to international laws.