Asia-Pacific
Prof. Maceri's special column
Domestic Workers: Family Members?
Special Contribution
By Domenico Maceri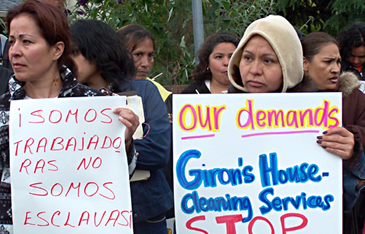 Domestic workers and day laborers demonstrat against the illegal acts and unjust treatment by their employer.
Juana Nicolas has a difficult job. Juana works at the Coalition of Humane Immigrants Rights in Los Angeles. Mostly, her duties center on the rights of domestic workers.Once a week she goes to a bus stop in a Los Angeles neighborhood and talks to women getting off buses and asks them if they are household workers. Speaking in Spanish and English, she provides information about rights these women have as employees in people's homes.It's admirable work since domestic workers are one of the most vulnerable segments of the labor force. Nannies, housekeepers, and other individuals who work in people's homes are often from other countries without legal papers. No taxes are in general paid. The "contract" between employer and employee is based on little more than a word. As a result, few statistics exist on the actual number of domestic workers.Because the relationship between domestic worker and employer is not formalized through a written contract, abuses can often occur. Sometimes even the minimum wage is not paid. Employees who may not even speak English may be asked to work long hours, receiving no overtime pay, no health insurance, and no retirement benefits.Often times the relationship between domestic worker and employer is explained as one of family life. The domestic worker may live in the employer's home and sometimes becomes part of the family. Yet, when the worker is no longer needed, the "family" relationship in general ends.Unable to stand up for themselves for fear of being deported, most domestic workers are in a very vulnerable situation. The fear of being deported is strong particularly in recent times when crossing the border has become difficult and even costly. Making it across the border now requires the assistance of smugglers who charge up to $2,000.Given their precarious economic situations, domestic workers from other countries have little bargaining power because they often send much of what they earn back to their home country to support family members.Occasionally, after many years, some domestic workers become US citizens and the fear of being deported or fired goes away. This new security gives them choices and sometimes they speak up. Conflicts between employer and worker may emerge.It happened to Josefa Gonzalez who worked for a family for many years, cooking and cleaning for several elderly people. When she asked her boss for a raise, she was fired. An immigrant from El Salvador, Josefa had become a US citizen and felt comfortable in suing her employer.Eventually she won $70,000 in back wages. But this is an exception. In general domestic workers do not come forward and complain about their bosses even if they may be treated unfairly.Once in a while the relationship between domestic workers and employers comes to the surface because of politics. It happened to Linda Chavez, who in 2001 was nominated by President Bush as secretary of labor. Chavez was forced to withdraw her candidacy because she had used an undocumented worker from Guatemala in the early 1990s.The most recent of these "nannygates" occurred when President Bush nominated Bernard Kerik as Homeland Security chief last year. A number of issues emerged which forced Kerik to reject the position, one among them was that he had paid no taxes for an undocumented worker he had hired as babysitter.Ironically, these political problems point the way to the solution of domestic workers' plight. Through political action, laws are becoming stronger. In New York a law was passed to push employees to sign contracts, which guarantee wages and benefits.The immigration reform being considered by Congress to bring in guest workers may cause indirect benefits to domestic workers since it may force some employers to develop a professional relationship. Although some domestic workers may become part of the "family" they work for, most will always remain employees and as such they deserve the protection of all working people.

Related Articles
Trump's Tiny Heart and DACA's Repeal
Yesterday's Immigrants: Better Than Today's?
Trump's Alternative Reality on Immigration: a ...
Kaine's Español: Not Just Empty ...
Immigration: The Supreme Court Hands GOP a ...
Trump's Tax Returns: Our Business?
Trump's Wall is Full of Holes
Angry Latino Voters Will Deny Trump the ...
Bilingualism and US Presidents
Cruz: A "Canadian" for the US Presidency?
Spanish in the US: Just an Immigrant Language?
US Border Enforcement Bil Too Tough, Unwise
Freedom of Speech in English Only?
The GOP: No Guest Worker Program?
Tancredo: the Ugly Face of the GOP?
Rights for Illegal immigrants?
Healthcare for All?
No English, No Service?
When Language Knowledge Means Security
Enough Undocumented Workers?
Bilingual Principals?
Mexico in US
Tongue-Tied Bush?
Is Immigration a Local Affair?
Voting Rights in Español
Profiting from Illegal Immigration?
Job Safety for All?
When English Only Discriminates
Border Control with Songs?
Guilty Parents, Innocent Children?
Only One Language for America?
George Bush: Already Lame Duck?
A Comprehensive Immigration Bill That Works
Language as Integration
Driving in English Only?
Illegal Workers Saving Social Security?
Learning Languages the Easy Way?
English-Only Laws: Why?
Arnold Schwarzenegger: Pete Wilson II?
Language Fluency Means Security
Stingy Government But Generous People


Other Articles by Domenico Maceri
Trump's Tiny Heart and DACA's Repeal
Yesterday's Immigrants: Better Than Today's?
Trump's Alternative Reality on Immigration: ...
Kaine's Español: Not Just Empty ...
Immigration: The Supreme Court Hands GOP a ...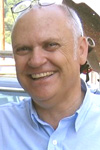 Domenico Maceri, Ph.D., UC Santa Barbara, teaches foreign languages at Allan Hancock College in Santa Maria, CA. His articles have appeared in many newspapers including Los Angeles Times, Washington Times, Japan Times, and The Seoul Times. Some of his stories won awards from the National Association of Hispanic Publications.