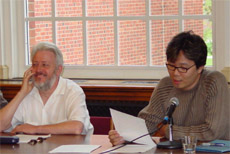 Kim Young Ha (right) speaking in the Univ. of Iowa's International Writing Program in September 2003.
Korean writer Kim Young Ha had to wait for the congratulations on his latest book, "Black Flower." He was stuck in Iowa, participating in the University of Iowa International Writing Program. Two days after it was published he was sitting in the middle of the United States, an ocean and a continent away from the book's reception. "I really would have liked to enjoy the feeling of publishing the book," he said during my interview with him in September. "My friends. The cheers. The congratulations. The publishers and the critics and the 'Your book is great.'And me saying 'Thank you, thank you.'" From a distance he watched, as the book took on a life of its own. "Every morning I checked the readers' comments on the Korean online bookstores," he said, understandably curious to the response back home. "One professional reviewer says that it could be my number one novel."In November, Kim Young Ha was nominated for the Hankook Ilbo Literary Award, but came in as a runner-up this time around.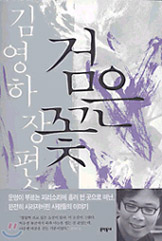 "Black Flower"
The book, "Black Flower," published on August 20th of last year, is his most important book yet, he says, and quite different from anything he has done before. Different, he says, because marriage has changed him. "Before marriage, libido influenced me," he said, his hair a mop of black, his eyes smiling from behind fashionably small glasses. "My work was so aggressive, so much death and speed, no Eros and much Thanatos, Pathos. After marriage I found I could focus just on the writing, just the narrative and story and I began to find the destiny of the story, the destiny of the narrative." In "Black Flower" Kim Young Ha finds the destiny of the narrative in Central America, which on first glance seems far from Korean concerns. This novel however, follows the lives of a group of 1,033 Koreans who immigrated to Mexico in 1905 after Japan began to rule his country. Catholic priests, shamans, farmers, retired soldiers and a mishmash of ordinary Koreans moved first to Mexico. Five years later some moved to Guatemala where they joined the revolution and eventually helped found a small state in the remote northern jungle with local Mayan natives. After two years the hatchling state collapsed and many of these Korean immigrants went to work on henequen hacienda plantations making rope for ships. Because of the 1910 Mexican Revolution the plantations closed and the remnants of these wanderers spread to other lands? Cuba and Antigua in the Caribbean or further into Mexico and Guatemala.He came upon the idea for "Black Flower" in 1999 after a friend told him the history of these immigrants, but at the time he was writing something else and quickly forgot about it. A year later he was reading a newspaper and saw a small article about the same story, about immigration to Mexico, about the haciendas. "I was like, 'Wow, this is it'" he said. "I had just finished a novel and was searching for an idea for a new one and there is was."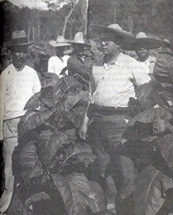 Hacienda Plantation Workers
Early in 2003, he ventured to Mexico and Guatemala to research the terrain for himself, gathering impressions from the haciendas he visited and a trek into the jungles of Guatemala to an ancient ruins at Tikal near where these pioneers had settled. After this, he traveled to Antigua where he finished the novel. His first novels were packed with death and aggression. The first, "I Have the Right to Destroy Myself," published in 1996, deals with a man who answers a suicide helpline but ends up giving suggestions to people on how to kill themselves in easy graceful ways, gas, drowning. He has manuals he shows them, though he never touches them or physically aids them. After listening to the stories of these suicides he writes the stories as his own and publishes them anonymously. The book went on to be published in France where it was a small sensation. Another, "Why Arang?" is an adaptation of a 16th century ghost story about a women raped and murdered, and whose ghost comes back to ask for retribution from the governors of the province, but upon appearing to them, scares them so much they die of fright. "I rewrote it as a detective novel. I don't believe a ghost just appearing can kill these people. I thought it was a real serial murder." Much of this early rebellious energy came from conflicts he had with his father while he grew up, he says, as well as the political situation in Korea and the fast pace of Seoul life, where he has lived since his teens. For years he would not tell his friends that his father had volunteered to fight in Vietnam against the Viet Cong. He was so ashamed of his father they often had confrontations, some which ended physically. "Seriously, we fought," he smiled. "Not just talking. After that my family decided not to talk politics at the kitchen table."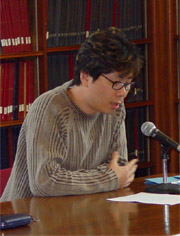 Kim Young Ha
Kim Young Ha also hosts a daily hour-long radio program about literature and authors for the Seoul Broadcasting System, mainly about Korean authors of anything from novels and essays, to manuals and even mathematics books. "Not textbooks," he explained. "We ended up talking about the mathematics of a pizza." He has long had a sense of the absurd. Because his father was a military officer, he grew up in the DMZ along the border with North Korea, the no-mans-land laced with mines yet also paradoxically teeming with animal life. "I remember waking at night hearing deer exploding ... BOOM!" he said, his eyes wide with shock wide recalling when he was a boy. "They would be running in the night. I would hear the sound of the explosion and would think of the deer laying there dying.