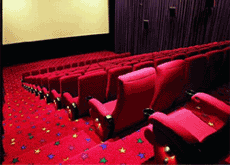 Korean movie theaters have changed. And a lot for the better. Several years ago, movie houses seemed like a place only to watch movies in Korea. Not any more. As the competition is getting tough among cinemas, many movie houses are renovating its facilities to attract more people. As a result, it is not easy to find one-screen theater in Korea. Many cinemas are equipped with multi-screen: multiple cinemas.The facilities of newly built cinemas are a kind of world-beater in the nation. The space between the rows is wide enough to rest your long legs very confortably. A person who is too tall to annoy your eyes will be out of your concern in those cinemas. Screen is also pleasantly widened, to give you more impression. Various sound systems make the movies lively and you cannot expect any more buzzing sound.Here are highly recommendable three Korean cinemas. Just visit and find out how Korean cinemas have changed. And enjoy a variety of films from all around the world.
▶ Megabox
This movie house is located in COEX, one of the most famous place in Samsung-Dong. By the help of convenience of COEX, this movie house also gets the fame of the extraordinary cinema in Korea. There are a lot of convenient facilities aside from movie house in COEX, such as fascinating aquarium, department store, world-class restaurants, etc. These are the reasons many foreigners and Koreans do not hesitate to spend their precious spare time in this place.
Facilities
This movie house became equipped with 16 screens and one 4D screen(Megaride) in May, 2000. Good location and its convenient facilities have attracted a lot of people ever since it was opened. This cinema has satisfied more than one million people in just three month since the opening day. As its result proves, the facilities around Megabox are outstanding. Every 16 screen is equally well renovated. The screen and sound system are quite satisfactory. Moreover, this movie house is planning many events for quests. One of them is membership points with which you can get discount services.
How to visit
Subway : Line No.2, Samsung St., Gate No.5
▶ Cineworld
ARS (02)477-4081
If you are living in Kangdong-gu, do not go too far to find an enjoyable movie house. Cineworld is one of the biggest cinemas in Kangnam(south of Han River) area. This eight-story movie house is ready to please customers with its various facilities. You can enjoy not only good movies in a convenient place, but mouth-watering food at several restaurants in the same building.
Facilities
This movie house boasts of great six screens with at least 250 seats each. Each screen has special seats for lovers and equipped with Dolby Digital System. Especially, parking lot is one of the best advantages in this movie house. About 100 cars can be parked at the same time for free. Reservation is also easy to make. ARS (02)477-4081 is available for 24 hours. But you should purchase the ticket at least 30 minutes before the movie starts.
How to visit
Subway : Line No.8, Kangdong Guchung(Ward Office) St., Gate No.2Bus : (Ordinary) 16, 21, 30-3, 70, 112, 112-1, 146-1, 300, 555-2, 568, 569, 571, 573-1(Deluxe) 64, 64-1, 112, 112-1, 933
▶ CGV(Kangbyun Branch)
(02) 726-8539
CGV is the first Multiple Cinemas in Korea. This movie house is located of the 10th floor of the Techno-Mart building. This convenient location is very attractive to many Koreans and even to foreigners. This movie house is always crowded by not only movie viewers, but the shoppers at Techno-Mart. Even though you wouldn't want to be crammed with many people, the convenience of this movie house is outstanding compared with other movie houses in Seoul city.
Facilities
If you are quite familiar with Techno-Mart in Kangbyun area, you can enjoy the movie house as well. The best point of this movie house is that you can do many things in the same building, because of its well-planned location.Before or after you watch the movies, you can also shop whatever you want at Techno-Mart. Moreover, the sound system of this movie house is fascinating. DTS (Digital Theater System), SRD(Spectral Recording Digital), SDDS(Sony Dynamic Digital System Dolby Digital),etc. will satisfy your sensitive tastes in terms of sound. Don't worry about the quality of the screen. It is also well arranged for 1.85:1, 2.35:1
How to visit
Subway : Line No.2, Kangbyun(Dongseoul) St, Gate No.3