Their Imperial Highnesses Prince Ku and Princess Julia wearing a Hanbok

"Last Crown Prince" of Joseon Dynasty (1392-1910) Lee Ku (ì°Ï¸) died of heart attack at the age of 74 on July 16, 2005, in a room of the Akasaka Prince Hotel in Tokyo, Japan, it was reported July 19, 2005. As the only son of Korea's official last crown prince and as grandson of Jeoseon's Last Emperor Gojong, Lee was the last most legitimate son of Joseon Dynasty, heir apparent to the throne if the dynasty were to be restored. Born in Tokyo in 1931 between Youngchinwang or King Youngchin and Queen Lee Bang-Ja (ì°Û°í­), Lee grew up in Japan until his adulthood. Lee attended Japanese royal school of Gakushuin (ùÊã§êÂ). Lee Bang-Ja was a member of the Japanese royal family, whose Japanese name was Masako Nashimotomiya.Initially, Masako was one of the three candidates who was supposed to marry then Japanese Crown Prince Hirohito. But when she was found by court doctors to be unable to bear a child, Japanese Imperialists arranged a marriage between her and King Youngchin as part of a plan to terminate Korean royal family.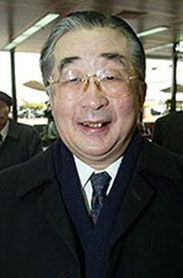 Lee Ku (1931-2005)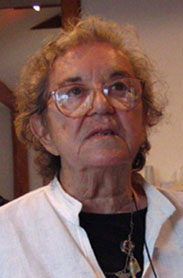 Julia Mullock in 2005
Korea was under Japanese colonial rule from 1910 to 1945 and the Korean royal family was forcibly assimilated into the Japanese aristocracy during Japanese occupation of the Korean Peninsula.Royal family memers of Joseon Dynasty were taken to Japan virtually against their will. This and the royal marriage between King Youngchin and Japanese Princess Masako was to make sure that Korea never again regain independence.When Korea was liberated from Japan's colonial yoke at the end of the Pacific War, Lee came back to Seoul and worked as a clerk at a US Army PX in Seoul. Later, arranged by US Gen. Douglas MacArthur, who was the supreme commander of allied forces in Japan, he went to America at the age of 14 and studied architecture at the Massachusetts Institute of Technology (MIT). After graduation Lee once worked as an architect in New York City. Lee fell in love with and married Julia Mullock, an American lady of German origin at a church in 1959 in New York City and returned to Seoul with his wife in 1963. She was eight years older than Lee. Until the year Lee and Julia were holding US citizenship.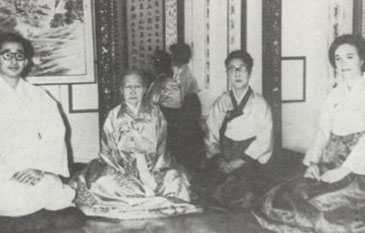 From left to right: Lee Ku, Empress Yoon, Princess Lee Bang-Ja, and Julia Mullock.

Prior to that year his return was blocked by then President Syngman Rhee, who himself as a royal family member, detested royal family of Joseon Dynasty. Rhee spent most of his life as an independence fighter against Imperial Japan. In actuality, President Syngman Rhee did not want to hand any power back to the royal family. All the assets of Jeoseon Dyansty including palaces and lands reverted to the state coffer of the newly born Republic of Korea.Lee and his wife lived in Nakseonjae or Nakseon Hall in Changdeok Palace in Seoul, taking care of his mother Lee Bang-Ja, who was sick, until 1977. Meanwhile, his father King Youngchin, who resided in Nakseonjae for seven years, died in 1970. In 1977 separated from his American wife, Lee went back to Japan and lived there with a Japanese woman. Occasionally he visited Korea. He was not able to speak Korean and he used English when talking to local journalists.Under heavy pressure from his royal family members to break up with his American wife, with whom he had no children, Lee divorced her in 1982.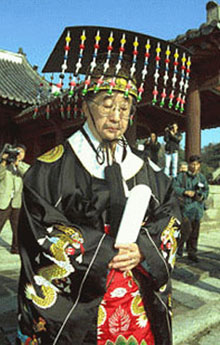 Lee Ku in jongmyojerye ceremony
While his stay in Seoul Lee started his architecture-related business a couple of times only being dejected by his business colleagues who only wanted to use Lee's status as "crown prince." In 1989 his mother Lee Bang-Ja passed away. Since his mother's death Korean royal family members had urged Lee to return to Korea for good. Finally in 1996 Lee came back to Seoul. But when his new business failed he went back to Japan. Lee had been living with a Japanese woman in a small apartment house in Tokyo until his death.The "last crown prince" is survived by his former wife, the 82-year-old Julia Mullock Lee. The wheelchair-bound Julia is now staying in Gangnam area of Seoul. She has been attending jongmyojerye or the religious ceremonies of royal ancestors' shrine with other royal family members of Joseon Dynasty.She was known to run a store Julia Shop in Hawaii where her family lives. Currently, a local film production company, CJ Entertainment, is making a film "Last Empress," which depicts her life with Lee Ku. Amerian actors and actress will be cast for the 20-million-dollar project.His funeral was held in front of Heejeongdang in Changdeok Palace for as many as nine days according to the royal custom of Jeoseon Dynasty. His funeral was a rare chance to watch the royal funeral to be conducted in the traditional way.About 600 people, who atteneded the funeral ceremony, represented leaders from all walks of life. Among the the top politicians and government officials was Prime Minister Lee Hai-Chan.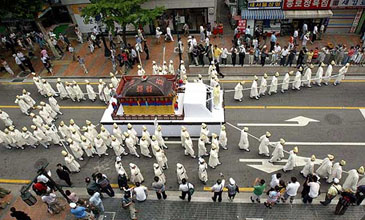 Funeral prosession of Lee Ku, "the last crown prince" of Joseon Dynasty is being held in front of Changdeok Palace in Seoul July 24, 2005. Lee died of a heart failure eight days earlier at a Tokyo hotel.
Funeral prosession was conducted in a royal customs of Joseon Dynasty. The only exceptions were cars were used instead of a funeral) bier carried by pallbearer.A motorcade started from Changdeok Palace and went through Jongno 3-ga, Jongmyo, a shrine of Joseon Dynasty, and Dongdaemun (Great East Gate), attracting a lot of passersby who paid their final respect to the "Last Crown Prince" of Joseon Dynasty.Lee was buried in the royal tombs called Youngwon behind Hongnung in Geumgok-dong, Namyangju, Gyeonggi Province later on July 24, 2005. Youngwon is where his father King Youngchin was buried. For details call 02-765-2124.