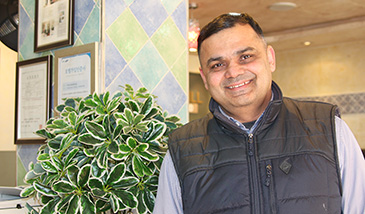 CEO Javed Iqbal of "Bombay Grill" in Seoul's Itaewon
Indian-Pakistani dishes or Pakistani-Indian dishes are famous for having aromatic and spicy flavors, attracting food connoiseurs and gourmet dinners from around the world.There are about four or five Pakistani-Indian restaurants in Seoul's Itaewon area, mecca for foreign residents and travellers in the nation.Among them is the most popular one named "Bombay Grill" of Pakistani restaurant located near the Seoul Central Mosque Islam in Itaewon area.
What makes Bombay Grill the most famous and popular Pakistani restaurant in Itaewon is not merely the quality of foods and their reasonable pieces but they are the authentic Halal foods.
| | |
| --- | --- |
| | "Bombay Grill" Bombay Grill CEO Javed Iqbal does his utmost to better serve each and every one of his customers. Among the numerous Indian or Pakistani restaurants his Bombay Grill in Seoul's Itaewon area garners both respect and affections from borth local Korean and international guests. |
Halal foods are made under Islamic dietary guidelines for the Muslim people.Here at this Bombay Grill all the dishes are made under the strict Halal guidelines and the food materials are chosen accordingly. No alcohol is allowed in the restaurant."I lose many groups of foreign travelers visiting my restaurant because of "no alcohol principle," says Javed Iqbal, owner and president of the restaurant. "But, I enforce the Halal rule strictly in my restaurant"Iqbal says that some other Pakistani restaurants sell alcohol or allow customers to carry their alcoholic drinks, but he never allows any drops of alcohol in his restaurant.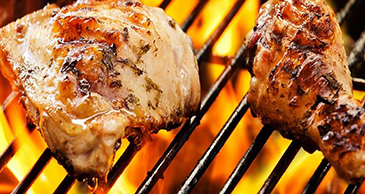 "Bombay Grill" in Seoul's Itaewon
Iqbal points out that such Pakistan dishes as "Naan," "Tandoori," "Nassi," "Mutton," and "Rice and Spinach" are most popular among the local Korean guests among about scores of delicacies on the menu.He explains that the majority of its customers are foreigners especially group travellers from Malaysia, according to the owner."However, Koreans are also very important customers," he says. "Without them we cannot survive"More and more Koreans are learning to savor the taste of Pakistani and Indian cuisine these days.Iqbal has been running Bombay Grill since he came to South Korea in 2009.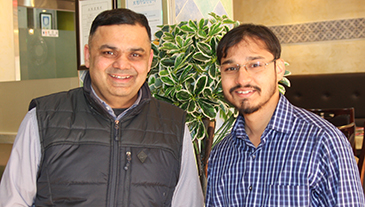 Bombay Grill CEO Javed Iqbal poses with his friend.
On the strengths of his success Iqbal is now expanding his restaurant business to other areas of the nation.On Apri. 15, 2017 he opened another "Bombay Grill" in on Namiseom Island in Chuncheon City, Gyeonggi Province. The island is the major tourist resort particularly for foreign travellers.What is more is that Iqbal also plans to open his third restaurant in the middle of Gangnam area of Seoul, the affluent commercial and residential area south of Han River.He expects that the local Korean people will be able to enjoy his Pakistani delicacies at his "Bombay Grill" restaurant in the coming summer."To me there are only two kinds of internally popular cuisines in the world: Chinese and Pakistani & Indian foods," he emphasizes the ever growing popularity of his foods. "More and more people will enjoy our dishes"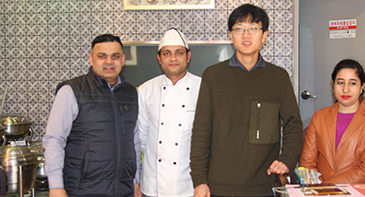 Bombay Grill CEO Javed Iqbal (left) poses with his staff.
Quite ambitious Iqbal sounds confident about the expansion of his restaurant business. He also sounds really proud of the strength of his Pakistani food.Before he came to Seoul he was in Ireland doing his restaurant business. He spent 12 years in the European nation."I learned everything needed for restaurant business there in Ireland," he says. "Running kitchen, managing staff, and earning the hearts and minds of th customers"Iqbal describes himself as a self-made businessman. "I came from a poor family," he says. "Growing up I tried everything very hard"Now at age 45 he is already becoming South Korea's most successful foreign businessman in the field of Indian-Pakistani restaurant business.He says that his most important final business will be to help others. "I have always been worried about others particularly poor people," he says. "My final business will be the philanthropic work"