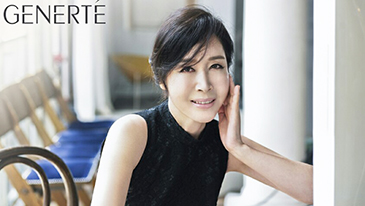 Madam Lee Moon-Soon, president of "GENERTE"
Madam Lee Moon-Soon launched a new cosmetics brand "GENERTE" late last year in South Korea where over 2,000 domestic cosmetics brands competing with imported ones. Many of the local Korean brands are advancing into overseas markets on the strength of Hanryu or Korean Wave, the global popularity of South Korean culture driven by the spread of Korean drama and K-pop. Some brands are making the foray into Paris and other European market as well as Asia.Madam Lee's decision to launch new state-of-the -art makeup brand shows her determination to make success in beauty industry in her own way. It was based on the confidence and purity in mind.The decision was made after Madam Lee reached her final conclusion: "Sing aging is determined by innate genes and current lifestyle."With the launch of her new brand "GENERTE," she introduced the idea of "gene test to skin care" for the first time in South Korea's cosmetic industry.Madam Lee also came up with the catch phrase: "Well-aging beauty solution, customized just for you."On Nov. 21, 2018 there was the launching ceremony of "GENERTE" at Songdo IT Center in Yeonsu-gu, Incheon west of Seoul. Master artist Min Tae-Hong was among the dignitary participants. His exhibition at the ceremony also drew a big applauds from the large crowd.But, what makes "GENERTE" famous is does not lie in its brand itself. Rather it lies in her special habit and her ability. She purifies her minds by writing poems and essays.Even though she has never had the official chance to make her debut in South Korea's literary world, her poems and essays caught the attention of literary figures and readers. Madam Lee always tries to humble herself by saying she writes poems and essays as an efforts to purify her mind tainted by the dirts of real life."I will never cease my habit of cleansing my mind until my last day on the Earth," she said. "I will keep writing as long as I can."The following is the English translation the first of her recent writings.
"Meeting Dawn after Sleepless Night"
by Madam Lee Moon-Soon
Feebleness and swaying
are the stepping stones
to the way of life.
Those who dropped deep in life
will live a life of depth
and those who suffered from
darkness inside
will live a meaningful life!A desire for miracle
ditched me into painful trouble.
I want to escape from the delusion
of destruction and unhappiness!I keep screaming at myself
who is stupid!
I went through life that was broken,
Wandering in a sea of mist,
Wallowing in the addiction of life.
I try to live a happy life in true faith,
curing past sorrows by wise judgement Hot tears are running like a stream.
Holy Spirit within me
absolves them with fragrance!
On a day when you miss
your loved ones
with your trembling heart,
I get intoxicated with the fragrance
of longing that is quitely approaching!
My personal integrity at the crossroad
is trembling like a winter wind!I wish for some leasure
that can guide my life steadily
on the long life's journey
with a confident manner
through honest expressions!I want to hold my head high
as a mature woman of high cultivation,
of life's wisdom based on deep thoughts,
by grappling with life's deep worries!I ran toward the vivid desire, and fantasy!
I practice writings to console myself
wishing folks will find my coffin
full of poems and essays
after my death!
Tonight!
May God's blessings and grace
on me going through
the white sleeplessness
of night's darkness.
Dawn breaks
I meets my own morning
with a throbbing heart!"