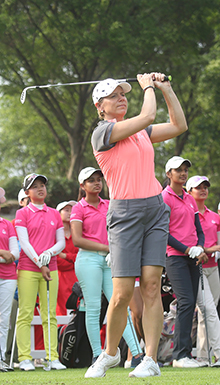 Annika Sorenstam during the 2017 ANNIKA Invitational at Mission Hills resort in Dongguan, China. The 10-time Major Champion will return to Mission Hills to host the eighth edition of the all-girls championship on April 25-27, 2018.
(Shenzhen, China: Jan. 8, 2018): Mission Hills China has announced its tournament schedule for 2018 in a year when the number of competitive rounds played by juniors since its golf development programme was established will exceed 100,000. Highlights on the Mission Hills tournament schedule for 2018 include three of China's highest-profile and longest-running junior events: the 8th ANNIKA Invitational (April 25-27), the 11th Jack Nicklaus Junior Championship (June 1-3) and the 13th Faldo Series China Championship (July 6-8). This trio of major tournaments offers not only valuable World Amateur Golf Ranking (WAGR) points but also the chance for young golfers to compete overseas in the company of three of the greats of the game. In addition, the World Stars of Junior Golf Championship (April 6-8) returns after a successful launch in 2017 while the Mission Hills Junior Series enters its 9th year, climaxing with the Grand Final on November 16-18 – two more events with WAGR status. The first leg of both the Mission Hills Junior Series and the par-3 Academy Series tee-off this month. "We are grateful to our Olympic ambassadors Jack Nicklaus and Annika Sorenstam, and Sir Nick Faldo, who have allowed us to create such a strong international platform for China's junior golfers", said Tenniel Chu, Group Vice-Chairman of Mission Hills. "With further support from the China Golf Association, The R&A and the United States Golf Association, players such as Li Haotong, Jin Cheng and Guan Tianlang have been part of a breed of rising Chinese stars to have played more than 100,000 competitive rounds at Mission Hills." Dating back to 2006 when Mission Hills partnered with six-time Major champion Faldo to bring his world-renowned Faldo Series to China, the world's largest golf club now boasts a golf development programme that combines more than 30 junior tournaments per year with expert tuition, clinics with star players, coaching programmes at local government schools and free access for juniors to three of its 22 courses. Further collaborations with golfing legends Nicklaus and Sorenstam, plus the creation of the Mission Hills Junior Series and the Mission Hills Academy Series, have taken the number of tournament rounds played by juniors during a 12-year period close to 100,000, a number that will be topped during another record year in 2018. Partnerships with the China Golf Association, The R&A and the USGA have also given the tournaments official ranking status at both national and international level. In a further bid to promote the game to a new audience, Mission Hills opened the Dr David Chu Golf Museum in 2017, the first of its kind in China.
About Mission Hills Group
Mission Hills Group, owner and operator of Mission Hills resorts in the heart of the Pearl River Delta and on the tropical island of Hainan, is synonymous with leisure, wellness, entertainment and luxury. Founded in 1992, Mission Hills is recognized as one of the world's leading golf brands and a pioneer in China's hospitality, sports and leisure industry. The world-class integrated leisure and wellness resort destinations have hosted more than 100 international tournaments, dating back to the World Cup of Golf in 1995, the first international golf tournament in China. Mission Hills has also been accredited by the Guinness World Records as the "World's Largest Golf Club" and the "World's Largest Mineral Springs and Spa Resort". Mission Hills' properties sprawl over 40km2. They include 22 championship courses designed by renowned players and architects from five continents, five-star resorts, award-winning spas and volcanic mineral springs, international convention centers, state-of-the-art golf academies, a 20-pitch football training base, Asia's largest basketball school and Asia's biggest tennis facility. Mission Hills is also the official training headquarters for China's Tennis, Football and Golf Associations. The Group's 'golf and more' leisure philosophy has catalyzed its tourism-related business expansion into a leisure hub for multi-generational families. Mission Hills Centreville in Shenzhen and Haikou provides integrated shopping, recreational, business, education, entertainment, leisure and cultural experiences, including Bromsgrove School Mission Hills in Shenzhen in collaboration with the historic British boarding school. Mission Hills has also extended its foray into the hospitality industry by partnering with world-renowned hotel brands such as Hard Rock, Renaissance and Ritz-Carlton. These collaborations have seen the opening of Ritz-Carlton's first golf resort hotel in China and China's first Hard Rock Hotel in Shenzhen.
Other significant projects include Movie Town in Haikou in partnership with China's largest film production company, Huayi Brothers Media Corporation and award-winning director, Feng Xiaogang and China's first Wet'n'Wild water park in collaboration with Australia's leading entertainment group and largest theme park operator, Village Roadshow Limited. Mission Hills has also announced ground-breaking partnerships with FC Barcelona and the NBA to bring the world's most famous football club and the world's largest professional basketball league to its Haikou resort, making Hainan island a leading hub for football and basketball development in China. For more information and latest updates, visit us at www.missionhillschina.com or follow Mission Hills China on Facebook, Instagram, LinkedIn, Twitter and YouTube. For further information and images, please contact:
Grace Zhang
Mission Hills China
Tel: +86 755 2802 0888 Ext. 38550
Email: GraceZhang@missionhillschina.com