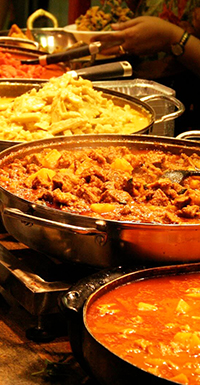 Indian cuisine is getting ever more popular in South Korea as elsewhere in the world. Along with Italian, Mexican, and Thai food, the Indian dishes are making fast inroads into the South Korea's gastronomic market dominated by foods from China, Japan, and Italy.
India is a diverse nation with more than 1.3 billion population across the country. All of the states are unique in their own cultural identity, belief, clothing, life-style, rituals and festivals but one thing which is a true reflection of Indian culture is their food habits from ancient times. Indian people have different eating habits as per their geographical availability. North Indian people prefer to eat wheat as the part of their daily diet whereas people in south are much fond of rice. Some regions also prefer having seafood, meat etc. Additional to all of these, lots of fermented food products are found in different regions of the country. Fermented food products are produced by the process of fermentation and are rich in nutrition because of the presence of important enzymes, organic acids as well as beneficial microorganisms that enhances the health aspect of the food product. The commonly used microorganisms include yeast and lactobacillus which produces ethanol and lactic acid respectively.Lactic acid helps to improve the nutritional value of the food, control many intestinal infections as well as some type of cancer. Health benefit associated with its consumption is the reason of its popularity since time immemorial. In this article we will look upon different types of fermented food products in different region of Indian continent.
Rice based fermented food1: IdliIdli is a steamed fermented food product and is very famous in the region of south India. The texture of food is soft and spongy and is made by steaming the batter consisting of rice and fermented black lentils. The actual proportion of rice and black lentils varies according to personal taste. Mircoorganisms which produces lactic acid are used in the fermentation process e.g. Streptococcus faecalis, Lactobacillus delbrueckii, Leuconostoc mesenteroides, Lactobacillus fermenti, Lactobacillus lactis and Pediococcus cerevisiae. The fermentation process breaks the starch molecules into simple products causing its easy metabolism by the body.2: Dosa
Dosa batter is a fermented food product which looks like a pancake but bigger in size. Dosa is prepared by grinding rice and black gram separately and by making two different suspensions. Both suspensions are then mixed with each other and kept for the natural fermentation (4-20 hours) process. Once the fermentation is done, thin layer of suspension is spread on the hot plate to make a thin crispy wrapper which may or may not be filled by any flavour enhancer such as vegetables etc. Although Dosa is a good source of protein and carbohydrates, the fermentation process increases the vitamin B and vitamin C content which makes it richer in nutrition.3: DhoklaDhokla is a fermented food product which is thought to be originated form Gujarat, an Indian state. Dhokla is made from rice and chickpea (Bengali gram). Both rice and chickpea are soaked in water and then grinded separately to get suspension. Both suspensions are then mixed and kept overnight for the fermentation. The fermented batter is kept on a flat plate (15 minutes) for steam and then chopped into pieces. The chopped pieces then kept into hot oil and mustard seeds and supplemented with sugar, water and some spices to get enhanced flavour. Then the pieces are removed from the oil and Dhokla is ready to eat.4: AmbaliAmbali is a fermented food product in India. The substrate for the production of Ambali is Ragi commonly known as finger millet which is rich in protein, calcium, iron and is glutan free. Microorganisms which are involved in the fermentation process are Leuconostoc mesenteroides, Streptococcus faecalis and Lactobacillus fermentum. The main benefit of using finger millet is that it contains an important amino acid that is methionine.
Wheat based fermented food5: Jalebi
Jalebi is a traditional crispy fermented food product which is sweetened in taste. It is consumed in the Indian subcontinent as well as in African continent. Jalebi is made from Maida (refined and bleached wheat flour), yogurt and water. The batter of these ingredients are left overnight for the fermentation process. Then the batter is deep fried in hot oil till it turns brown and then immersed in sugar syrup for 2-3 minutes. Microorganism which are involve in the process of fermentation are Lactobacillus buchneri , Lactobacillus fermentum, Streptococcus lactis, Streptococcus faecalis. All of these microbes help in acid production which decreases the pH of the batter. The main microorganism which increases the volume of batter and help in fermentation process is Saccharomyces cerevisiae.6: Naan, Kulcha and BhaturaNaan, Kulcha and Bhatura all of these are a tradition fermented food product which are mainly consumed by the north Indian people and these product feed thousands of people in India every day. These products are made from Maida (Refined wheat flour). Fermentation activity requires the action of microorganism Saccharomyces cerevisiae which produces CO2 and increases the size of batter.ConclusionHealth benefits and remarkable taste of India foods make them popular across the globe. These food habits are practised since time immemorial and represent different cultures and traditions followed by the people in their respective origin. Microorganisms carry out the fermentation process that enhances the quality of food to a greater extent. The traditional knowledge of preparation of food products has been followed by the urban population as a prestige for the country.
The above story was written by Mr. Keshav Tiwari, researcher at Amity University in India.