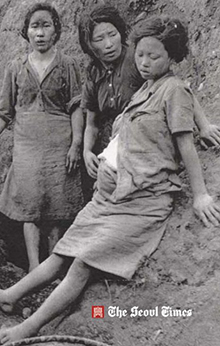 One of the Korean comfort women in this file photo seems pregnant.
Nobody wants to ask that question. What happened to the babies of the comfort women mobilized as sex slaves for the Japanese soldiers during the Second World War?Nazi Germany was turning genocide (ethnic clenzing) into industrial process on the other side of the globe.Japanese military machine was turning mass sexploitation into a military procedures.
Hundreds of teenage girls from the Japanese-controled territories in Asia were rounded up by the military trucks scouring the villages and schools loading them onto trucks to ship them out to the troops in China where they were housed in purpose-built brothels for the free use of the Japanese soldiers.Statistics show that as many as 200,000 Asian women mostly Koreans were forcibly mobilized to serve Japanese soldiers as sex slaves during the Pacific War.
For the Japanese authorities this is a scheme represented a solution to several problems: troop morale preventing abuse of the local population and avoidance of venereal diseases (VD).History has probably never seen exploitation on such a systematic basis. But, No one seems ready to ask the shameful question of what happened to the babies. Many of these girls presumably bacame pregnant and had nowhere to take care of their babies.Did they grow up? Was each of them aborted? Were they allowed to grow up?Japanese government states that the issue has been solved and the compensation was paid.However if there are still living victims suffering today from the legacy of the inhumane operation, then those victims are due and honest acknowledgement of the responsibility of the perpetrations even if they are lond dead.Mr. Shinzo Abe, the Japanese prime minister, should make a statement of international forum, and recognize the wrong doings of their past.The Japanese should make no more distortions. No more denials! and No more excuses!