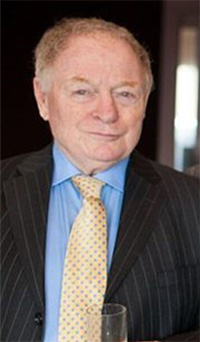 Late Joseph J. Day MBE
British businessman and consultant Joseph J. Day MBE (Joe Day), a long-time resident of Seoul, has recently died of bone tumor at Seoul National University Hospital on College Road in Jeongro-gu, Seoul. He was at 80.Day is survived by his Korean wife Mrs. Jungsook Day and his daughter Ms. Elizabeth Day.He was awarded MBE (Member of the Most Excellent Order of the British Empire) for promoting Britain's business ties with South Korea.An international expert on labor relations Day first came to South Korea in mid-1970s when South Korea's economy as developing rapidly based on its export-oriented economic policy.Since his arrival in Korea Day had been involved in various businesses, serving business consultant for both local Korean and international corporations.Day served as vice chairman of both the British Chamber of Commerce (BCCK) in Korea and EU Chamber of Commerce (ECCK), formerly EUCCK for a number of years.Day founded his own company Market Entry Service Co. Ltd in 1997 and ran it until recently. Market Entry specialized in assisting foreign company entry to the Korean market.Earlier Day set up a British engineer engineering company while he was managing two European pharmaceutical companies.
About Joseph J. Day
Joseph J. Day started his business in South Korea in the middle of 1970s immediately after his arrival in Seoul from Great Britain.
Several years later he married his Korean wife Mrs. Jungsook Day. He had been living in Seoul since early 1980s, leading British Engineering Company and two European pharmaceutical companies.He was a long-term executive member of the major foreign chambers of commerce operating in Seoul including BCCK, ECCK, and American Chamber of Commerce in Korea (Amcham).Day also served for extended periods as a member of the Korean Arbitration Board and as auditor of the Korean Research-based Pharmaceutical Industry Association (KRPIA).