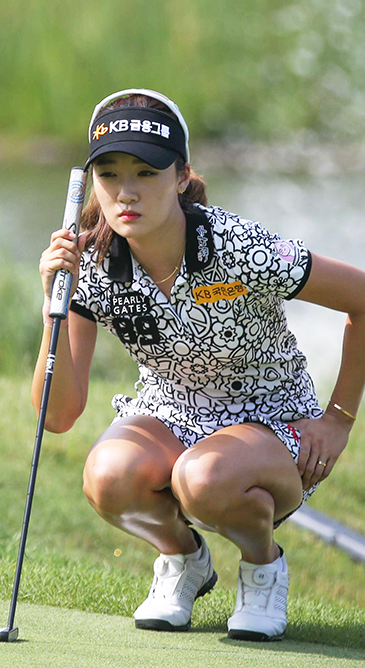 S. Korean female ace golfer Oh Ji-Hyun
South Korean female ace golfer Oh Ji-Hyun clinched the whopping prize money of 350 million won by winning KLPGA held in a Chuncheon golf club on Sept. 3, 2017.The 21-year-old up and rising golfer defeated her South Korean rivals in the major Hanhwa Classic event held on the day at the Jade Palace Golf Club in Chuncheon, South Korea's Gangwon Province.Last year Oh also won the BC Card Hankyung Ladies Cup for the second consecutive time on a Daebu Island golf course in South Korea's Gyeonggi ProvinceOh was a mear teenage amateur in 2013 when she made a huge splash. Oh finished 8th at the Korean Women's Open, the KLPGA's biggest tournament. After that Oh turned pro in the Fall. Since then Oh has played in the major events including the Dream Tour.In the end Oh was qualified for the KLPGA in 2014.
A media report said that Oh somewhat resembles South Korean figure skating legend Yu Na Kim. Thereafter Oh was called "the Yu Na Kim of golf," her nickname she earned.Since then Oh was known as a pretty popular player on tour, but her fame came a little later. She suffered from a little sluggishness for a little while. Once in 2014 Oh was placed at 64th on the money list.
Short Bio of Oh Ji-Hyun
Birthday: January 3, 1996
Rookie Year on KLPGA: 2014
Birthplace: South Korea
Best LPGA Finish: T-29th (2016 KEB Hana Bank Championship)
Best LPGA Major Finish: None
Height: 5' 7"
2017 LPGA Status: On the KLPGA
Nicknames: Yu Na Kim of golf
Sponsors: KB Financial
How's her English?: Unknown
Hobbies: Unknown
Road to the LPGA: Plays on the KLPGA