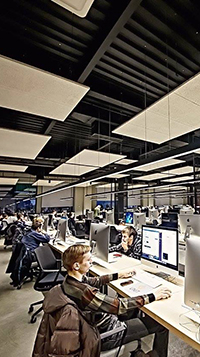 UNIT Factory
When a new generation IT school, 42 opened last year in the Silicon Valley, few people in Fremont, California knew that a similar school had already been functioning in the capital of Ukraine under the name of UNIT Factory. Both of these schools implement the system of École 42, which has huge success in France.Located in a newly-built complex in Kyiv center, UNIT Factory has no teachers, schedules, lecture notes or traditional marks. It uses Peer 2 Peer pedagogy — a type of participatory learning that allows students to unleash their creativity through project-based learning.The program is based on gamification, as in role-playing computer games: students upgrade their skills, open new levels and gain experience. Special attention is paid to self-education, since this skill is vital for IT pros. And with all that, training at UNIT Factory is free of charge to graduates who agree to work in Ukraine for the further three years.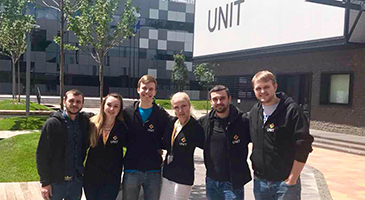 UNIT's First Vice President Vasyl Khmelnytsky (3rd from left), and Head of Its Educational Program Valeria Zabolotna (3rd from right) pose with other company members at UNIT Factory in Ukraine.
"The program prepares our graduates for work on real commercial projects. And we do our best to ensure that students never lose their enthusiasm and desire to develop in the chosen profession," — said Valeriya Zabolotna, Head of UNIT Factory.The first wave of students has already been studying at UNIT Factory for more than seven months, showing rapid progress and excellent motivation. The second enrollment has already started: by the end of 2017 the number of students will be increased to 800 from today's 280.Candidates are taking online tests and undergoing interviews, the next stage is trial periods (so-called "pools"). Students are selected not on the basis of their educational degree or programming skills, but solely on their talent and motivation.A year ago the selection campaign created quite a stir — more than 12,000 applications were received during the first month.It is noteworthy that UNIT Factory is not a standalone institution, but the key element of the ecosystem of the UNIT.City innovation park opened in Kyiv in April, 2017. Both of these projects were initiated by Vasyl Khmelnytsky's K.Fund. In the future, the park promises to expand to a "city in the city," a hub of high-tech companies, investors and talents.
Vasyl Khmelnytsky
First Vice President of the Ukrainian League of Industrialists and Entrepreneurs
Founder of K. FundAn entrepreneur who pushes forward innovations in various sectors of the Ukrainian economy.In 2015, Vasyl Khmelnytsky united his public activities within K.Fund. The fund's goal is to help talented young people achieve success in Ukraine.The largest K.Fund's project is the UNIT.City innovation park, opened in April 2017 in Kiev. Its key element is the next-gen educational institution UNIT Factory.Among other initiatives supported by the businessman there are the Kyiv International Economic Forum (KIEF); the modern model of regional development "Bila Tserkva 2025"; Technology Companies' Development Center (TCDC); modern secondary Novopecherska School in Kyiv; iLearn online platform for orphans and children from needy families; inter-corporate BIONIC University; book-publishing project Khmelnytsky's Library.Vasyl Khmelnytsky's is the majority shareholder in UDP, a company specializing in large infrastructure projects. Those include Kyiv International Airport, Bila Tserkva industrial park, Ocean Plaza shopping mall, and residential complexes Novopecherski Lypki, the Boulevard of Fountains, RiverStone, and Parkove Misto.Mr. Khmelnytsky is also an investor in BIOFARMA (pharmaceuticals), Star Media (film and TV production) and RTM (national advertising operator).
Valeria Zabolotna
Initiator of UNIT Factory
Head of the educational programs at K. FundValeria Zabolotna is a professional with extensive experience in consulting, organizational and managerial activities in the area of educational services and personnel management.Combines work in commercial projects with educational activities as an associate professor at the Department of Social Psychology of the Faculty of Psychology of the Kyiv National University (since 2007).Since 2013 Valeria has been the Director for Organizational Development at UDP development company, and since 2015 she has managed educational projects of Vasyl Khmelnitsky's K.Fund, including UNIT Factory. Prior to that, she worked as a certified teacher of the Edinburgh Business School (2011-2013) and Deputy Dean for International Relations of the Psychology Department of the Kyiv National University (2009-2011).Valeria Zabolotna successfully combined psychological education (Faculty of Sociology and Psychology of Kyiv National University) and MBA (University of New Brunswick, Canada, specialized in e-commerce). In 2007 she defended her thesis. Valeria has published over 50 articles in professional Ukrainian and foreign periodicals.
For details or inquiries contact
Ms. Yaryna Martyniuk
yaryna.martyniuk@o2pr.com.ua