Middle East & Africa
Op-Ed Special
Why Live in Israel?
Special Contribution
By Zvi November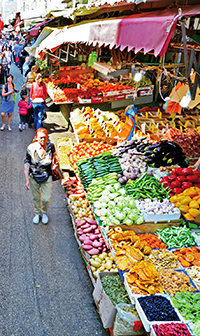 Market in Tel Aviv, Israel
Someone asked: How can you live in Israel, a country under constant threat of extermination?The short answer is: You can't.About six or seven years ago I sat next to an Israeli woman on a return flight from the US. The woman told me she was coming to Israel to visit her family but will not come back to live in Israel permanently. She explained that she just can't endure the stress.I once read that more Lebanese reside overseas than live in Lebanon. I don't know if this also holds true for Israelis but huge numbers of Israelis do live elsewhere, especially in America.Israel is probably the only place in the world where a Jew can wrap himself in his talith (prayer shawl), stroll through the city center and no one will give him a second glance. Saturday is Shabbat, the day of rest. Schools, offices, and stores are closed despite enormous efforts by "multi-cultural progressives" to change the essence of this holy day.The shopping malls (just like in America) and shuks are overloaded with everything and anything you desire. I am always amazed at the abundance of fruits, vegetables and everything I enjoy eating.We now have great restaurants as well. Too many Israelis are overweight. And the Israeli shekel keeps climbing against the dollar and euro so imported goods keep getting cheaper (at the expense of exports).Just about everything that happens in Israel has an important political dimension. Unfortunately, the realm of politics and government here is generally absurd or impotent. There is a website called CHELM ON THE MEDITERRANEAN that relates to this local insanity.On the personal level, I often attend wonderful lectures on Jewish history, customs and thought. Excellent experts on Arab society and Islam provide deep insights into the Arab/Muslim mindset.Classical music concerts are on a par with the best in Europe. Indeed, world-renowned artists are featured along with local talent.Only on Saturdays do I sit still at home reading my newspapers. The Hebrew "Makor Rishon" improves all the time while "The Jerusalem Post" is in slow decline.If one loves the truth and disdains falsehoods then Israel is the place to live. Here we know for sure that the "religion of peace" is really the religion of war. Here we know for a fact that Jews and Judaism promote peace in the world to the very best of our abilities.We have no doubt whatsoever that Iran, Iraq, Pakistan, Qatar, Turkey, Saudi Arabia, and the Taliban along with their terrorist allies around the globe are full of hate that they liberally export. These BARBARIAN folks (see Robert Spencer's videos on YouTube), like the Nazis and Tojo's Japan eighty years ago are deceitful warmongers bent on destroying our imperfect, feeble democracies and freedoms.A few (too few) European leaders like Geert Wilders understand that Israel is the front line of the West's defense. Unfortunately, the majority of European politicians, via hundreds of "humanitarian" and "human rights" NGOs, do their utmost to undermine Israel's right to exist.Every month (except Heshvan-November) contains a Jewish holiday to celebrate or commemorate. On Tisha B'Av (destruction of the holy temples) you can visit the Temple Mount. On Yom Kippur you can walk in the middle of the road because not a single vehicle moves.On Succoth almost everyone has a succa in which to eat and sleep. This ancient country with a history as long as that of the Chinese is blessed with many (some say too many) holidays that makes it difficult to maintain one's normal daily routines.In fact, Israelis who cannot agree about anything all assert that ISRAEL IS NOT A NORMAL COUNTRY. But it is the only place in the world where I can really be myself and not worry about what the goyim say, think and may do. Here I can ignore the violent and non-violent anti-Semitism now growing by leaps and bounds in Europe and elsewhere.As a footnote, I am proud to remind my friends that we are a world leader in science, technology and medicine.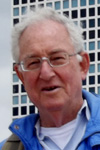 Zvi November, who grew up in New York, served as a Peace Corps' teacher in rural Philippines. He also taught at Hong Kong Int'l School. He earned his diploma from Univ. of Edinburgh, his MA from Syracuse Univ, both in anthropology. Now he is an activist in Israel's Media Watch and other civic bodies.