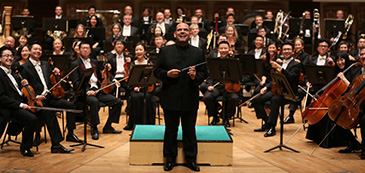 Hong Kong Philharmonic Orchestra
The Hong Kong Philharmonic Orchestra or "HK Phil" for shorts, one of Asia's leading orchestras performs at Seoul Arts Center in South Korea's capital on April 16 (Sunday), 2017.The "HK Phil" with its Music Director Jaap van Zweden Logo at its helm throws its Seoul performance on its Asian five-city tour to mark the 20th anniversary of the establishment of the Hong Kong Special Administrative Region.Its Asian tour is led by Maestro Jaap van Zweden, the music director of the HK Phil.It is its second performance in Seoul. Thirteen years ago it threw its first performance in the city.Such masterpieces as Mahler's, Mozart's, and Brahms' are introduced at its Seoul and other Asian city performances.Internationally renowned violinist Ning Feng also appears as soloist at all concerts.After its Seoul performance "HK Phil" heads for Osaka, Japan for the April 18 performance, and to Singapore for May 1 performance. It also visits Melbourne for May 4 performance and to Sydney for its May 5 performance."The (Asian) tour is an historic move for the orchestra," says Michael MacLeod, chief executive of the HK Phil. "The 2017 tour gives audiences in Singapore, Japan and South Korea a rare opportunity to experience one of Asia's leading orchestras together with our internationally renowned conductor Jaap van Zweden and showcases the artistic talents of violinist Ning Feng"This is a great way to renew our friendship with these (cities) audiences," HK Phil Chairman Y.S. Liu comments. "Mahler's music is full of emotion and his Symphony no. 1 is ideal for touring being relatively short and extremely accessible, Liu adds. "You can't beat the majesty of Brahms' first symphony with its glorious final movement"He goes on to say that Ning Feng is a great violinist and in his hands, the Bartok and Mozart violin concertos will sparkle.The 2017 international tour is presented by the HK Phil in association with, and supported by, the Hong Kong Economic and Trade Office (Tokyo, Singapore, and Sydney). "This tour highlights the orchestra's importance as ambassadors for Hong Kong's cultural heritage and showcases our flagship arts organization internationally, MacLeod adds. "I'm sure international audiences will appreciate our wonderful cultural icon as much as we do in Hong Kong"
Participating Artists
Jaap van Zweden, conductor: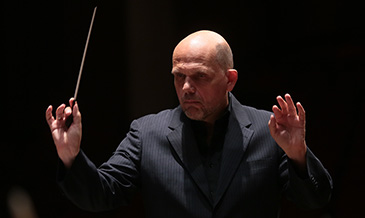 Jaap van Zweden
Amsterdam-born Jaap van Zweden is one of today's most sought-after conductors. He has been music director of the Hong Kong Philharmonic since 2012, a position he will continue to hold until at least 2022. In addition, he will become the music director of the New York Philharmonic in the 2018-19 season.Maestro van Zweden is currently Music Director of the Dallas Symphony Orchestra, Honorary Chief Conductor of the Netherlands Radio Philharmonic Orchestra and Honorary Conductor of the Radio Chamber Philharmonic. At just 19, he became the youngest Concertmaster appointed by the Netherlands-based Royal Concertgebouw Orchestra. He began his conducting career in 1995, becoming Chief Conductor at the Netherlands Symphony Orchestra (1996-2000), Chief Conductor of the Residentie Orchestra of The Hague (2000-2005) and Chief Conductor of the Royal Flemish Philharmonic Orchestra (2008-2011). He was named as Musical America's Conductor of the Year in 2012.
Ning Feng, violin: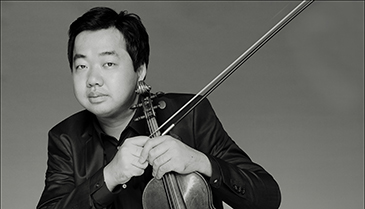 Ning Feng
Born in Chengdu, China, Ning Feng studied at the Sichuan Conservatory of Music and the Royal Academy of Music, London. He performs regularly in China and has an international reputation as an artist of great lyricism and technical accomplishment. He is a regular guest performer with the HK Phil.His numerous awards include first prize at the International Paganini Competition (2006) as well as the 2005 Michael Hill International Violin Competition (New Zealand).
Hong Kong Philharmonic Orchestra
The Hong Kong Philharmonic Orchestra , dubbed "HK Phil" for shorts, is one of Asia's leading orchestras with Music Director Jaap van Zweden Logo at its helm. He has been serving as its music director since 2012/13 season.Annually "HK Phil" touches the hearts of more than 200,000 music lovers. It throws over 150 performances every year."HK Phil" is also involved in extensive educational activities for both children and adults. It frequently throws various free concerts for the philanthropic works, bringing the joy of classical music to the Hong Kong community."HK Phil" also makes world-wide tour including Asia and European regions, garnerring a high acclamations from its fans around the world.