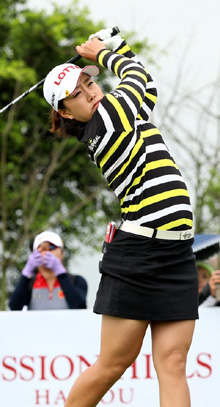 Kim Hae-Rym
Haikou, China , March 19, 2017 — Kim Hae-rym captured the SGF 67 World Ladies Championship with SBS on March 19 (Sunday), 2017 when the Korean beat compatriot Bae Seon-woo on the second hole of a play-off under wet conditions in Hainan Island. With Kim (70) and Bae (69) deadlocked at 14-under 205 through 54 holes on the Mission Hills Haikou Blackstone Course, both players made par at the first extra hole, the 371-yard first. At the next, the veteran made a birdie four at the 524-yard par-five for her third career title as Bae missed an eight-foot putt. England's Georgia Hall (67) and Koreans Kim Min-sun (68) and Lee So-young (69) were equal third at three strokes back in the US$600,000 tournament, a tri-sanctioned event between the China LPGA Tour, the LPGA Tour of Korea (KLPGA) and the Ladies European Tour. Li Jiayun was the top Chinese player as the Guangdong native closed with a 71 to sit equal 27th at one-over for the tournament. It was fourth consecutive year a Korean had won the tournament. With Bae having to complete the final hole of her second round early in the morning as lightning had forced the suspension of play on Saturday, the 23-year-old started the third round one shot behind Kim. In a round where she carded an eagle three, four birdies and two bogeys, Bae had built up a one-stroke lead going into the final hole of regulation. After finding a greenside bunker on the 510-yard last, Bae had to settle for par while Kim had a tap-in birdie to force the play-off. Going into the extra session, Kim said she felt confident as she had played in play-offs twice last year in a season where she earned her first two professional wins. On the first extra hole, however, her drive went into the lava rocks prevalent around the Blackstone Course. After finding her ball she had to take a penalty for an unplayable lie and then proceeded to get up-and-down for par.
"On the first playoff hole, I was delighted that I found my ball even though I had to declare it unplayable. I felt that was a chance and it helped me. I was focused on getting a par," said the Seoul native.Kim added she was able to win as she knew Bae's game so well after competing against each other on many occasions. "Both of us have had similar professional careers. I watched Bae's game and her micro-expressions and knew what she had deep in her mind. That's the key. I could adjust my strategy according to her expressions." Bae said she was not disappointed because she had played well. "I didn't know she (Kim) had a penalty shot in the first extra hole. Unlucky, it's an unlucky day," said Bae who was fifth on the KLPGA Order of Merit last year. "This is the first event in 2017. It didn't matter whether I could win or not. This finish just shows that I am in a good shape. There are many events to play and I think I can win some of them. There are no bad shots today. It's just unlucky." First-round leader Hall closed with four birdies and a bogey in her three-under round but struggled on the greens. "My putting wasn't quite there today. I couldn't see the lines as well as the last two days and my pace was a bit off. I left quite a lot short actually, but my long game all week has been amazing, and my putting has as well, apart from today," said the 20-year-old. "It's my second tournament of the year and I played well every round, so I'm very happy." The Mission Hills Haikou Blackstone Course is a 6,362-yard, par-73 course in Hainan Island, China, designed by Schmidt-Curley. The World Ladies Championship continues its long-standing partnership with the renowned global services brand, American Express.
About Mission Hills Group
Mission Hills Group, owner and operator of Mission Hills in the heart of the Pearl River Delta and the tropical island of Hainan, is the pioneer in China's hospitality, sports and leisure industry. Founded in 1992, Mission Hills is recognised as the leading golf brand in the world and is synonymous with leisure, wellness, entertainment and luxury residences. Mission Hills has been the major driving force behind China's sports and leisure industry. The world-class integrated leisure and wellness resort destinations around China have hosted more than 100 international tournaments. Mission Hills has also been accredited by the Guinness World Records as the "World's Largest Golf Club" and "World's Largest Mineral Springs and Spa Resort". Mission Hills' properties sprawl over 40km2. They include 22 championship courses designed by renowned players and architects from five continents, five-star resorts, award-winning spas and volcanic mineral springs, international convention centres, golf academies and Asia's largest tennis facility. Mission Hills is also the official training headquarters for China's Tennis, Football and Golf Associations. The Group's "golf and more" leisure philosophy has catalysed its tourism-related business expansion into a leisure hub for multi-generational families. Mission Hills Centreville Shenzhen and Haikou are two HOPSCA (Hotels, Offices, Parks, Shopping, Culture and Arts) mixed-use developments with a focus on "Retail-tainment" and "Edu-tainment", providing integrated recreational, business, education, entertainment, shopping, leisure and cultural experiences. The group has also extended its foray into the hospitality industry by partnering with world-renowned hotel brands such as Hard Rock, Renaissance and the Ritz-Carlton. This collaboration has seen the opening of the Ritz-Carlton's first Golf Resort in Haikou as well as the impending launch of Hard Rock Hotel in Shenzhen – the first Hard Rock Hotel in China.
Other significant projects include Movie Town in Haikou in partnership with China's largest film production company Huayi Brothers Media Corporate and award-winning director, Feng Xiaogang and China's first Wet'n'Wild park in collaboration with Australia's leading entertainment group and largest theme park operator, Village Roadshow Limited.