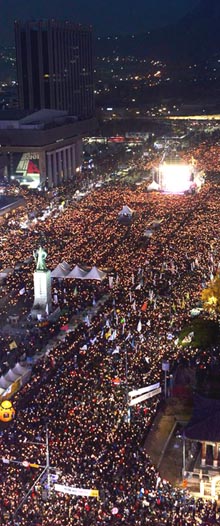 Some of the press and commentators, both foreign and domestic, have hastened to characterize South Korea as still a backward country with a lack of transparency and a culture of corruption, cronyism and poor governance.In particular, scholars and foreign commentators have "unfavorably" compared South Korea with Singapore, a beacon of good governance and transparency.But these damning conclusions may be unfair because they ignore the areas where South Korea has advanced well ahead of less developed countries, namely a strict legal system which lays a structure for probing and punishing and a robust freedom of the press.Over the last one month or so, millions of local South Koreans has been taking to the streets of Seoul's Gwanhwamun area just in front of the Blues House of presidential office where staggering President Park Geun-Hye still refuses to accept people's demand to step down.The protesters, nearly from all walks of life including students and housewives carrying babies, has been clamouring for the resignation of Park Geun-Hye.They were expressing extreme anger and frustration over the usurpation of the Constitution, abuse of presidential power, outright corruption committed by President Park Geun-Hye and her handful of cronies including Choi Sun-Sil, a South Korean version of Russian Grigori Rasputin.
Fortunately, South Korean news media stuck to the principles of journalism so-called its "watchdog role," revealing every natures of Park's corruptions and abuse of power. In particular, the "Big Three" powerful conservative dailies of Chosun, JoongAng, and DongA joined their competition to uncover every wrongdoing Park committed. A local channel JTBC was praised by people for revealing "Choi Sun-Sil scandal." The investigative journalism is often the key to exposing crimes and illegal practices including the current Choi Soon-Sil scandal. It looks like the nearly entire local South Korean newsmen and women are performing the role of watchdog. They are the modern-day muckrakers, investigative journalists of Progressive Era of America.Also some credits and praises should go to the nation's prosecution whose head, the prosecutor general, was appointed by the current President Park. The prosecution, formerly influenced by the presidential power, is now doing their role on the side of the people.
The vigilant activities of the prosecution in determining are now revealing each and every wrongdoing committed by Park and her cronies. They avowed that their investigation of President Park would continue and would punish no matter who the culprits will be. In the past the prosecutors were called "maids" of the presidential power.Public opinion is a strong force not to be ignored or suppressed, as in some less developed countries.Smart South Koreans are never corrupt, but the president and the handful of her cronies are in my personal opinion.
I have been working and living in South Korea over the last three decades in a row. I have never known a time when the country was not experiencing a crisis.Yet, I witnessed the progress of the nation and social, economic, and political transformation local people achieved.And when the current crisis is over, as surely it will be, a whole different set of positive conclusions will emerge just as before.