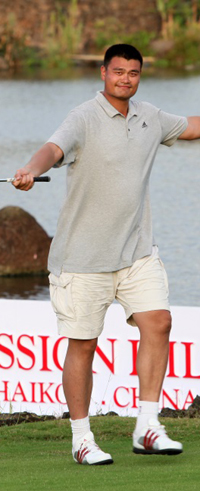 Yao Ming
Haikou, China — The stars will be aligned over China's Hainan Island October 21-23, 2016 when the fourth edition of the World Celebrity Pro-Am tees off at Mission Hills Haikou. As the premiere gathering of the stars in a sporting environment in the Asia-Pacific region, the World Celebrity Pro-Am brings together 30 internationally famous celebrities from the world of sport and entertainment and pairs them with eight professional golfers over three days of competition that is fun for the participants, fans and all involved. As with past years when top international stars have graced the field for the World Celebrity Pro-Am, the 2016 edition is no different.Among the early confirmations booked for Hainan Island are Academy Award-winning actor/producer Michael Douglas, superstar singer/actor Jay Chou, basketball giant Yao Ming and tennis great Boris Becker, the six-time Grand Slam winner. From the pitch, Dutch legends the De Boer twins, Frank and Ronald, lead a group of a footballers that include England internationals Robbie Fowler, Paul Scholes and Teddy Sheringham, Liverpool great Ian Rush, Scotland's Gary McAllister and former Manchester United stars Dwight Yorke, David May and Lee Sharpe. The golfing greats lined-up to lead the way over the Mission Hills Haikou Blackstone Course include the legendary Gary Player, a nine-time Major winner, big-hitting John Daly, a two-time Major winner, Mark O'Meara, the Masters and Open Championship winner in 1998 and Rich Beem, the 2002 PGA Championship title holder. They are joined by an equally impressive foursome of ladies in Solheim Cup star Suzann Pettersen, the Norwegian former World No. 2, Sweden's Anna Nordqvist, runner-up at the recent US Women's Open, American Paula Creamer, the 2010 US Women's Open champion, and Natalie Gulbis, the glamour girl of the LPGA Tour who won the 2007 Evian Masters. Michael Douglas makes China debut
Much like the AT&T Pebble Beach National Pro-Am and Alfred Dunhill Championship that for years has brought together celebrities from the world of sport and entertainment, the introduction of the Mission Hills World Celebrity Pro-Am in 2010 filled that championship gap in Asia-Pacific, creating an indelible mark on China golf. The all-star gala brings together acting and music stars from Hollywood, Korea, Hong Kong, Taiwan, mainland China and the world at large, paired with sporting greats, to create an event that generates huge media interest around the globe each time it is staged. The participation of Michael Douglas for the 2016 edition is a particular coupe as the golf fanatic is making his first visit to China for the event. "I've heard great things about the Mission Hills World Celebrity Pro-Am so I'm very much looking forward to taking part in this year's tournament," said the two-time Oscar winner. "Playing golf alongside some of the best players in the world is going to be a tremendous experience and to be doing so at a resort like Mission Hills will make it even more memorable." The 71-year-old, who produced the classic One Flew Over the Cuckoo's Nest, winner of the 1975 Oscar for best picture, and won the Academy Award for best actor in 1988 for his memorable portrayal of Gordon Gekko in Wall Street, got into golf when a knee injury from skiing ended his tennis career. With actor pal Jack Nicholson, the pair hit the driving range and with his first swing of a 4-iron Douglas says he was hooked. He told Golf magazine that he was down to a 14-handicap at his best and played golf wherever he went in the world, a round of 79 at St Andrews in Scotland being a particular highlight. The actor has also used his celebrity to help raise millions of dollars for the Motion Picture and Television Fund in hosting several Michael Douglas & Friends Celebrity Golf Tournaments. Despite a long history of playing golf in front of the public, he admits he still gets butterflies. "Absolutely. Golf and acting are both the art of learning to relax in uncomfortable situations. It's uncomfortable to stand in front of a bunch of cameras and people. It's the same in golf. I've played in a lot of pro-ams. You feel that tension. I still get nervous doing movies. It never goes away." Jay Chou excited for Hainan return
An appearance by Chinese superstar Jay Chou will undoubtedly bring the excitement at the Mission Hills Celebrity Pro-Am to fever pitch if the 2014 edition is anything to go by. The Taiwanese singer/actor acted as a promotional ambassador for the event in his previous visit and his appearance, in a memorable black and gold suit, was greeted by thousands of screaming fans and huge media attention. With the 37-year-old and his wife welcoming their first child in July 2015, "Super Daddy" Chou launched his new song Qianshi Qingren (My darling daughter) on Facebook after seeing "Little Chou" playing a toy piano that inspired him to write the song. He is also appearing in his second Hollywood film, Now You See Me 2, with Harry Potter star Daniel Radcliffe. Chou spoke highly of Hainan during his first visit, calling it another Hawaii equipped with golf courses, natural volcanic springs and children's recreation facilities – an ideal place for the entire family.
Gathering of sporting greats
The World Celebrity Pro-Am is similar to the Olympic Games, albeit on a much smaller scale, as past events have brought together such top sporting figures as swimming ace Michael Phelps, FIFA World Player of the Year Ronaldo, snooker king Stephen Hendry and Russian figure skating champion Evgeni Plushenko, among many others. This year's sporting lineup is no different with a host of superstars from a variety of sports descending on Hainan. They don't get any bigger than Yao Ming as the former Houston Rockets' great is returning to the scene where he first learned how to play golf at the 2012 World Celebrity Pro-Am. With his specially designed clubs, the 2.29-meter Shanghai native easily hit the ball 200 yards or more, earning praise from China's golf pioneer Zhang Lianwei in the process. At the 2014 pro-am, Yao received expert coaching from top professionals Suzann Pettersen and Ian Poulter. Now two years later, there will be great interest to see how the big man has improved his golf game when he takes on the Blackstone Course.
Taking a break from coaching World No. 1 Novak Djokovic is tennis great Boris Becker, himself a former World No. 1 who in 1985 became the youngest player ever to win the men's singles competition at Wimbledon, the first of three career wins he would post at the All-England Club.The German is a reported seven handicap and has played in a host of celebrity pro-ams with such high-profile partners as compatriot Bernhard Langer, Matt Kuchar and superstar Tiger Woods. He has also hosted the Boris Becker Golf Trophy, an event held to raise money for charity. "I am looking forward to the Mission Hills World Celebrity Pro-Am," said the man who amassed 49 wins during a stellar career. "I hope to be paired with someone humorous." Paul Scholes, who was part of "The Class of '92" when Manchester United dominated the football world, has become an avid golfer since hanging up his boots after 19 stellar seasons at Old Trafford. As well as testing his 16-handicap on the Blackstone Course, the "Ginger Prince" will participate in an exhibition football match featuring former greats from Manchester United, Liverpool and FC Barcelona versus pro footballers from the Chinese Football Association. Joining Scholes are former teammates Dwight Yorke and Teddy Sheringham, key members of Manchester United's 1999 treble-winning season, as well as David May and Lee Sharpe, themselves former Red Devils. Manchester United's old rival, former Liverpool striker Ian Rush, who still holds the unbeaten record for most goals for the Merseyside club – 346 goals in 660 matches – and Robbie Fowler who contributed greatly to the Reds' triple-crown in 2001, will also be in the lineup.
Gary Player still swinging at 80
Each Mission Hills World Celebrity Pro-Am session brings together eight golfing greats – past and present. This year's group has amassed an accumulative 17 Grand Slam titles and nearly 300 professional victories in all. Leading the charge is legendary South African Gary Player and American Major winners Rich Beem, Mark O'Meara, and John Daly. The ladies are represented by Solheim Cup players Suzann Pettersen, Paula Creamer and Anna Nordqvist, and LPGA player glamour girl Natalie Gulbis. With nine Major titles during an outstanding career, Player, the "Black Knight", is without a doubt one of the greatest ever to swing a club. He returns to Mission Hills Haikou where he will undoubtedly keep fans and his playing partners enthralled with his endless stories, quick wit and legendary bunker play. Excitement for the 2016 Mission Hills World Celebrity Pro-Am will continue to build in the run-up to the tournament as more celebrities from the world of sport and entertainment are confirmed. The World Celebrity Pro-Am continues its long-standing partnership with some of the world's leading brands including global services company, American Express; sophisticated Belgian beer, Stella Artois; leading premium bottled mineral water, Tibet 5100 and world renowned Swiss chocolate, LINDT.
About Mission Hills Group
Mission Hills Group, owner and operator of Mission Hills in the heart of the Pearl River Delta and the tropical island of Hainan, is the pioneer in China's fledgling hospitality, sports and leisure industry. Founded in 1992, Mission Hills is recognized as the leading golf brand in the world and synonymous with high-end, luxurious and exquisitely designed residences. Mission Hills has been the major driving force behind the sports and leisure industry in China. Its three world-class integrated leisure and wellness resort destinations have hosted more than 100 international tournaments. Mission Hills has also been accredited as the 'World's Largest Golf Club' by the Guinness World Records. Mission Hills' properties sprawl over 40 sq.km. They include 22 championship courses designed by renowned players and architects from five continents, five-star resorts, award-winning spas and volcanic mineral springs, an international convention center, golf academies and Asia's largest tennis facility. Mission Hills is also the official training headquarters of China's Tennis and Golf Associations. The Group's "golf and more" leisure philosophy has catalysed its tourism-related business expansion. Mission Hills Centreville and Mission Hills Lan Kwai Fong Haikou are family-friendly metropolitan leisure complexes and low-carbon town centres. Hubs for business, leisure, wellness and entertainment, their highlights include 1,000-plus international anchor brands featuring the latest fashion labels, finest jewelry and watches; trendiest restaurants, cafes and bars; state-of-the-art multiplex cinemas; ice skating rinks; bowling alleys; world-renowned auto showrooms; and many other exciting offerings. A total of six hotels are showcased in these developments, among them Marriott International's Ritz-Carlton and Renaissance hotel brands, and Hilton International. Today, Mission Hills Group has achieved many milestones and become the pre-eminent conglomerate in the sports, tourism, leisure and entertainment industry. The next breakthrough in the Group's evolution will occur as it brings its tried and true branding and golf management services to Beijing, Shanghai, Xian, Yunnan, Chongqing and other destinations.
For more information, please contact:
Mona Li , Mission Hills China
Tel: +86 755 2802 0888 Ext. 38890
Email: monali@missionhillschina.com