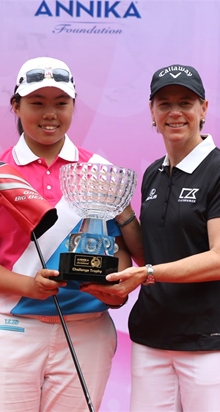 12-year-old overall champion An Ho-yu receiving trophy from Annika Sorenstam
Dongguan, China: The sixth ANNIKA Invitational at Mission Hills has reinforced Annika Sorenstam's belief that it's only a matter of time before China becomes a dominant force in women's golf. Speaking during her latest visit to Mission Hills, the legendary Swedish golfer predicted an exciting decade ahead on the LPGA Tour for Asian females in general and Chinese in particular. "It takes time to build champions, but in the next 10 years you'll see more and more success stories from China , on both the men's and women's Tours," said Sorenstam, a 10-time Major winner during a glittering career. More than 70 players from around Asia competed in the 2016 ANNIKA Invitational over the Sorenstam-designed Annika Course at Mission Hills Shenzhen. Among them were no fewer than seven of the top-10 players from the China Golf Association's national junior rankings. Overall victory went to An Ho-yu, a talented 12-year-old from Chinese Taipei with a handicap index of 0.1 on April 29. An posted an accomplished closing two-under-par 70 for a tournament total of five-under-par. That was two strokes ahead of second-placed Tseng Tsai-ching, also from Chinese Taipei. The top three players from this week's ANNIKA Invitational receive coveted berths in the ANNIKA Invitational in the United States. Meanwhile, the overall champion will be invited to play in the World Ladies Championship 2017. Sorenstam was impressed with the overall quality of the play – and also the way in which the ANNIKA Invitational has grown in stature since its inception in 2011. She said: "I'm very happy that we've been here six years now. We started as the first all-girls junior tournament in China and have grown nicely. It seems like every year we get a little bit better. It takes a while to establish a tournament but I really feel we've come a long way. "This week we've had seven different countries represented. I feel really good about our tournament this year. There are some players that have been coming now for several years and that shows they're happy to be here. "The more we can do these type of things then the better the youth movement in this part of the world will be."
Tenniel Chu, Vice Chairman of the Mission Hills Group, said: "Much like Annika, Mission Hills has always placed a strong emphasis on supporting junior golf and providing encouragement for those starting out in the game. "Over the course of the past 20 years, Mission Hills has hosted dozens of tournaments for boys and girls as well as offering free golf at a selection of our courses. "It's rewarding, therefore, when we see so much talent coming through at the ANNIKA Invitational." The ANNIKA Invitational at Mission Hills was the first junior girls-only tournament in China and Asia and the first ANNIKA Invitational event outside United States. It is also counted as part of the World Amateur Golf Ranking system and the China Golf Association's Junior Ranking.
About the ANNIKA Foundation
Annika created the ANNIKA Foundation (www.annikafoundation.org) as a way to teach children the importance of living a healthy, active lifestyle through fitness and nutrition, and offer aspiring junior golfers opportunities to pursue their dreams. The Foundation has partnered with key organizations to promote healthy, active lifestyles for children, including SPARK, Florida Hospital for Children in support of its Healthy 100 Kids initiative and The First Tee in development of the Nine Healthy Habits curriculum for children. The Foundation annually conducts four major golf events for aspiring junior girls: the AJGA ANNIKA Invitational at Reunion Resort in Orlando, Fla.; ANNIKA Invitational at Mission Hills in China; ANNIKA Invitational Europe in Sweden; and ANNIKA Cup, a team event for Swedish juniors. In 2013, its reach extended to the collegiate ranks with the ANNIKA Award Presented by 3M (awarded to most outstanding female NCAA Division I golfer) and ANNIKA Intercollegiate Presented by 3M (12-team, 54-hole event at Reunion Resort). SPARK grants to schools, financial support of Healthy 100 Kids, endowment of an AJGA ACE Grant, ANNIKA Junior Day and scholarships for aspiring Swedish juniors are other key initiatives.
About Mission Hills Group
Mission Hills Group, owner and operator of Mission Hills in the heart of the Pearl River Delta and the tropical island of Hainan, is the pioneer in China's fledgling hospitality, sports and leisure industry. Founded in 1992, Mission Hills is recognized as the leading golf brand in the world and synonymous with high-end, luxurious and exquisitely designed residences. Mission Hills has been the major driving force behind the sports and leisure industry in China. Its three world-class integrated leisure and wellness resort destinations have hosted more than 100 international tournaments. Mission Hills has also been accredited as the 'World's Largest Golf Club' by the Guinness World Records. Mission Hills' properties sprawl over 40 sq.km. They include 22 championship courses designed by renowned players and architects from five continents, five-star resorts, award-winning spas and volcanic mineral springs, an international convention center, golf academies and Asia's largest tennis facility. Mission Hills is also the official training headquarters of China's Tennis and Golf Associations. The Group's "golf and more" leisure philosophy has catalysed its tourism-related business expansion. Mission Hills Centreville and Mission Hills Lan Kwai Fong Haikou are family-friendly metropolitan leisure complexes and low-carbon town centres. Hubs for business, leisure, wellness and entertainment, their highlights include 1,000-plus international anchor brands featuring the latest fashion labels, finest jewelry and watches; trendiest restaurants, cafes and bars; state-of-the-art multiplex cinemas; ice skating rinks; bowling alleys; world-renowned auto showrooms; and many other exciting offerings. A total of six hotels are showcased in these developments, among them Marriott International's Ritz-Carlton and Renaissance hotel brands, and Hilton International. Today, Mission Hills Group has achieved many milestones and become the pre-eminent conglomerate in the sports, tourism, leisure and entertainment industry. The next breakthrough in the Group's evolution will occur as it brings its tried and true branding and golf management services to Beijing, Shanghai, Xian, Yunnan, Chongqing and other destinations.