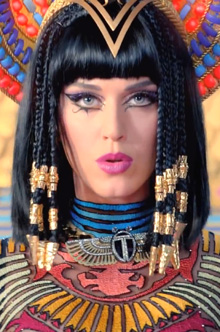 American singer and actress Katy Perry as an Ancient Egyptian princess in her music video for "Dark Horse"
Most fashionistas believe that being stylish is always in vogue. Also, top fashion designers know that most people want to look fashionable. However, many consumers of designer fashions are finding it a challenge striking a balance between scantily clad and fashionably dressed. Still, most fashionable shoppers want to wear trendy clothing and the newest styles. So they look at what their favorite celebrities are wearing.Succumbing to the pressure of social desirability, many seem eager to buy and wear what their music, movie idols or TV stars are wearing. Some fans are at least tacitly approving of Beyoncé Knowles, Britney Spears, and Katy Perry performing nearly naked in front of adoring crowds, and getting rave reviews from the press. Presumably, their skimpy clothing makes them look both fashionable and sexy. This perception emboldens designers to purposely blur the lines between common decency and overexposure in the name of trendiness and stylishness.Naturally, some fashion trends come and go without much fan fair; while others go out of style almost prematurely. Then there are those that seem to get revitalized almost on an annual basis. A few examples of these are the miniskirts, lust-inducing micro-shorts and skintight dresses.

Beyoncé Knowles
It is no understatement to suggest that most women want to feel sexy when wearing a special outfit. Conversely, most guys want to look fashionable and stylish. Knowing this, trendsetters and stylists are accustomed to crafting eye-catching designs that tease our eyes and titillate our vanities. Generally, clothes serve a simple purpose: provide comfortable covering and warmth.However, utilitarian outfits like uniforms are becoming multi-purpose in form and style. In certain work environments, fashionable uniforms' functionality can be an extension of workers' identity, a subtle medium of exhibitionism, and a tantalizing piece of clothing. This is especially true for the stylish uniforms some flight attendants wear.Even executive dress-suits are getting trendy makeovers today. The skirts are much shorter than before, and tight-fitting; the tops also feature deeper cleavages for voluptuous showcasing. Some of those cleavages are so deep, whenever the wearer leans forward; they almost involuntarily cover their bosoms with one hand. Which causes me to think, maybe they are afraid of unwittingly dangling their tits in public. There is even a new term coined specifically for such a fashion blunder—"wardrobe malfunction."Nowadays, many male executives are wearing close-fitting suits that accent their bums, bulging genitals and muscular physiques. Not to be outdone are single and married women who take pride in flaunting their cosmetically enhanced or natural endowments with their fashion choices. Clearly, the desire to look chic, fashionable, sexy or younger is one of the factors driving such blatant clothing styles.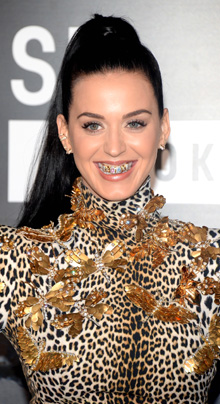 American singer and actress Katy Perry's makeup and fashion at the "MTV VMA's 2013"
Sometimes I see some women walking in their skimpy, tight-fitting outfits, and each step they take, their dresses crawl up their upper body. So to correct this latent movement, they invariably tug on the hem of their skirts, trying to avoid revealing too much. This causes me to wonder, while getting dress, didn't it occur to these women that their chosen outfits are unsuited for activities that include brisk walks, reaching an upward shelf in the library or supermarket?Even more befuddling is the trend that encourages women to find the smallest, bum-hugging shorts, or the minutest miniskirts to wear. Whenever I see some young women in public, at times, I am tempted to ask, did they mistakenly get dress in their little sister's closet? Other times I see young women climbing stairs, while putting their handbags or purses just below their hems to guard against an overexposure to pedestrians walking behind them. Ironically, some of these fashion fads and stylish trends are causing eye-popping reactions from both curious onlookers and gazing oglers.Surprisingly, some women seem bothered by the fact that people actually take extended glances and sustained stares at their bum or bosom. Such a reaction seems strangely puzzling. After all, people who go out in public scantily-clad should expect to be stared at. Also, the unwelcome attention is a sign that such attire is deemed objectionable.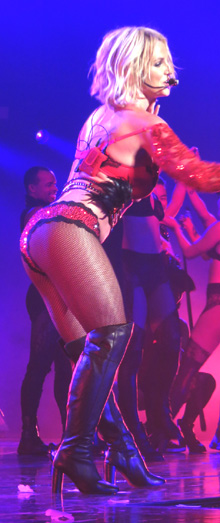 Britney Spears
Most people would find it odd if a clown complains that people look at him because of his clownish outfit and performance. Why? Well, one of the purposes of a clown suit is to attract attention. The clownish performance is for public exhibition.The same can be said about most skimpy fashion garments. Women who go out in public seemingly under-dressed should actually be surprised if no one takes notice. Also, one of the tactics used by sales clerks is to tell customers that select outfits make them look chic, fashionable, sexy or younger.Clearly, it is not necessary to wear clothes that look like unmentionables in public to be stylish. Also, fashionable clothing can be both sexy and stylish without the erotica features. Dressing like a model in Victoria Secret Catalogue is a sure way to arouse one's husband, boyfriend or lover. When similar outfits are worn in public, then strangers will invariably stare in bewilderment. Also, oglers will find it hard to resist staring shamefacedly.Showcasing one's sex appeal does not have to involve wearing nearly-naked garments in public. Evidently, fashion designer seems intent on pushing the boundaries of decency and decorum to the very periphery of modesty. However, conservative customers can stage a passive protest by leaving the skimpy fashion item on the shelves; and buying tastefully designed attires that are chic, elegant, and classy. Those features are equally sexy and stylish.