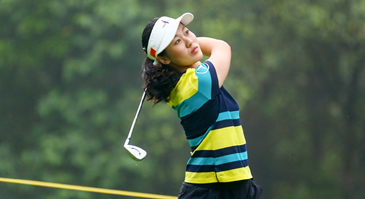 Lin Xiyu
Dongguan, China — China's Lin Xiyu says that this week's World Ladies Championship at Mission Hills Resort Dongguan will be the ideal warm up for the Olympic Games in Rio de Janeiro where she will be targeting individual and national glory.
Although only individual medals will be awarded when golf returns to the Games this summer for the first time since 1904, the World Ladies Championship's innovative format includes a team competition based on the combined scores of two players from the same country. Lin said: "This tournament is kind of similar to the Olympics because we are playing for ourselves but also as part of a team and I'm here with Pan Yan-Hong. We were part of the same Province team before, when we played on the National team, so we know each other. We are a team but we are playing our own games. "I think that will give me experience and also Mission Hills and the National Team have helped me a lot throughout my career, so I think it's an important tournament and I'm glad to be here."
This is a big year for many of the Olympic hopefuls in the field of 126 competitors, who have taken their preparations to the next level in 2016. Denmark's Nicole Broch Larsen is looking fitter, stronger and hungrier than ever after a successful start to the season, which included a third place finish in the recent RACV Ladies Masters in Australia. The 22-year-old, who won her maiden title at the 2015 Helsingborg Open, said: "I'm not certain to play in Rio yet but every tournament is a great opportunity to get more World Ranking points and this is a big event so hopefully I'll play well." Fellow Dane Emily Kristine Pedersen, 20, agreed. "There is a long way to go until the Olympics but every tournament is an opportunity to play well and qualify." The other Olympic prospects in the field include Nanna Koerstz Madsen from Denmark, Gwladys Nocera from France, Marianne Skarpnord from Norway, Finnish pair Ursula Wikstrom and Noora Tamminen, Klara Spilkova from the Czech Republic, Christine Wolf from Austria and Maria Verchenova of Russia.
Innovations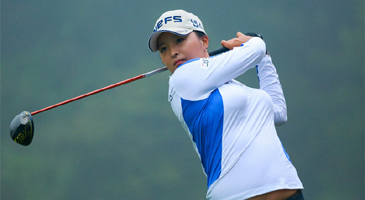 Jin-young Ko
After four years at Mission Hills Haikou, this is the first time that the World Ladies Championship will be played on the acclaimed Olazabal Course, a three-time venue for the World Cup of Golf, at Mission Hills Dongguan. That means there will be little advantage for the rest of the field over world number 23 Ko Jin-Young, who is making her debut in the championship. She will partner Lee Jung-Min in the team event, representing South Korea. Ko hopes to become the third straight Korean winner of the individual title following the success of Park Inbee and So Yeon Ryu in 2014 and 2015 respectively, when they combined to win the team event. Ko said: "I'm really excited because it is my first time playing here and the Chinese people really like golf. It's a little bit difficult because there are too many bunkers and the rough is a different grass to what I'm used to, so a little bit interesting, but I hope to win the tournament." LET Order of Merit leader Beth Allen from the United States believes that the participation of Korea's top players will improve the event's international standing, now that it is tri-sanctioned with players from the KLPGA joining those from the China LPGA and LET. She said: "Involving the KLPGA is a big deal because they're a massive force in women's golf and Asia so that's really important for this event. A win for any Ladies European Tour player here would be really good because it's a really strong field." As well as a new venue, an upsized field of 126 competitors and the tri-sanctioning of the tournament, a further development is a 33 per cent increase in total prize money to US $800,000. With US $700,000 for the individual strokeplay tournament alone, the winner will earn US $105,000. The World Ladies Championship continues its long-standing partnership with the world's leading renowned global services brand, American Express.
About Mission Hills Group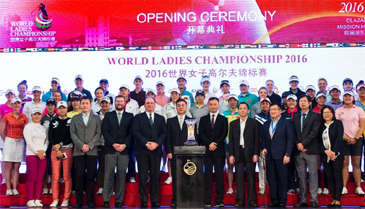 First row from 4th from left to right: Michael Wood, Iain Roberts, Zhang Xiao Ning,T.K. Pen, and others at the Opening Ceremony
Mission Hills Group, owner and operator of Mission Hills in the heart of the Pearl River Delta and the tropical island of Hainan, is the pioneer in China's fledgling hospitality, sports and leisure industry. Founded in 1992, Mission Hills is recognized as the leading golf brand in the world and synonymous with high-end, luxurious and exquisitely designed residences. Mission Hills has been the major driving force behind the sports and leisure industry in China. Its three world-class integrated leisure and wellness resort destinations have hosted more than 100 international tournaments. Mission Hills has also been accredited as the 'World's Largest Golf Club' by the Guinness World Records. Mission Hills' properties sprawl over 40 sq.km. They include 22 championship courses designed by renowned players and architects from five continents, five-star resorts, award-winning spas and volcanic mineral springs, an international convention center, golf academies and Asia's largest tennis facility. Mission Hills is also the official training headquarters of China's Tennis and Golf Associations. The Group's "golf and more" leisure philosophy has catalysed its tourism-related business expansion. Mission Hills Centreville, Mission Hills • Huayi Brothers • Feng Xiaogang Movie Town and Mission Hills • Lan Kwai Fong Haikou are family-friendly metropolitan leisure complexes and low-carbon town centres. Hubs for business, leisure, wellness and entertainment, their highlights include 1,000-plus international anchor brands featuring the latest fashion labels, finest jewelry and watches; trendiest restaurants, cafes and bars; state-of-the-art multiplex cinemas; ice skating rinks; bowling alleys; world-renowned auto showrooms; and many other exciting offerings. A collection of international hotels are showcased in these developments, among them Marriott International's Ritz-Carlton and Renaissance hotel brands, and Hard Rock International. Today, Mission Hills Group has achieved many milestones and become the pre-eminent conglomerate in the sports, tourism, leisure and entertainment industry. The next breakthrough in the Group's evolution will occur as it brings its tried and true branding and golf management services to Beijing, Shanghai, Xian, Yunnan, Chongqing and other destinations.
About Ladies European Tour The Ladies European Tour (LET) formed as the WPGA in the United Kingdom in 1978 and over the last 37 years has developed into a truly global organisation. With 315 world-class players from 42 different countries who inspire fans at golf tournaments on five continents, the Tour showcases each country it visits to a global audience, driving inbound tourism with increased television coverage and live broadcasts. At each event, it's not just about the swing – it's about a day that goes with a swing. A big day out with fun entertainment and a festival atmosphere set in beautiful scenery. We aim to captivate and excite, but we don't just appear and leave – we aim to create a legacy. We are 'more than just a Golf Tour." With the Olympic Games on the horizon, the Tour has taken on special significance for players from a multitude of countries who aim to qualify when golf returns to the Programme this summer. For more information visit www.ladieseuropeantour.com, or find us on Facebook, YouTube or Twitter @LETGolf. About China LPGA Tour The China LPGA Tour, established in December 2008, is China's only women's professional golf tour sanctioned by the China Golf Association. Over the past seven years, the Tour has truly developed into an international organization and in March 2013 this was recognized through its invitation to join the Rolex Women's World Golf Rankings system.In 2016, the schedule features 18 tournaments across Asia Pacific where 215 of its members will have the opportunity to play for ranking points and more than US $7.7 million in total prize money. For further information, please go to www.clpga.org. About Korea LPGA Tour The Korea Ladies Professional Golf Association (KLPGA) is a governing body which is in charge of all the female professional golf tournaments inside and outside of South Korea. KLPGA was founded for the purpose of playing an important role as a center of female golf industry by holding several female golf tournaments and promoting the globalization and population of Korea ladies professional golf. In addition, KLPGA has devoted to its role which is to improve rights and interests of members, to collecting data from world golf society, and promoting the brand and players. KLPGA (Korea Ladies Professional Golf Association) was founded in 1978 and has achieved a remarkable growth during the past 37 years. The number of KLPGA member is more than 2,000 and KLPGA has been conducting 78 tournaments (total prize: about US$17million) including 4 Tours, KLPGA Tour(1st division), Dream Tour(2nd division), Jump Tour(3rd division) and Senior Tour. Especially, KLPGA Tour that world-class players and rapidly growing rookies are keenly competing was conducted with 29 tournaments (total prize: about US$15million), which is the most number of tournaments and prize of all time in history. Korean ladies professional players are taking an active part not only in the domestic tour, but also in the foreign tour such as LPGA, LET, JLPGA and CLPGA so that a superiority of KLPGA has been promulgated to the whole world. As players' effort befits, KLPGA tour also expects the influx of foreign players by holding international qualifying tournaments. Moreover, KLPGA has expanded co-sanctioned tournaments like 'Hyundai China Ladies Open' and 'Kumhotire Ladies Open'.