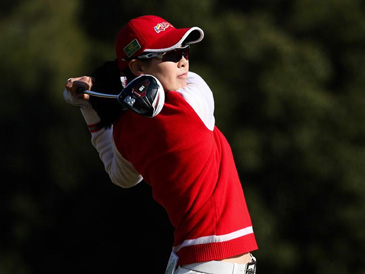 Ko Jin-Young of South Korea
Shenzhen, China — Ko Jin-Young and Lee Jung-Min will aim to continue South Korea's success story in the World Ladies Championship when they line up at Mission Hills Dongguan in China from March 10-13, 2016. While the competition is primarily an individual strokeplay event, it has a unique three-in-one format with a team event for pairs and an individual amateur tournament running simultaneously. South Koreans have dominated both individual and team events, which have been held at Mission Hills Haikou for the last four years. Park In-Bee won the individual strokeplay in 2014, while Ryu So-Yeon pipped her by one stroke 12 months ago.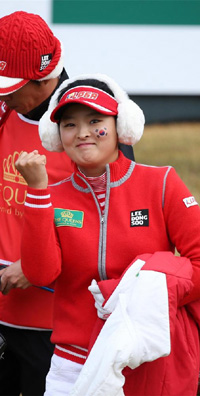 Lee Jung-Min of South Korea
South Korean teams have held the team trophy since 2013, when Kim Na-Heul lifted the trophy with Park. The former world number one then paired with Ryu to victory in 2014 and 2015. This year, Ko and Lee, who both have four wins on the Korean LPGA Tour, will make their debut in the US$800,000 event. Ko is best known as the runner-up to Park in the 2015 Ricoh Women's British Open, where the 20-year-old from Seoul lost a three stroke lead on the back nine of the Ailsa Course at Turnberry. Both Ko and Lee recently represented the Korean LPGA Tour in The Queens presented by Kowa, where Lee was undefeated and Ko won two of her three matches. "I'm looking forward to playing in the World Ladies Championship at Mission Hills," said Ko. "South Korea has enjoyed some success in the tournament in the past, so I hope we can keep that streak going and it will be a real honour for me to represent my country." Lee said: "The team element is something we are both very passionate about. We would love to follow the success of So Yeon and Inbee by lifting the trophy on Sunday."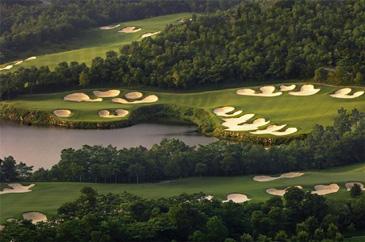 Olazabal Course
With World Ranking points available, a strong finish will boost many of the players' chances of qualifying for this summer's Olympic Games in Rio de Janeiro. Danish Olympic hopefuls Nicole Broch Larsen and Emily Kristine Pedersen, who were the 2015 Players' Player and Rookie of the Year respectively, are expected to form a formidable partnership. Meanwhile another Olympic prospect, Gwladys Nocera, will represent France with Celine Herbin. The home nation of China has two fine teams. Olympic hopeful Xiyu Lin partners Yanhong Pan, while Ziqi Ye forms another compelling team with Weiwei Zhang. There are three teams from Great Britain. Hannah Burke and Florentyna Parker will represent England while Pamela Pretswell and Sally Watson will pair up for Scotland. Wales also has a strong team with Amy Boulden partnering Becky Morgan. Australia will be represented by Rebecca Artis and Sarah Kemp, Chinese Taipei by Tzu-Chi Li and Ai-Chen Kuo, Finland by Ursula Wikstrom and Noora Tamminen, Malaysia by Michelle Koh and Ainil Bakar, South Africa by Connie Chen and Nicole Garcia, Sweden by Camilla Lennarth and Lina Boqvist and Thailand by Wichanee and Kusuma Meechai. Like the individual competition, the 15-team event will be played over 72 holes of stroke play. For the first time, the championship will be sanctioned by the Ladies European Tour [LET], the China LPGA and now the Korean LPGA as well. Following a 36-hole cut, the top-60 players and ties in the individual event will qualify for the final two rounds on the acclaimed Olazabal Course, a three-time venue for the World Cup of Golf and designed by Jose Maria Olazabal, the two-time Masters Champion. Meanwhile the leading 10 teams and those tied will progress to compete over the weekend. The gathering will also include an individual amateur tournament, played over 72 holes of stroke play, featuring three of China's top amateurs: Man Jin, Yunjie Zhang and Yan Liu along with Hannah McCook from Scotland. The World Ladies Championship continues its long-standing partnership with the world's leading renowned global services brand, American Express.