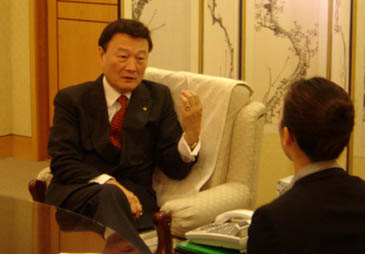 Mr. Samuel Koo, the CEO of Arirang TV talks with Bibianna Y. Poon, staff reporter of The Seoul Times in a recent interview.
As the rest of Korea continually searches for a perfect personification of a strong and prosperous Korea to present to the global market, one man has already identified the vision of what Korea should be like as a mature society.The visionary: Samuel Koo, the CEO of Arirang TV. A man gifted with youthful Korean features and a magnanimous smile, Koo radiates with confidence and experience, allowing him to command a room with wisdom and strength.Koo speaks with an American accent, but sporadically, with a slip of the tongue his European influence surfaces rather naturally. He loves Korea — his native home — but when questioned about his time in Rome he answered, "Rome can only be described as an earthly paradise."As a veteran journalist who is fluent in Korean, English, and Italian, and the first Korean to hold the highest position in the UN, Koo is a man of great stature. It is nearly expected that he will be an intimidating man; on the contrary, Koo exudes an aura of warmth and friendliness that encourages openness in a conversation. This is the precise characteristic that makes him the perfect man to be in a position to guide Arirang TV — a window for the rest of the world to discover Korea — into a more solid future.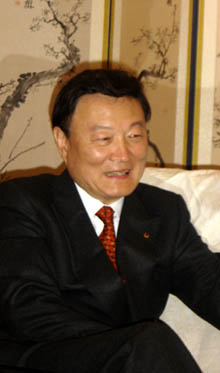 Mr. Samuel Koo, the CEO of Arirang TV, smiles in his office during the recent interview with The Seoul Times.
Arirang TV was first launched in 1997 in response to Seoul becoming more of an international city. "It was a winning idea." Arirang TV, owned by The Korea International Broadcasting Foundation, is currently broadcasting to over 40 million households worldwide, providing the world a glimpse of Korea through entertaining and informative programs suitable for viewers of every age and background.Koo was first introduced to America when he was in the tenth grade. It was a 28-days trip organized by the Korean Boy Scouts in courtesy of the U.S. Air Force. "It was a very superficial intro to America, but it opened my eyes," he said. This was only the beginning of Koo's global adventures.The ability to think globally will be the key to Korea's success in reaching its image goal. "Young people should understand that there is no such thing as a local market," said Koo. But before "Korea can even entertain the idea of being the hub of anything," there are many things that are in need of fine-tuning in Korea.First, Korea needs to establish a solid grasp of the universal language, English, so that a common language can be utilized to open up communication between Korea and the rest of the world. "The flocking of students to learn the English language is a natural phenomenon. English is the universal language and learning the global language is the basic starting point," said Koo.But many Koreans are learning the language in a vacuum. Koo does not believe that neither learning nor teaching of a language should be restricted to the classroom. Learning a language should also include absorbing oneself into a culture as well.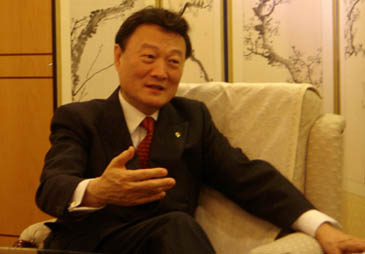 Mr. Samuel Koo, the CEO of Arirang TV gestures during the interview with The Seoul Times.
Korean students are not involved in intercultural exchange when they are locked up in a classroom learning from a teacher who is mainly speaking to them in Korean, explained Koo.He sees that Korea's education system is flawed in the way that it teaches its students a language without allowing them to experience the language. "But there is an attitude of change that is happening right now."For example, many municipal governments are recognizing the importance of cultural exchange and have developed and are developing global villages where students not only study English but also get a chance to experience American culture as well.Koo is in support of the idea of global villages.Yet learning the global language is merely just the first step. A common language does not necessarily guarantee sound communication. Two people, both speaking English can easily misunderstand each other.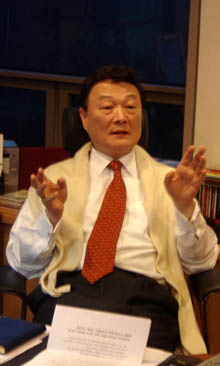 Mr. Samuel Koo in his office
Many foreigners who reside in Seoul still feel and view Korea as a nation that possess a third-rate welfare system. But Koo disagrees. In contrast, he feels that Korea has made huge grounds in taking care of its people. "The health care system here is quite good. You just go with your national health card and you pay very little to get treated." "Tremendous progress has also been made to Korea's Women's rights legislation. It is quite advanced," added Koo.The problem is that citizens of Korea do not exhibit first class citizen's mentality. "Don't get me wrong, Koreans are by all means creative and hardworking people," exclaimed Koo. "But there needs to be class, stature and authenticity to the nation before it can call itself a hub of any kind. Proper etiquette is a sign of a mature society."Even though on paper, Korean Women's rights legislation is quite advanced, in the mentality of many Koreans, "Korea is still a very male dominated country," described Koo.Prostitution is definitely a debilitating factor that blocks Korea's advancement to being a first class nation, especially when there are politicians that are still expressing comments like, "Where are we suppose to relieve ourselves then?" Mentalities like this need to be addressed and amended.Recently, Korea has also been trying very hard to attract foreign investors by introducing ports like the Incheon Free Economic Zone (IFEZ), and better foreign hospital services for foreign investors.But according to Koo, the most important part of any product is still the image. Korea needs to present its products along with a good national image. For example, "Hyundai is a good car to buy because it is made from a good country by good people."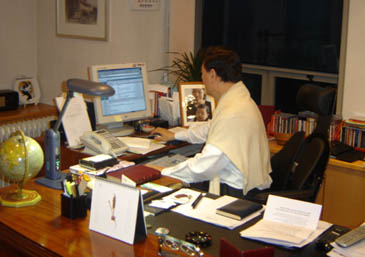 Mr. Samuel Koo, the CEO of Arirang TV, at work in his office.
But unlike a simple product where an image can be marketed through elegantly produced commercial and marketing strategies, a nation's greatness has to be lived and breathed. In this sense, the greatest commercial that is being made right now to market Korea as a worthy business center lies in the hands of the Korean people.However, winning the global race does not mean charging into the field with your headfirst while stomping on everyone else. "Korea is very much a nation that concentrates on victory and triumph. But one cannot always do win-lose situations, things should not be set up in a way where there are always losers. In the global stream there are no losers."The rest of the world will only respond to Korea if it feels like Korea is listening in return. This is a communication beyond words — it is a communication through social actions.This is why Arirang TV is such a huge asset for Korea. Arirang TV allows for this two-way conversation to occur, it is a concept that is imbedded into it slogan — Korea for the World, and the World for Korea.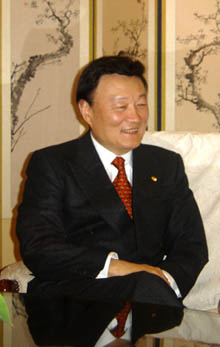 Mr. Samuel Koo, the CEO of Arirang TV
Arirang TV not only hopes to serve as a good guide for foreigners in understanding Korea but it also hopes to serve as a guide for Koreans to experience the world outside of Korea. Koo hopes that through the glimpses of stories that are told by Arirang TV, young Koreans can learn about Korean heritage and ways of global communication so that they can spread the word to the rest of the world.Ironically, Arirang TV is facing problems. At this moment, Arirang TV is being poorly supported both politically and financially. Arirang TV's financial situation is very poor and the search for funding is a constant baggage that consumes much of Koo's time.As a nation that is so keen on developing a good image it is strange that a station such as Arirang TV is not supported properly. Why would a nation so set on expanding its image not be willing to put money into one of the most powerful media outlets in the world so that it can properly present itself?This is a constant question that Mr. Koo is trying to get answered.Samuel Koo, the CEO of Arirang TV is a man that emanates the image that Korea is aggressively trying to achieve. "Arirang TV is a tool that presents Korea to the world as a vibrant developing society that is at the same time filled with strange, but, wonderful and deeply rooted culture and civilization."In parallel, Koo, a man who loves his homeland is also a citizen of the world; always learning and interconnecting with other new cultures around the world."The functioning of Arirang TV should be in the hands of the people who know the business, people who know the global perspective," said Koo.Mr. Koo — it is.