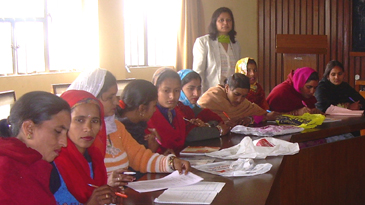 Women empowerment through training in Inida
Women comprise half of world's population. Women play key role in development, both in the context of family and in society at large, including its economy and social system. The presence of women is most seen, felt and experienced in a family. In fact, the woman is most 'visible' at home. Her entire lifetime is spent in transition from one family to another family. Each of her roles and expectations which are given to her, she fulfills in a meaningful manner. All the time she is giving and giving, with no expectations of receiving. A woman spend almost whole day in agriculture and allied activities, yet their work remains negligible and they continue to operate as non- wage earners. The fast changing times have brought many new responsibilities which has altered the pattern of life of women to a greater extent. Women are in a strategic position in human resource development. Consequently development initiatives today focus primarily on them all over the world.Human rights and fundamental freedoms are the birth rights of all human beings and their protection and promotion is the first responsibility of government. Women and children are a glossary neglected section of society. This neglect of women and their oppression is seen in all the fields: health, education, employment and politics etc. Women's role is not restricted to home alone. They are responsible not only for the wellbeing of family but also make a major contribution to the development of society. But they are deprived of every right. It embraces the concept of "empowerment". Empowerment of women has emerged as an important issue in recent time.What is "women empowerment?"'The term 'women empowerment' means many things to many people, depending on their ideological position and their preconceived notions about a woman's role in society. For example, though right-wing politicians also now speak about women's empowerment, they clearly state that it should not be at the "cost" of women fulfilling their role as mothers? Empowerment In the broadest terms, "it refers to increasing the economic, political, social, educational, gender, or spiritual strength of an entity or entities. It also involves in women, the empowered developing confidence in their own capacities"Factors affecting women's empowerment:
Developing a sense of self-respect, self- disciplined and independent.

Belief in one's ability to secure desired changes and the right to control one's life.
Gaining the ability to generate choices and exercise bargaining power. Developing the ability to organize and management skill.
Influence the direction of social change. Understanding the role of women in family and society. Acquiring knowledge and confidence in herself. Understanding of gender relations. Areas of inequality between women and menInequalities between women and men manifest themselves in all areas of development. Inequalities are obvious in:
Human development
Economic development
Participation of women in public affairs
Social attitudes towards women
Gender inequality& bias
Crime against women
Human development: HealthDiscrimination against women in India starts early and is evident in the skewed sex ratio of 943 women to 1,000 men This is attributed to the cultural bias in favour of male children, which results in the abortion of female foeticide . Other causes are the social neglect of women and girls, manifested in less access to nutrition and healthcare, and in high maternal mortality. According to UNICEF report 70% maternal mortality in India are preventable through good sanitation and nutrition and avoiding over work & stress will improve the health of women. In rural areas, 60% of girls are married before the age of 18, Women are more at risk from communicable diseases. Tuberculosis is the leading cause of death among women of reproductive age, followed by burns and suicide.
EducationAround 245 million Indian women cannot read or write — the world's largest number of unlettered women. Female literacy is 64. 6, and there are wide disparities within states.
Enrolment and retention of girls in education is poor. Girls miss school because they have to look after siblings. According to the US Department of commerce, the chief barrier to female education in India are in adequate school facilities (such as sanitary facilities) shortage of female teachers and gender bias in curriculum.
Economic development: Official data does not reflect the amount of work that women actually do to enable their families to survive — collecting fuel, fodder or water, keeping poultry, working on family land. Women also work in home-based industries, bidi and agarbatti-rolling, bangle-making, weaving, etc. They get no social security benefits and are paid a pittance for this informal work. One-third of agricultural workers are women.
On average, their wages are 30% lower than men's wages. Women's right to land and other assets is weak. Though legislation has been introduced to ensure that women share equally in ancestral property, enforcing such rights in a patriarchal society requires resources that poor women may not have. Participation of women in public affairs:Women occupy high positions in politics with many states having women chief ministers and heads of political parties. But women's representation in Parliament and state legislatures has never been more than 10%. More importantly, the opinion of women is hardly taken into account during policymaking. There is also much debate about whether women in power work to ensure gender equality or merely reflect existing patriarchal positions. Social attitudes towards women:Social attitudes towards female are profoundly rooted in past, customs and religious conviction, which have tended to discriminate against women. The roles of rural and urban women continue to be defined by patriarchal structures. This keeps poor women illiterate, confines them to their homes, pushes them into early marriage, and denies them a right to be heard in decision-making regarding herself and her kids. Gender inequality& bias:Gender inequality has adverse impact on developmental goals as it reduces economic growth. It hampers the overall wellbeing because blocking women from participation in social, political and economic activities can adversely affect the whole society.Crime against women:The crimes against women directly influence the women empowerment in India. A report on the crimes against women by the National Crime Records Bureau comes up with some alarming statistics. 56% women face violence both inside and outside the home, thus showing an increase of 26.7% during the year 2013. These crimes have continuously increased in reporting during 2009 – 2013. Delhi UT has reported the highest rate of crime against women at 146.8 during the year 2013 as compared to 52.2 crime rate at the national level. Need of overall development of women Women's empowerment has to be a foundation part of any development programme as, apart from being denied equal status; women bear the brunt of poverty in poor societies. In many, if not most rural poor families in India, women do more physical labour than men, have less access to health and education facilities, get fewer wages, and bear the major part of the responsibility of bringing up children and looking after the family. This enormous contribution goes largely unrecognized. Women are even denied a role in household decision-making. Government efforts & agencies working for women empowerment:Nirbhaya Fund: In order to support Programmes for women security, advocacy and awareness government has Provide Rs. 1,000 crore, for the programme.Ministry for Women & Child Development:This agency formulate plans, policies and programmes; enacts/ amends legislation, guiding and coordinating the efforts of both governmental and non-governmental organisations working in the field of Women and Child Development. It delivers such initiatives such as the Integrated Child Development Services (ICDS) which is a package of services such as supplementary nutrition, health check-ups and immunisation. As mentioned earlier, the empowerment of women begins with their safety and health and this Ministry is committed to providing them.Swayamsidha Programme:Additionally, the Ministry is also implementing an integrated scheme for the empowerment of women at a total cost of Rs. 116.30 Crores. Core to this programme will be the establishment of women's self-help groups which will empower women to have increased access to all kinds of resources that they are denied, in addition to increasing their awareness and skills. National Commission for Women: The apex national level organization of India with the mandate of protecting and promoting the interests of women. The website allows for online submission of complaints and fast redressal exclusively for women. Glimpses of Himachal Pradesh:A survey done by India's renowned magazine and electronic channel revealed that Himachal excels in working for women empowerment and has been awarded as the 'Diamond State' award. Himachal Pradesh has come out to be the first state in the nation in which 50 % reservation is given to the women in Panchayati Raj institutions and other urban jobs. Moreover, all the Panchayat in Himachal Pradesh having large female population are provided with extra fund of Rs. 5 lacs for the progress and empowerment of women. The Himachal government in India is doing tremendous work on the upliftment and empowerment of the women and giving a serious concern towards education, funds to widows and poor women, strict punishments against female infanticide etc. The result of all these initiatives by Himachal government towards growth of women in society has made Himachal to top the list among all the other states in terms of empowerment of women.Himachal Pradesh is second only to Kerala in terms of school participation in the younger age-groups and the participation rate for girls is almost as high as it is for boys. Further, as the state has a hill economy with relatively better scope for labour absorption, and a horticulture base that requires 'delicate labour', the state has a higher percentage of female labour participation. High female labour participation has had several positive influences:
Reduction in female discrimination within the family.
Greater participation in decision-making at the household and village levels.
Increase in the marriage age for girls.
There is a cycle at work here. Higher levels of female education and work participation have encouraged women to take up a variety of jobs including teaching. The proportion of female teachers in Himachal Pradesh at the primary level is above 40% — much higher than in other north Indian states. The high proportion of female teachers encourages higher female school enrolment, which, in turn, creates the ground for a number of positive changes:
Women with basic education are more likely to have smaller, healthier families.
They are more likely to work their way out of poverty.
They are more likely to send their own children to school.
Himachal Pradesh in the last few years keeping in view the welfare of widows, divorced women, destitute and below poverty line women in Himachal. When it comes to empowerment of women, Himachal leaves behind many states in the country. Welfare Schemes for Empowerment of Women in Himachal:
Reservation in Political Bodies
Beti Hai Anmol Yojana
Mukhaya Mantri Bal Udhar Yojana
Mukhaya Mantri Kanyadaan Yojana
Widows Pension Incremented in Himachal
Mother Teresa Asahaya Matri Sambal Yojana
Balika Samridhi Yojana
Indira Gandhi Balika Suraksha Yojana
Himachal Pradesh government has always been industrious when it comes to women empowerment or to provide services to the women. Yet moving a step ahead, health department of Himachal Pradesh has launched a free of cost transportation service to the pregnant women to the hospital for delivery on 15th September, 2010. This cash less delivery scheme launched in prominent health institutions of Himachal Pradesh.Nevertheless, this is not enough. Inequalities between women and men are deeply rooted and have to be tackled across all spheres of life to truly understand what women empowerment is, there needs to be a sea-change in the mind-set of the people in the country. Not just the women themselves, but the men have to wake up to a world that is moving towards equality and equity.
The above story (study) was provided from Shalini Asrani, Promila Kanwar, and Anju Kapoor at Department of Home Science Extension and Communication Management,
College of Home Science, CSK Himachal Pradesh Agricultural University, Palampur -176062 (HP) India.