National
Seoul Mayor Park Won-Soon Meets Foreigners
In Effort to Improve Conditions for Expat Residents
By Alan Timblick
President of The Seoul Times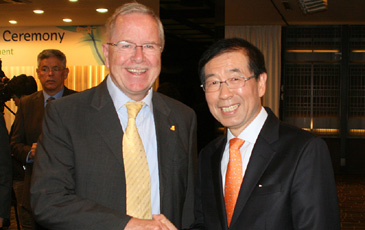 Seoul Mayor Park Won-Soon shakes hands with President Alan Timblick of The Seoul Times at a gathering in Seoul.
Following a now-well- established practice, Seoul Mayor Park Won-Soon hosted an open meeting with expatriate residents on March 6, 2015 on the 9th floor of the Seoul Global Center building in Seoul to listen to their complaints.This year the invited participants were mainly of European origin, giving the non-native English speakers a chance to have their views heard.The meeting opened with a presentation by Seoul government officials on the results of the most recent satisfaction survey, which revealed an overall improvement save in the areas of education and communication.During the open discussion, the mayor took careful notes which he later consulted when giving his responses to the questions.One somewhat surprising comment he made, answering a point raised by a male foreigner who complained that he was not allowed to marry his male boyfriend, was that people should have a right to live according to the lifestyle of their choice. For some reason this comment was largely ignored by the Korean press corps members.Mayor Park also pointed out that the Seoul police force did not report to him so, like other local government officials in other areas of the country, he had no control over the failure of the police to enforce traffic regulationsHe thought this should be corrected, given the strength of the public protests at the inactivity of the police and the frequent flouting of traffic safety rulesOn the subject of education for the children of foreign families he recognized the need for more foreign schools, cited the support already given by the Seoul government and committed to continue supportive policies.Town Meetings will continue to play apart in helping communication between the Mayor's Office and Seoul residents in the future and the 2015 meeting augured well for the continuing improvement of living conditions and the global attractiveness of the city as a residential and business location.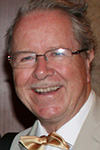 Alan Timblick serves as President of The Seoul Times. He grew up in England, graduated from Oxford University, and has lived in Seoul for over three decades. A former banker, he also worked for the Korean government as head of Invest Korea and for Seoul City as head of the Seoul Global Center.